Hey Fabs! I have a quick post today because technology has not been treating me kindly this week. Time for a day at the beach to get away from social media and my devices that refuse to cooperate!
Moonie
First off, my hair is a free gift from the Midnight Madness Board at .Olive. It's a full fatpack, and it includes multiple colour HUDs, including some ombre bright colours colour HUDs that I just loved. No group is needed to play this Midnight Madness Board, so the hairstyle is totally free.
Gold, Chains, Hearts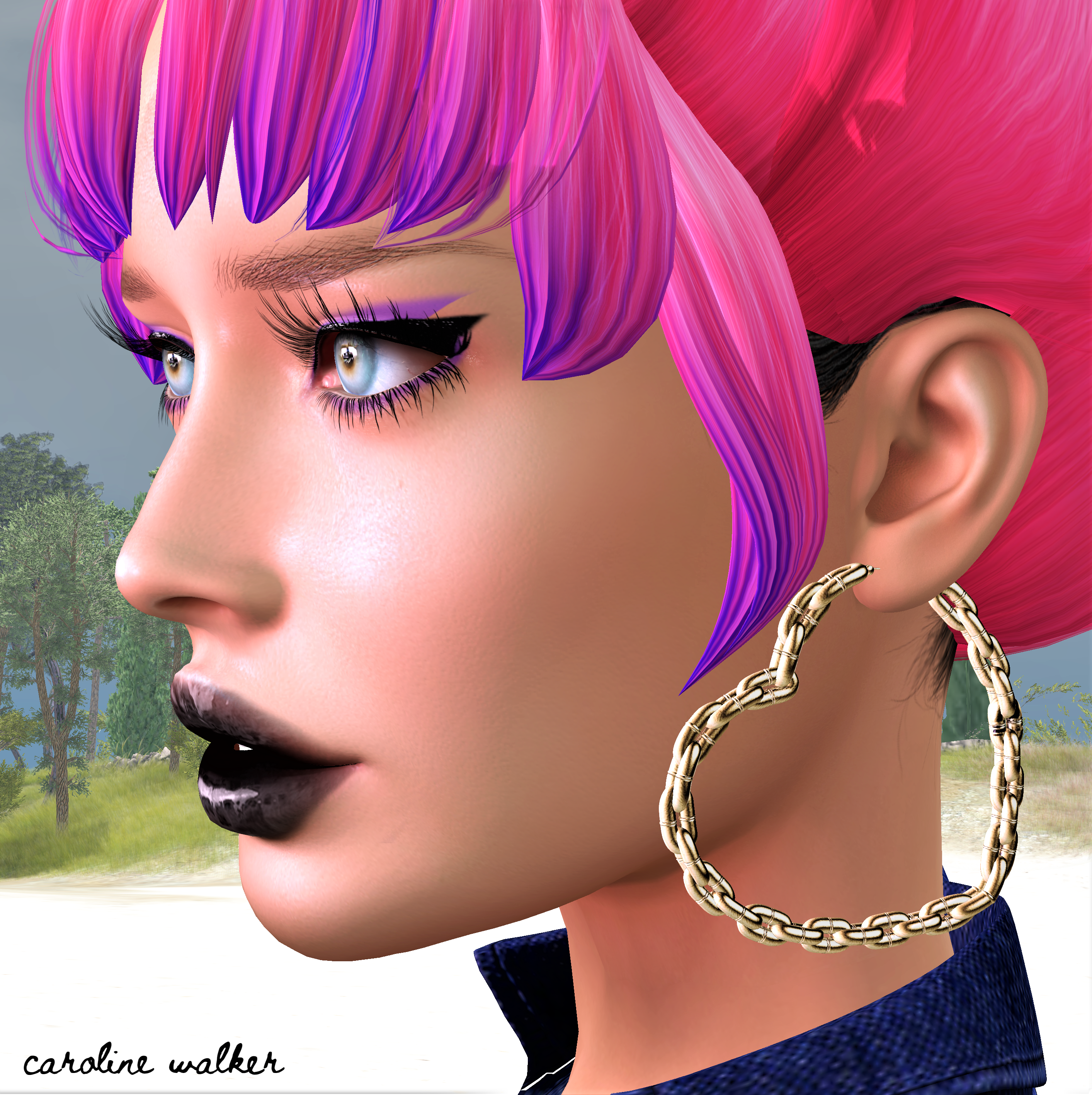 Secondly, my pretty earrings are a Midnight Madness Board prize at Yomi. Yomi's group is required to play the boards, which costs 100L. You can read all the details about the MM Boards at Yomi in my previous post here. Check out the detail of these earrings! They are one of my favourite pieces I have won from their boards! This pair of earrings come in gold.
Elinore
Finally, these AMAZING heels are on a special promo for 77L at [WellMade] for their 7th Anniversary. This deal is 2 little Lindens over the FabFree budget… hopefully it will not break your bank. I think this is an amazing deal because the shoes include a hud of 40 colour options to customize each part of the shoe. You can use the hud to change each individual piece – including the heel, the sole, the fringe, and the main part of the shoe – to different colours or metals. They also have everything else in the store on sale for 50% off until the end of the month. The limited-time promo on the shoes ends on August 31st, when the anniversary sale and celebrations come to a close.
Sizes Included (Shoes)
Have fun, FabFree!
xx
-Caroline
Caroline is Wearing…
Clothes & Accessories
Outfit – [WellMade] Romilly Set (50% for the 7th Anniversary)
Earrings – Yomi Chained Heart Earrings (Midnight Madness Board Prize/Group Costs 100L to Join)
Shoes – [WellMade] Elinore Heels (77L for the 7th Anniversary)
Body
Hair – .Olive. Moonie (Midnight Madness Board Prize/Group is Free to Join)
Mesh Body – eBODY Reborn
Mesh Head – Lelutka Lake – EvoX
Head Skin – Dernier Hannah – Sienna
Body Skin – MILA Older Body Skins – Honey Chubby (Free on the Marketplace) Previously blogged here.
Neck Fix & Ear Skins – Velour EvoX Ear Skins and Neck Fix – Sienna (Free/No Group Join Required) Previously blogged here.
Eyes – Lelutka Lake – EvoX
Eyeshadow – Tutti Belli Hug Me Eyeshadow Collection
Lipstick – Tutti Belli Born to Black Lipstick Collection
Nails – eBODY Reborn
Photo Location – Private Location