For oft, when on my couch I lie
In vacant or in pensive mood,
They flash upon that inward eye
Which is the bliss of solitude;
And then my heart with pleasure fills,
And dances with the daffodils.
More to Be Had
Happy Tuesday, Fabbies!  I'm just checking out some new group gifts that have been made available in the last few days, and this sexy dress from
Candy Kitten
really caught my eye.  The lacing up the front of the skirt is an excellent detail, though I will warn you that the shirt is a bit wide open, so if you're looking to be covered up, you may need to wear something underneath.  The
Candy Kitten
group is currently 400L to join, but there are very regular gifts, plus some great lucky boards out right now.  I've added the vendor photo below so you can get a good look at this pretty dress – oh, and you can colour the skirt and top separately via the HUD.
Sizes
Ebody
Legacy
Maitreya
Perky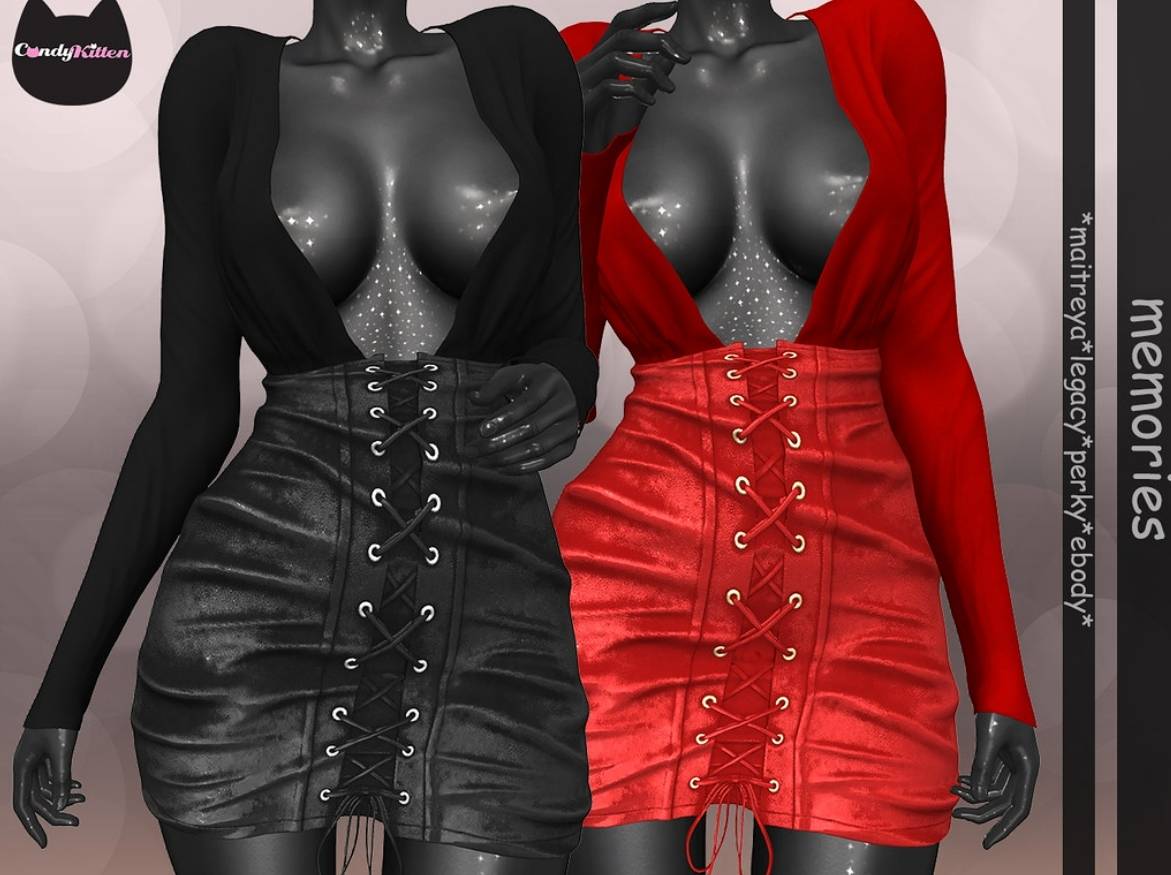 Wicked Heels
About a week ago I announced the exciting news that Pure Poison (faaaave!) had joined the FabFree designer program.  That means free supersexy heels for our group members!  YAAAS!  I picked up the Alina heels (hee hee) with my FabFree tag active (our group is of course, free to join).  They are a sight to behold.  So excited to have this amazing designer in our group! Yay!
Sizes
Belleza
Ebody
Legacy
Maitreya
Slink
Have fun getting dressed up and hanging out in the heavens!
xox
Aline
Aline is Wearing…
Clothes
Dress – Candy Kitten Memories (Free Group Gift/Group is 400L to Join)
Shoes – Pure Poison Alina (Free Gift For Members of FabFree Inworld Group/Group is Free to Join)
Earrings – Ysoral Luxe Earrings
Body   
Mesh Body – Maitreya Lara
Mesh Head – Lelutka Cate
Skin Applier –  Glam Affair Cate
Eyebrows– Jumo Britani
Eyes– Euphoric Dolly Babe Eyes
Tattoo – Sn@tch Filigree Sternum Tattoo
Eyeshadow – Lelutka Cate
Lipstick – Lelutka Cate
Nails – Maitreya Lara
Hair – Stealthic Mesmer
Pose – Foxcity Power
Sim – Private