Ok, this girl is back in swimwear, and with good reason!  I'm off on the Amalfi Coast dreaming of gelato and blue lagoons and really nice shoes.  As I wait for my lunch to digest (hello, we're in Italy…food!),  I'll just sit here and wait for Raoul Bova circa Under the Tuscan Sun to show up.
Swimwear First
If we're doing Amalfi, then swimwear is required.  But not just any plain bathing suit, you'll need something that will stand out while you wade in the crystalline waters.  Enter Rosary, with their group gift for the month of June.  This one piece is cutout in all the right ways and has lots of different options in the HUD to suit your mood.  The Rosary group is currently 350L to join, but you'll find two other group gifts, and new ones with regularity.  A good group to join and stay in!
Sizes
Freya
Hourglass
Kupra
Maitreya
Legacy
Legacy Perky
Reborn
And Shoes
Everyone knows that shoes are important in Italy (well, everywhere…but ESPECIALLY in Italy).  You'll need something summery, pretty, and completely impractical but that won't kill your feet.  Not a big ask, right?  Well, thankfully for us Mosquito's Way has us covered in their latest group gift.  The Alexis platforms cover all the bases and are just so darned pretty I wish I owned them in real life.  But I say that about every shoe that Camilla Limondi makes, don't I?  The Mosquito's Way group is 50L to join and you'll find a bunch of previous gifts on the wall, enough for a whole new shoe-drobe.
Sizes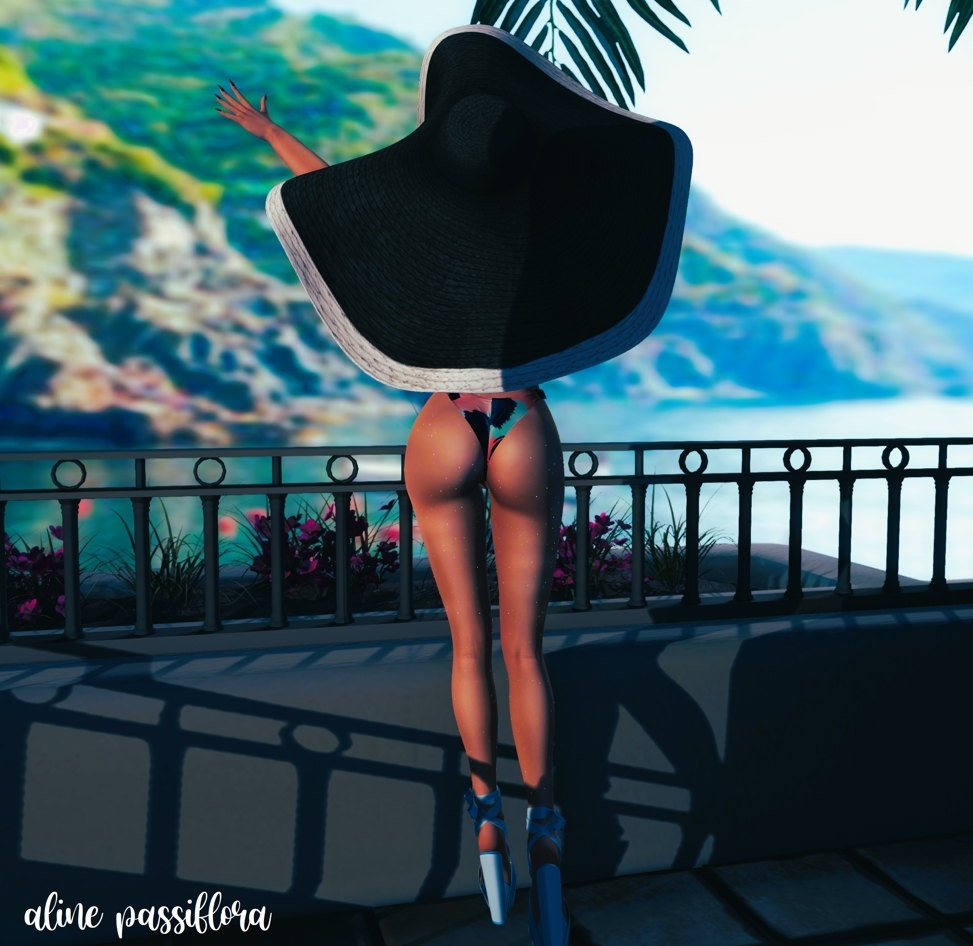 I now pronounce it to be gelato time! Yay!
xox
Aline
Aline is Wearing…
Clothes
Bathing Suit – Rosary Riane (Free Group Gift/Group is 350L to Join)
Shoes – Mosquito's Way Alexis (Free Group Gift/Group is 50L to Join)
Hat – Mug Beach Babe Oversized Hat
Earrings – Ysoral Luxe Earrings
Necklace – Kibitz Johana's Necklace
Body   
Mesh Body – Maitreya Lara
Mesh Head – Lelutka Cate
Skin Applier –  Glam Affair Cate
Eyebrows– Jumo Britani
Eyes– Euphoric Dolly Babe Eyes
Tattoo – Sn@tch Filigree Sternum Tattoo
Eyeshadow – Lelutka Cate
Lipstick – Lelutka Cate
Nails – Maitreya Lara
Hair – Truth Eclipse (Previously Blogged HERE)
Pose – Foxcity Riviera
Backdrop– Foxcity Riviera