There's a certain art to getting ready.  And I don't mean that the end result requires artful maneuvers (I'm sure it sometimes does), I mean that the entire process can be a ritual that prepares you mentally for the event.   Your environment while you get ready is just as important as what you wear to put you in the right frame of mind, I think.   One will inevitably feel prettier and more relaxed when surrounded by pretty things as you get ready, don't you think?
The Wrapping
My lovely dress is the latest group gift (to celebrate International Women's Day) from Safira.  It's sweet, and pretty and perfect to bring out a bit of feminine energy on any day.  There are plenty of options in the HUD to change the colours of all the parts of the dress, so you can really make it unique and your own.  The Safira group is currently 50L to join, and you'll find a few other group gifts while you're there.
Sizes
Legacy Perky
Legacy Push-Up
Legacy
Maitreya
Maitreya Petite
Reborn Juicy
Reborn
The Surroundings
I'm always looking for new art to put up in my living space, and recently I was invited to visit the Hannington Arts Foundation.  It's always nice to walk around galleries in SL, and this one is really quite nice, featuring art by Sweet Susanowa and Tess Carfagno.  My deal-loving side came out to play as well when I saw that they had placed out several works of art for just 1L each, so I snapped them up – and you can see two of them today in my photo.  The bottom left and top right frames are great for making any space feel warm and inviting, and are sure to start a great conversation with anyone who walks into your home.   You can see a clearer view below.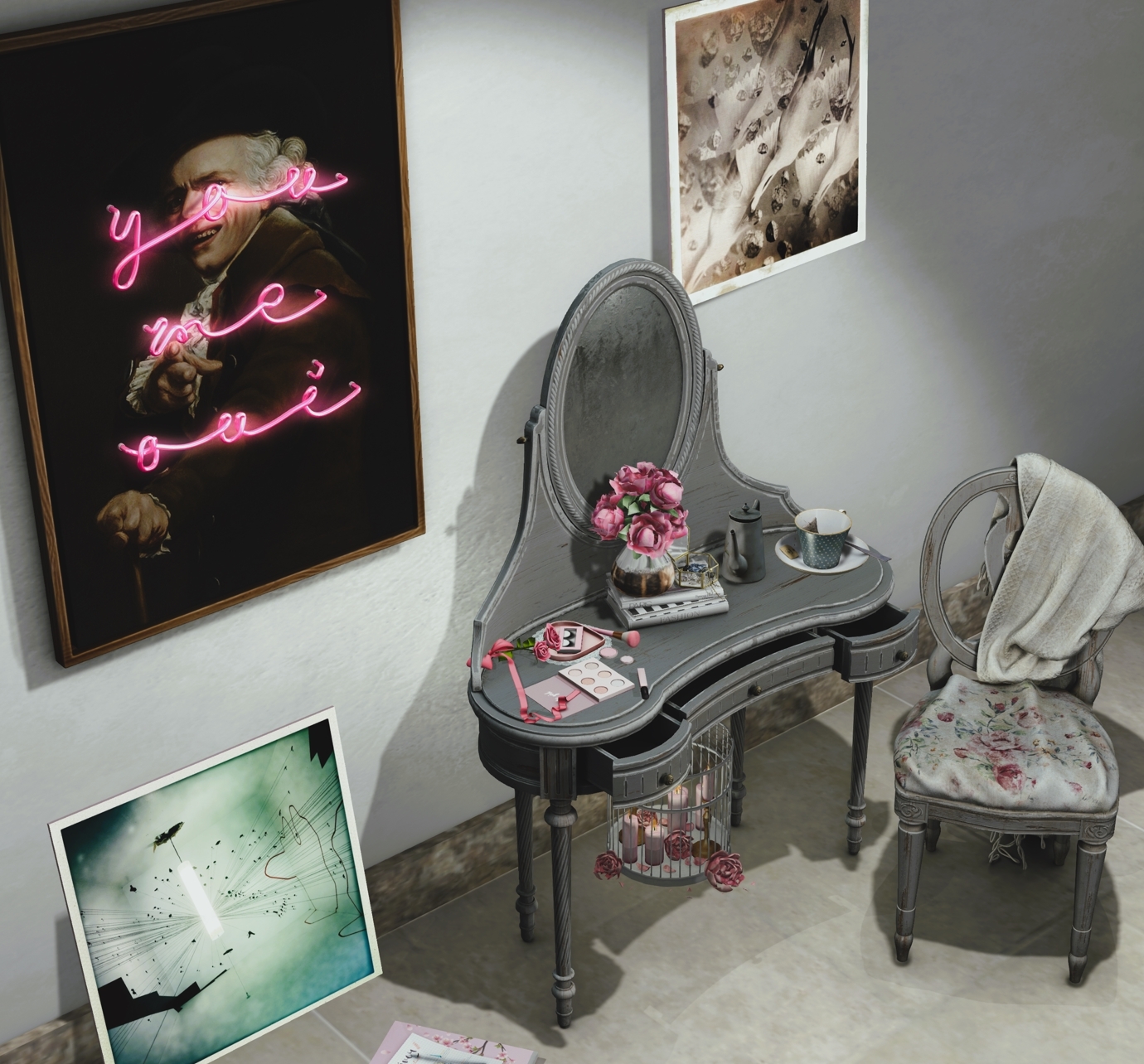 Have a great one!
xox
Aline
Aline is Wearing…
Clothes
Dress – Safira Femme (Free Group Gift/Group is 50L to Join)
Earrings – Ysoral Luxe Earrings
Body   
Mesh Body – Maitreya Lara
Mesh Head – Lelutka Cate
Skin Applier –  Glam Affair Cate
Eyebrows– Jumo Britani
Eyes– Euphoric Dolly Babe Eyes
Tattoo – Sn@tch Filigree Sternum Tattoo
Eyeshadow – Alaskametro Dark Arts
Lipstick – Lelutka Cate
Nails – Maitreya Lara
Hair – Stealthic Clarity
Pose – Foxcity Influencer
Sim – FabFree Info Hub
Decor
Table – Nutmeg Delicate Glamor
Chair – Nutmeg Delicate Glamor
Cup – Nutmeg Dacha Teatime
Books and Flowers – Dust Bunny Violet Vanity
Teapot – Nutmeg Delicate Glamor
Makeup – Tentacio Roses and Makeup
Book – Tentacio Study Time
Candles – Disorderly Delicate Blooms
Painting with Neon – Floorplan Neon Portrait
Artwork on Left – Sweet Susanowa Louisiana (1L at The Hannington Arts Foundation)
Artwork on Right – Sweet Susanowa Birds of Passage (1L at The Hannington Arts Foundation)