I jumped into my car and headed for the coast this morning.  A random road trip sometimes does a body good when the walls seem to be a bit closer together than they used to be.  I was supposed to be scrubbing some tiles, but instead the magic of the open road called, so off to the beach I went.  As per usual, who am I to deny the pleading of an inanimate object?
Road Trip!
There's a new hunt going on at Petite Mort & Oubliette.  The Witchwood sim is always fun to explore, but even more so when you've got something to look for.  If you peek through the woods, you'll find some "Route 66" signs kind of all over the place (even inside the stores) and inside there are all sorts of summery looks that are perfect for hitting the road.  I'm wearing the medium wash jeans that cost just 20L, as well as the feel the freedom tee which is another 20L as well.  I couldn't help but take a shot (below) of the extremely pretty peach dress too, but can you blame me?  The Road Trip Hunt at Witchwood is running until July 4th, so grab those gifts before they're gone! (And why not check out the 50% off sale while you're there!?).
Sizes
Freya
Hourglass
Legacy
Maitreya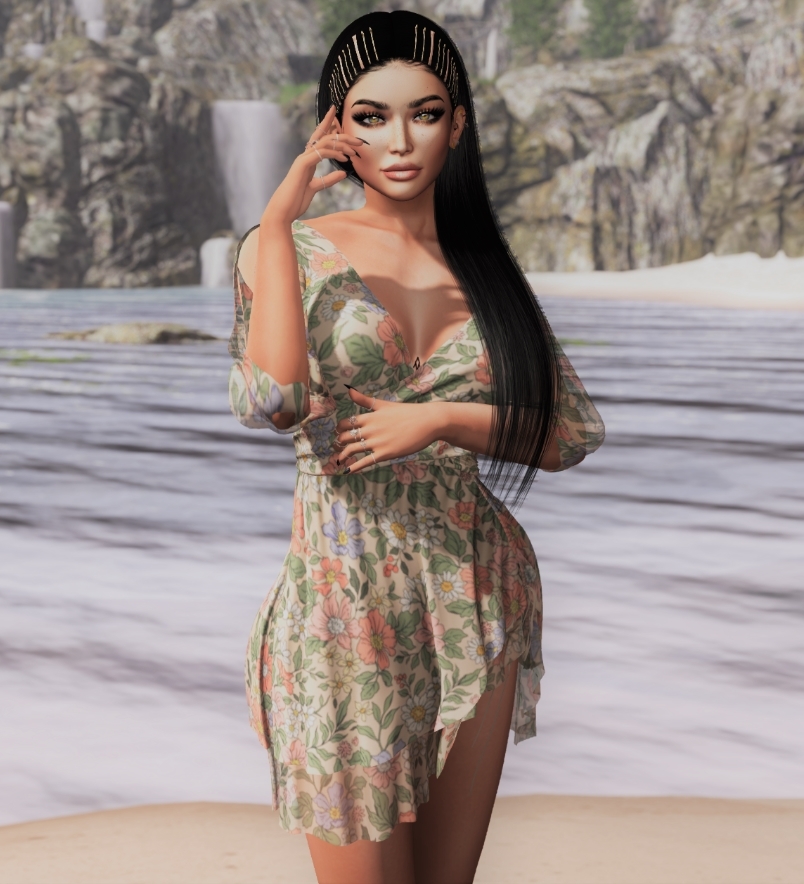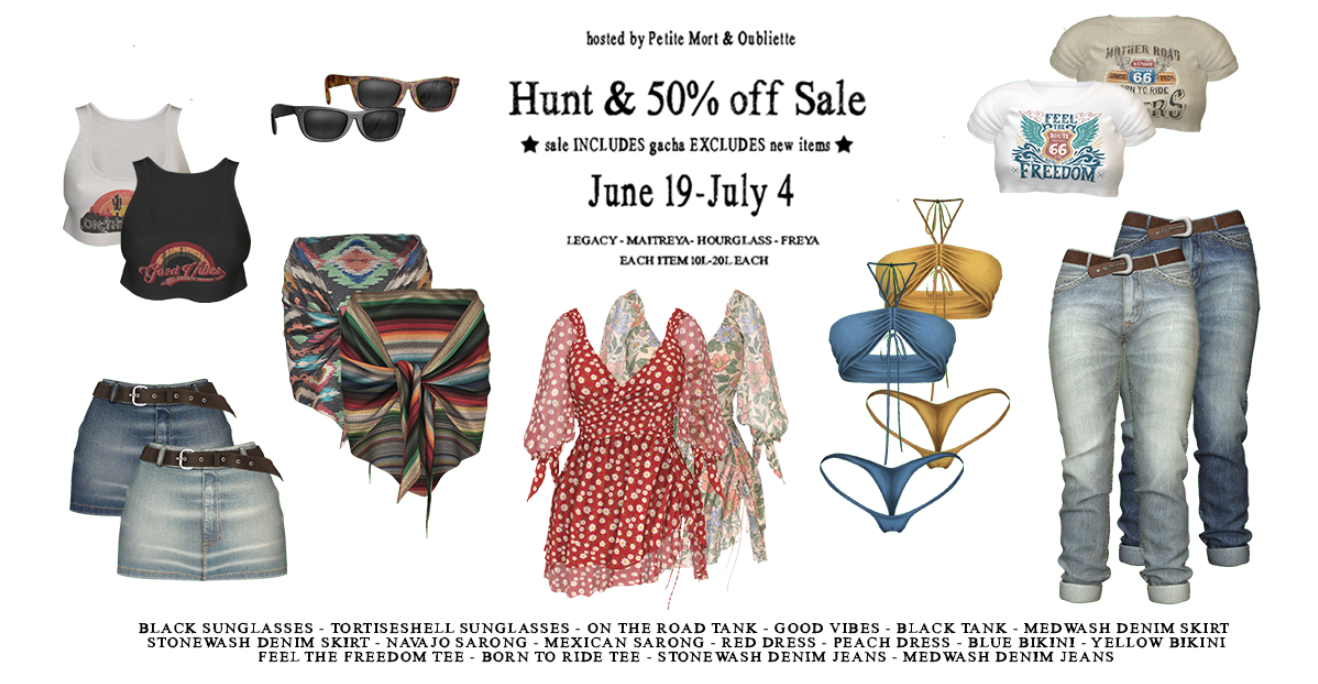 More Free Hair!
While I was at the Hair Fair the other day, I also came upon this free hairstyle from Ade.  It comes in a full fatpack of colours, and it's just a perfect easy breezy style for summer vacation goodness.  Just pay 0L, no need to join a group!  The Hair Fair is running until July 4th as well.
Ahh, freedom!
xox
Aline
Aline is Wearing…
Clothes
Top – Witchwood Road Trip Feel the Freedom Tee (20L on the Witchwood Road Trip Hunt)
Jeans – Witchwood Road Trip Medium Wash Jeans (20L on the Witchwood Road Trip Hunt)
Dress – Witchwood Road Trip Peach Dress (20L on the Witchwood Road Trip Hunt
Shoes – Pure Poison Eva Sandals
Rings – Vibing Summer Rings
Body  
Mesh Body – Maitreya Lara
Mesh Head – Lelutka Cate
Head Applier –  Glam Affair Cate
Eyebrows– Jumo Britani
Eyes– Euphoric Dolly Babe Eyes
Tattoo – Sn@tch Filigree Sternum Tattoo
Eyeshadow Applier – Alaskametro Mariposa II (Previously blogged HERE)
Lipstick Applier –Alaskametro Spring
Nails – Maitreya Lara 
Hair – Ade Amaya (Free Gift at The Hair Fair/No Group Join Required)
Pose – Foxcity Drift & Breezy
Sim – Luane's World