I love a good road trip, but as you can see, I seem to have taken a wrong turn somewhere back there.  Plus, the car is also missing.  The shenanigans I get up to…I tells ya.
Hit the Road
It's time for another awesome hunt over at Petite Mort & Oubliette!  These crop up every few months, and it's always a fun one to do.  This time around you're looking for Route 66 signs, and each one contains a cute item of clothing that goes with the hot summer on the road theme.  I'm showing off a great pair of jeans that was just 20L, and the tasseled top which is another 20L.  Every item on the hunt is under 20L, and you'll be able to find all the hunting information and some hints (if you want them) by the landing point at Witchwood.  You'll find the hunt key below!
Sizes
Legacy
Maitreya
Hourglass
Freya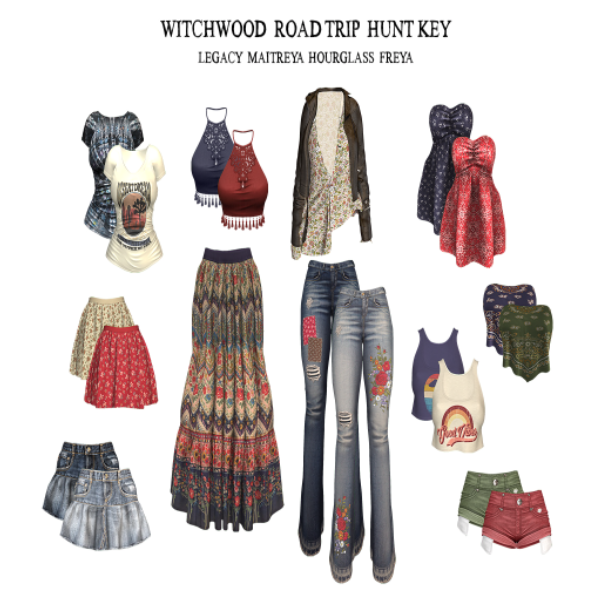 I think I may end up using this boat instead of the missing car!
xox
Aline
Aline is Wearing…
Clothes
Top – Witchwood Navy Tassel Crop Top (20L on the Witchwood Road Trip Hunt)
Jeans – Witchwood Medwash Bellbottoms (20L on the Witchwood Road Trip Hunt)
Body Chains – Tetra Spicy Bralette Chain
Earrings – Ysoral Luxe Earrings

Body   
Mesh Body – Maitreya Lara
Mesh Head – Lelutka Cate
Skin Applier –  Glam Affair Cate
Eyebrows– Jumo Britani
Eyes– Euphoric Dolly Babe Eyes
Tattoo – Sn@tch Filigree Sternum Tattoo
Eyeshadow – Lelutka Cate
Lipstick – Lelutka Cate
Nails – Maitreya Lara
Hair – Magika Darla
Pose – Foxcity Taxi
Sim – The Hollow Land