Ah the 90's.  I'm about to date myself, I suppose.  I remember the glorious days of listening to Smashing Pumpkins on my discman while riding the subway, my hand gripped around a bottle of Orbitz.  My jeans were ripped, my t-shirt was big and I gleefully said "NOT!" any chance I got.  So, basically…nothing has changed.  Except the Orbitz.  Don't drink that stuff… really.  Don't.
Feeling Lucky
There are new lucky boards over at Luas, and several of them are some pretty racy (and quite adult) outfits.  I love a good flirty dress, but I was actually really enamoured with the fact that there's a whole gacha fatpack as a prize this time.  I miss gachas a lot, so this was a nice little fun moment for me to put this look together.  You get all the items you see in the ad below, so you can have some fun styling your look (the clothes are all sized for Maitreya bodies).  The Luas group is 50L to join, but man… so many gifts on the wall, frequently updated lucky boards, and the quality is fabulous.   Just wait for your letter to come up!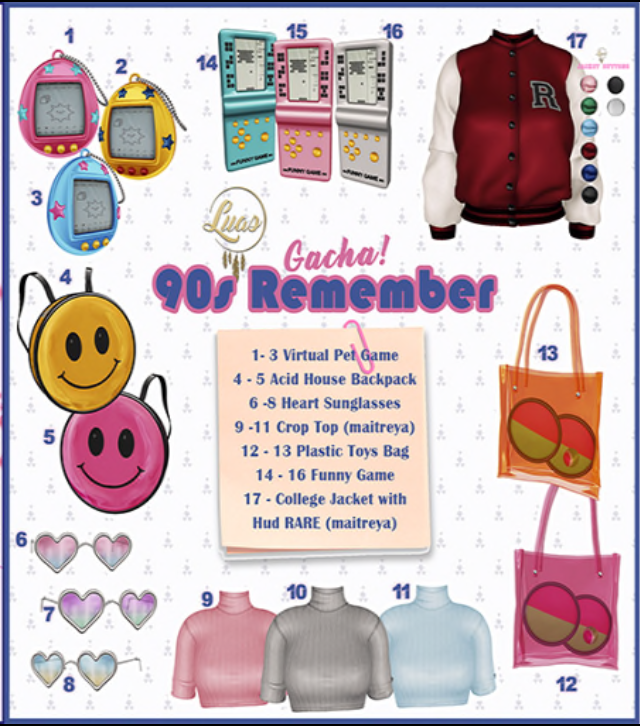 Miss out on this opportunity?  AS IF!
xox
Aline
Aline is Wearing…
Clothes
Jacket – Luas 90's Remember College Jacket (Free Lucky Board Prize/Group is 50L to Join)
Backpack – Luas 90's Remember Acid House Backpack (Free Lucky Board Prize/Group is 50L to Join)
Bag – Luas 90's Remember Plastic Toys Bag Pink (Free Lucky Board Prize/Group is 50L to Join)
Glasses – Luas 90's Remember Heart Sunglasses Pink (Free Lucky Board Prize/Group is 50L to Join)
Toy – Luas 90's Remember Virtual Pet Game (Free Lucky Board Prize/Group is 50L to Join)
Skirt – Blueberry HBIC
Body   
Mesh Body – Maitreya Lara
Mesh Head – Lelutka Cate
Skin Applier –  Glam Affair Cate
Eyebrows– Jumo Britani
Eyes– Euphoric Dolly Babe Eyes
Tattoo – Sn@tch Filigree Sternum Tattoo
Eyeshadow – Lelutka Cate
Lipstick – Alaskametro Fall Essentials
Nails – Maitreya Lara
Hair –  Magika Artisan
Backdrop – Paleto Last Class