It's the most wonderful time of the year, FabFree!  We've been slaving away at our yearly massive Advent calendar listing, and we're oh so happy that you're here to take part in one of our fave SL traditions.  It's sometimes difficult to show off what is in each Advent calendar, since the gifts are usually only available the day of, but today I've been given access to one of the best calendars on the grid, so I can give you a bit of a sneak peek of what to expect from the lovely humans over at Entice!
How Enticing!
If you don't do many Advent calendars (I get it – trust me… after looking at the list I often need to sit in a darkened room and hum to myself for a while), there are always a few calendars that you should never pass up, and Entice is definitely one of them!  If you join their free group, you'll get an awesome gift every single day of Advent.  If you're out of group space, you can also purchase the item for 25L without joining the group.  Missed a day?  You can pick up the prize for just 50L!  All in all, some great deals and totally a calendar worth checking out.  I'm showing you what's coming on December 16th and 17th – I love that green colour! Also, the back of the sweater has some gorgeous lacing up the back that you have to see to believe.  Perfect for a day around town shopping for things I clearly don't need.   Check out the preview shots below of what to expect, so many pretty things!
Sizes
Freya
Hourglass
Maitreya
Legacy
Legacy Petite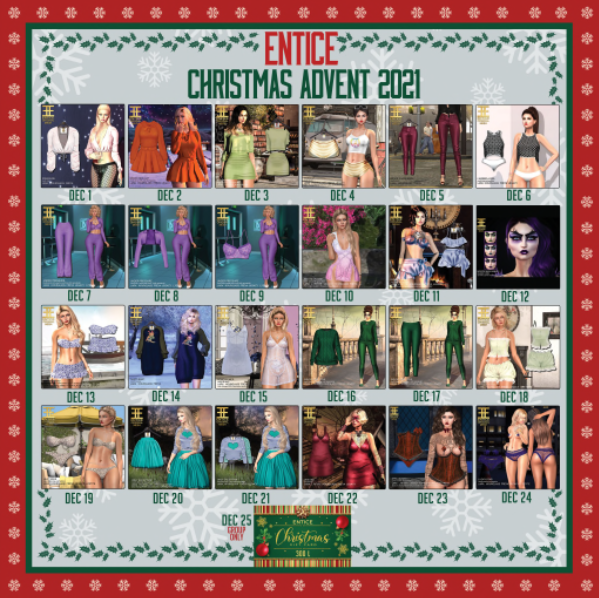 Have a really amazing Advent, FabFree!
xox
Aline
Aline is Wearing…
Clothes
Top – Entice Wintertime Love Sweater (Free Advent Calendar Gift/Group is Free to Join)
Pants – Entice Wintertime Love Leggings (Free Advent Calendar Gift/Group is Free to Join)
Bag and Drinks – Movement Holidays Shopping
Boots – Lybra Mela
Choker – Kibitz Twisted Heart Choker
Body   
Mesh Body – Maitreya Lara
Mesh Head – Lelutka Cate
Head Applier –  Glam Affair Cate
Eyebrows– Jumo Britani
Eyes– Euphoric Dolly Babe Eyes
Tattoo – Sn@tch Filigree Sternum Tattoo
Eyeshadow – Alaskametro Glitz (Available at Uber)
Lipstick – Alaskametro Glitz (Available at Uber)
Nails – Maitreya Lara
Hair – Wasabi Uma
Sim – Snowdrops