I'm super ready for all things V-Day.  Not because of romance and all that stuff – but just because the pink and red and hearts and candy put me in a good mood in the depths of winter.  I don't necessarily need a bouquet of flowers and a declaration of undying love (though that's nice too) to enjoy the riotous pink of Valentine's Day.
Feelin' Fruity
Tooty Fruity's group is still free to join for just a few more days, so get in now before the price goes back up.  I grabbed these cool heels that lace all the way up my legs for free just by activating my tag (and there are loads of colours in the HUD).  There are a bunch of lucky boards and MM boards too, as well as the January group gift to pick up, so don't sleep on this one!
Sizes
Freya
Hourglass
Isis
Legacy
Maitreya
Back to Witchwood
As Allison told you earlier today, Petite Mort & Oubliette are currently hosting one of their fun hunts, where every item is priced at 20L or less.  I couldn't resist the jacket Allison showed us, though I went in a sorta crazy 80's direction with the hot pink tube dress (10L) and the heart-shaped glasses (10L).  There are loads of different items on this hunt, so you can mix and match a look pretty easily.  I'm a sucker for that kind of thing!  The Witchwood Valentine's Day Hunt is running until February 14th!
Dress Sizes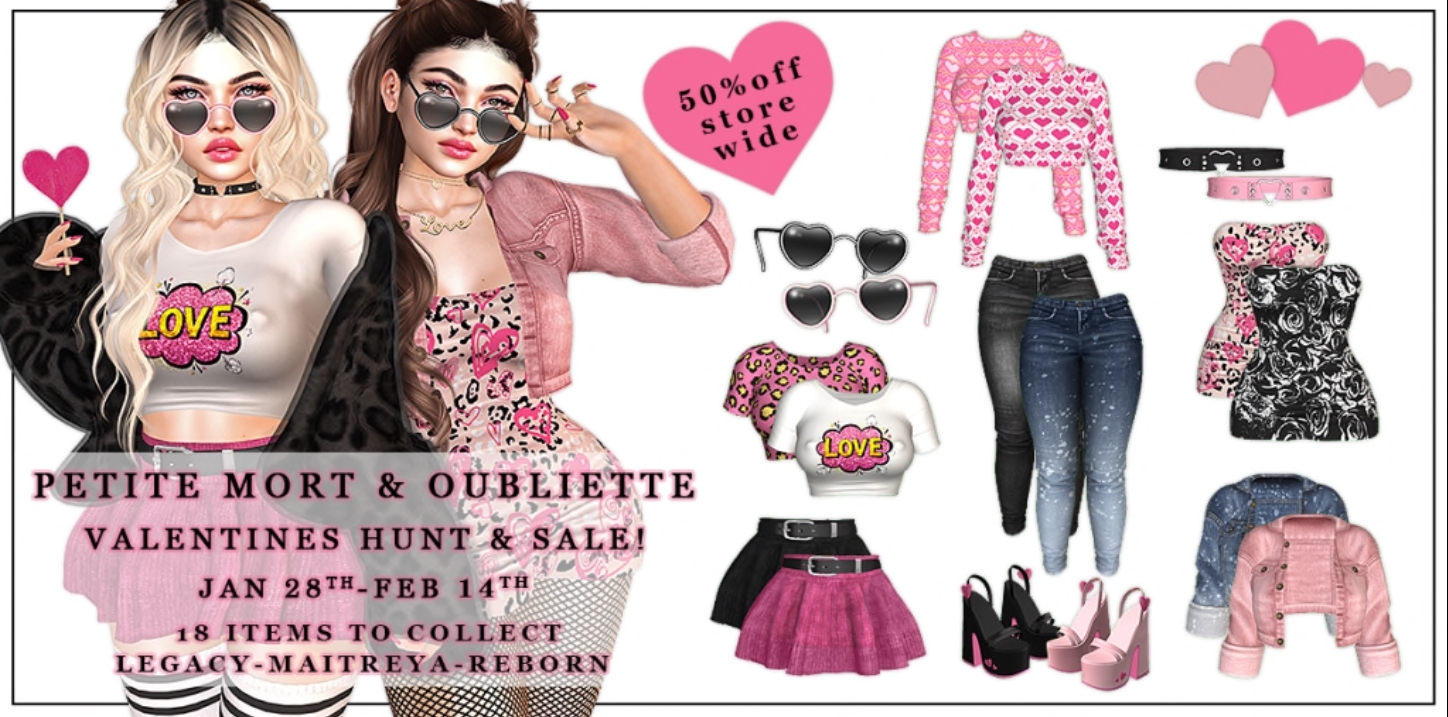 Hearts and Kisses in your direction!
xox
Aline
Aline is Wearing…
Clothes
Dress – Witchwood Pink Tube Dress (10L on the Witchwood Valentine's Day Hunt)
Jacket – Witchwood Acid Denim Jacket (Previously Blogged by Allison HERE)
Glasses – Witchwood Black Heart Glasses (10L on the Witchwood Valentine's Day Hunt)
Belt – Insomnia Angel Sweetener Hand Belt
Heels – Tooty Fruity Addison (Free Group Gift/Group is Temporarily Free to Join)
Body   
Mesh Body – Maitreya Lara
Mesh Head – Lelutka Cate
Skin Applier –  Glam Affair Cate
Eyebrows– Jumo Britani
Eyes– Euphoric Dolly Babe Eyes
Tattoo – Sn@tch Filigree Sternum Tattoo
Eyeshadow – Pout! Day & Night Liner
Lipstick – Alaskametro Petal
Nails – Maitreya Lara
Hair – Magika Fiona
Pose – Foxcity Sweet Tooth
Backdrop – Saintstreet Club Stage