Allison convinced me… maybe I won't let go of the beach quite yet.  Or ever.  Until I change my mind again, at least.
Happy Anniversary, Firestorm!
My SL viewer of choice has been Firestorm for many many years now, and they're celebrating their 12th anniversary!  If you tp over to one of their (several) sims, you'll find a few awesome gifts to pick up and celebrate!  There's no need to join a group, just click on the gifts to get them – they're all free!  I'm wearing the lovely top from Addams (it comes in both black and white…and there's also a version for the men too), as well as the unisex sneakers from Versov with gorgeous Firestorm-themed stitching.  The shoes are sized for Belleza Male, Legacy Male, Legacy Female, Maitreya, Signature, Freya, Slink Female, Slink Male and Unrigged.  I've included a closeup below so you can admire the loveliness of it all.  These gifts will be around til the end of September, so make sure you nip over and raise a glass to FS.
Top Sizes
Freya
Isis
Kupra
Legacy
Maitreya
Perky
Petite
Reborn
Hourglass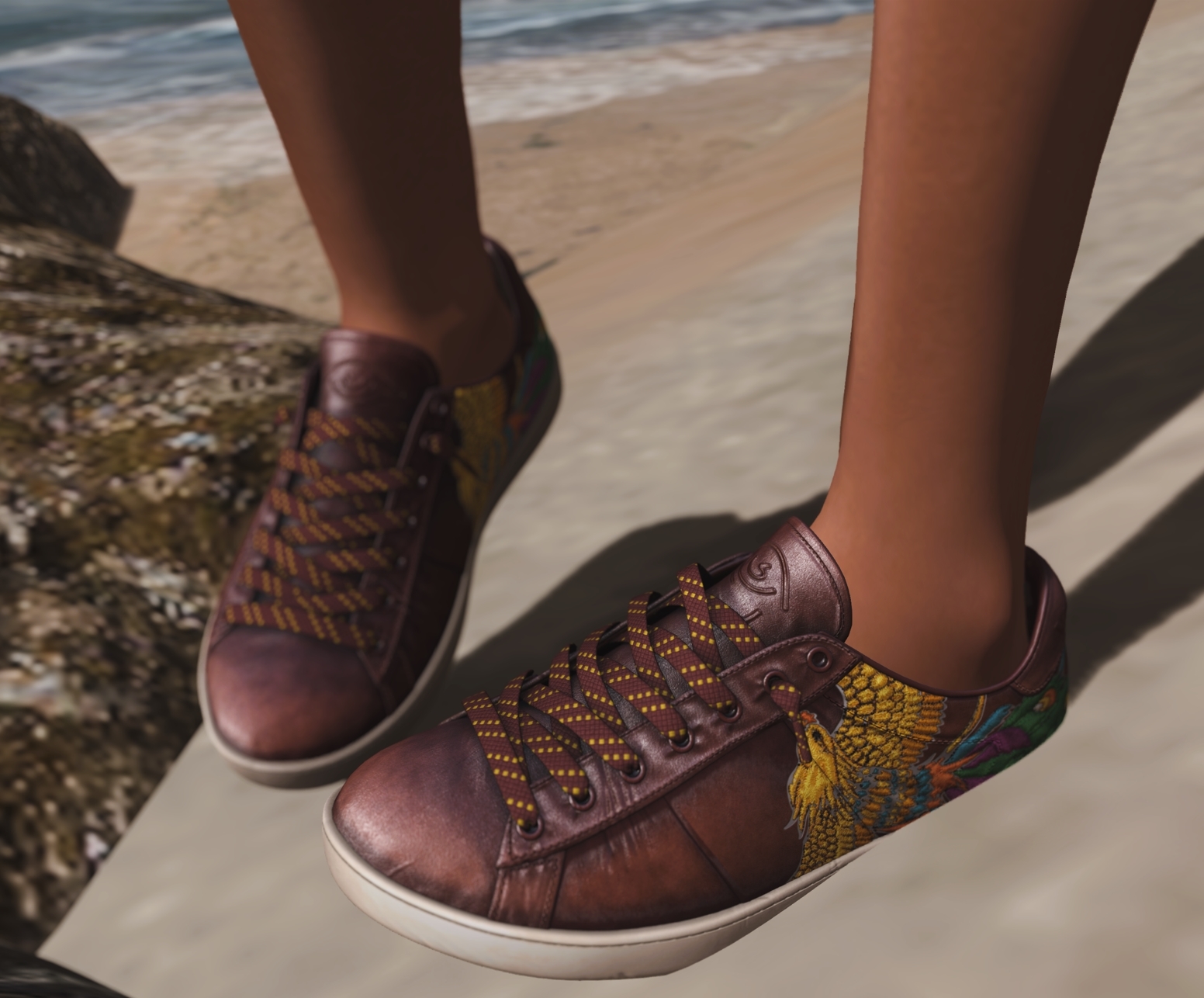 Check out all the details about Firestorm's Anniversary right HERE.
Yay!
xox
Aline
Aline is Wearing…
Clothes
Top – Addams Victoria Casual Tee (Free Gift @ Firestorm 12th Anniversary/No Group Join Required)
Shorts – Tetra Geena
Phone – Hangry Coldb*tch Brew Phone
Shoes – Versov Firestov (Free Gift @ Firestorm 12th Anniversary/No Group Join Required)
Body   
Mesh Body – Maitreya Lara
Mesh Head – Lelutka Cate
Skin Applier –  Glam Affair Cate
Eyebrows– Jumo Britani
Eyes– Euphoric Dolly Babe Eyes
Tattoo – Sn@tch Filigree Sternum Tattoo
Eyeshadow – Alaskametro Space Unicorn
Lipstick – Lelutka Cate
Nails – Maitreya Lara
Hair – Magika Apple Pie
Pose – Foxcity Sweet Pea
Sim – Le Chateau