Happy St. Patrick's Day, FabFree!  We're feeling all the excitement of green beer, green biscuits and generally anything else green and festive we can get our hands on.  I've got a few fun hunt prizes to show you today that will help you decorate your space in style AND dress you up as well!
St Patty's
The FabFree St. Patty's Day hunt is still going (and will be til the 31st) so you can totally pick up these great prizes and have fun decorating just like I did.  Seriously though, I did have a really fun time putting this space together!  Here's what I've got going on: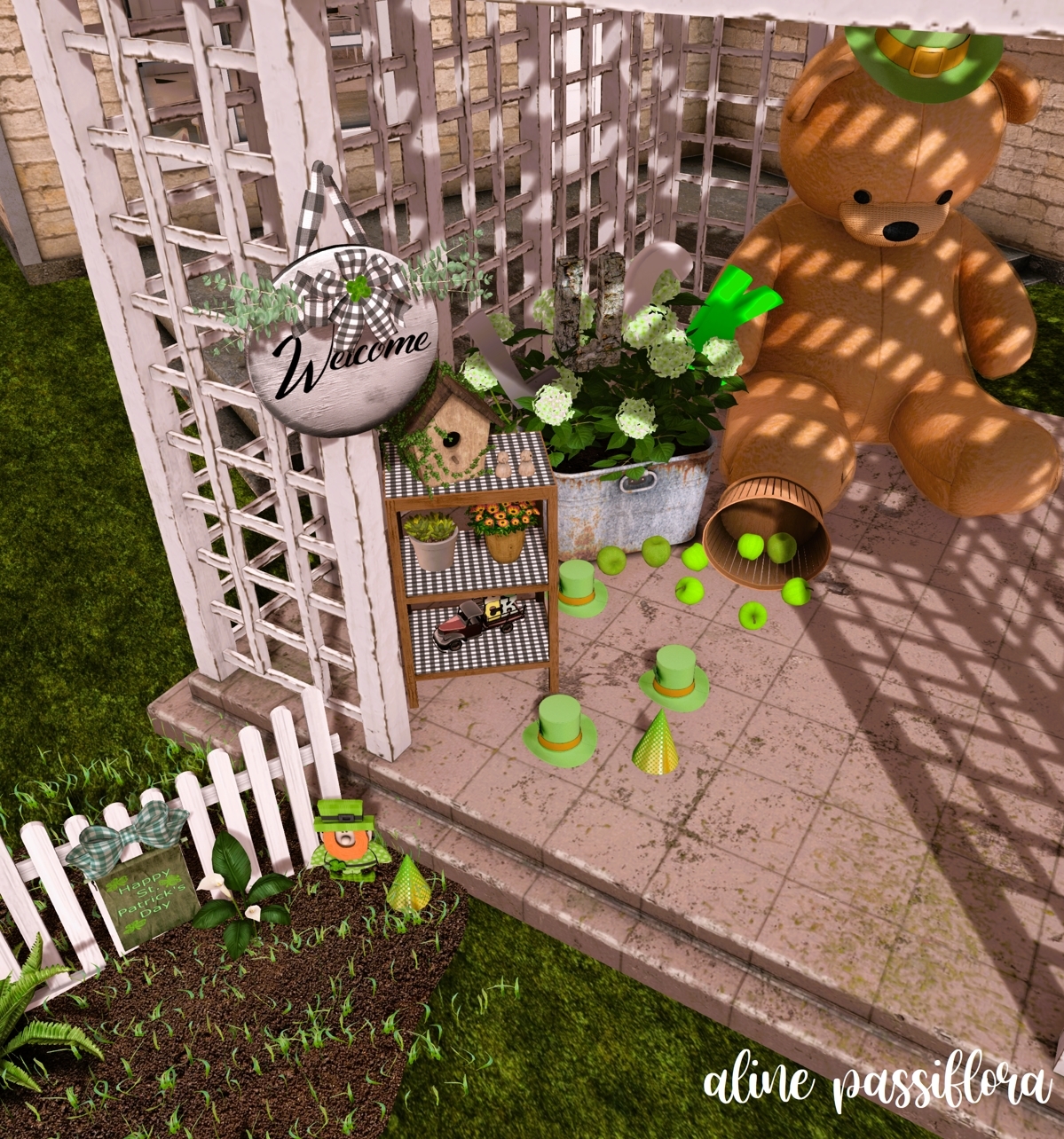 You can find all the details and hints right HERE.
Hope you're enjoying yourself as much as we are!
xox
Aline
Aline is Wearing…
Clothes
Dress – Spells & Charms to Go St. Paddy Dress (5L on the FabFree St. Patty's Day Hunt)
Headband – Spells & Charms to Go St. Patrick Clover Tiara (5L on the FabFree St. Patty's Day Hunt)
Shoes – Breathe Sumi
Rings – Kibitz Brandy's Ring
Body   
Mesh Body – Maitreya Lara
Mesh Head – Lelutka Cate
Skin Applier –  Glam Affair Cate
Eyebrows– Jumo Britani
Eyes– Euphoric Dolly Babe Eyes
Tattoo – Sn@tch Filigree Sternum Tattoo
Eyeshadow – Alaskametro Space Unicorn
Lipstick – Lelutka Cate
Nails – Maitreya Lara
Hair – Magika Riley
Pose – Versuta May
Decor
Garden – Splintered Creations Picket Lily (5L on the FabFree St. Patty's Day Hunt)
Welcome Sign – Splintered Creations St. Patrick's Welcome Sign (5L on the FabFree St. Patty's Day Hunt)
Shelf – Splintered Creations Rustic Table with Luck Board (5L on the FabFree St. Patty's Day Hunt)
Planter and Apples – Splintered Creations Luck of the Apples (5L on the FabFree St. Patty's Day Hunt)
Hats – Scafall St. Patrick's Day Hats (5L on the FabFree St. Patty's Day Hunt)
Teddy Bear – Scafall St. Patrick's Day Teddy (5L on the FabFree St. Patty's Day Hunt)