There's something so pleasant about a massive sweater.  It's like you can cocoon yourself against bad weather and the other evils of the world.  It's even better when the massive sweater has cute designs on it, so that you can colour the world while also protecting yourself from ickiness.  Here's to massive sweaters!
But Where?
When I saw this outfit at The Free Dove, I knew it had to be mine!  It's the latest addition to the collection of freebies at The Free Dove from Hilly Haalan.  The massive cozy sweater and shirt have four different texture options in the HUD, and you'll also find the purse and shoes/socks in the box too!  To get this cute look, all you have to do is join the free group and click on the box.  There's always something new and cool to find at The Free Dove – and you can check out all their latest additions on their blog HERE.
Sizes
Freya
Hourglass
Isis
Maitreya
Physique
TMP
Venus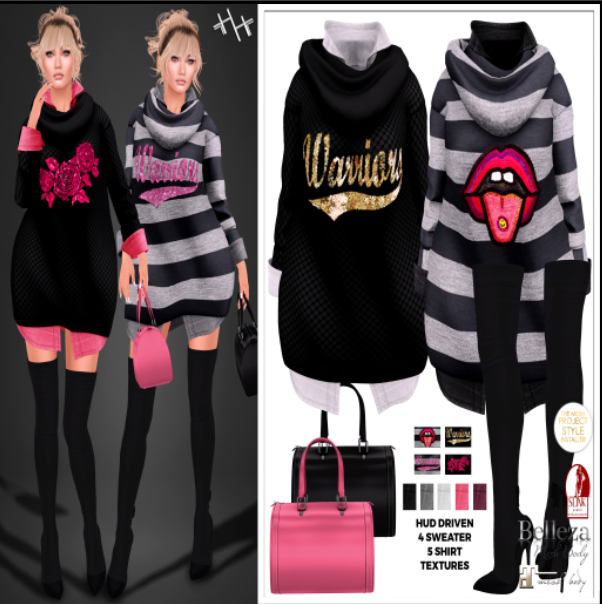 Stay toasty, my friends!
xox
Aline
Aline is Wearing…
Clothes  
Dress – Hilly Haalan Mimi Sweater Outfit (Free Gift at The Free Dove/Group is Free to Join)
Shoes and Socks – Hilly Haalan Mimi (Free Gift at The Free Dove/Group is Free to Join)
Bag – Hilly Haalan Mimi (Free Gift at The Free Dove/Group is Free to Join)
Body 
Mesh Body – Maitreya Lara
Mesh Head – Lelutka Cate
Head Applier –  Glam Affair Cate
Eyebrows– Jumo Britani
Eyes– Euphoric Dolly Babe Eyes
Tattoo – Sn@tch Filligree Sternum Tattoo
Eyeshadow Applier – Alaskametro Rose Gold
Nails – Maitreya Lara
Lipstick Applier – Alaskametro Rose Gold
Hair – Truth Forever (Previously Blogged HERE)
Backdrop – Minimal Kunstmuseen Green Leaves Corner