Happy happy weekend Fab Free! Whatever your weekend plans may be, I hope they include something fun. Fashion has always been something I enjoy. My favorite part of finding things for Fab Free is dressing up in them. For this post I'm sharing the free group gift at Gawk! and the free group gift No Cabide along with a free group gift pose set by Versuta. Have a wonderful weekend Fab Free'rs!
Gawk!
I have been wearing this dress from Gawk! for a few days now. It's so cute on, I don't want to take it off. It's their most recent group gift. I love the paisley print, and the muted fall colors. This paisley print dress comes with a color change hud with three color choices. The Gawk! group is free to join at this time as well.
Sizes Included: Maitreya Lara & Petite
No Cabide
No Cabide is celebrating their group members and gifting us with the cutest boots! These wedged combats are so fun and have a ton of color options. The hud has quite a few solid colors to pick from in 8 separate parts of the boot. That will make more sense when you get yours! lol I know my photo is dark, so I've added the vendor photo for these cute cute cute boots below. The No Cabide group is free to join, and you'll find these boots in the past notices.
Sizes Included: Maitreya, Legacy, Slink, Belleza, Unrigged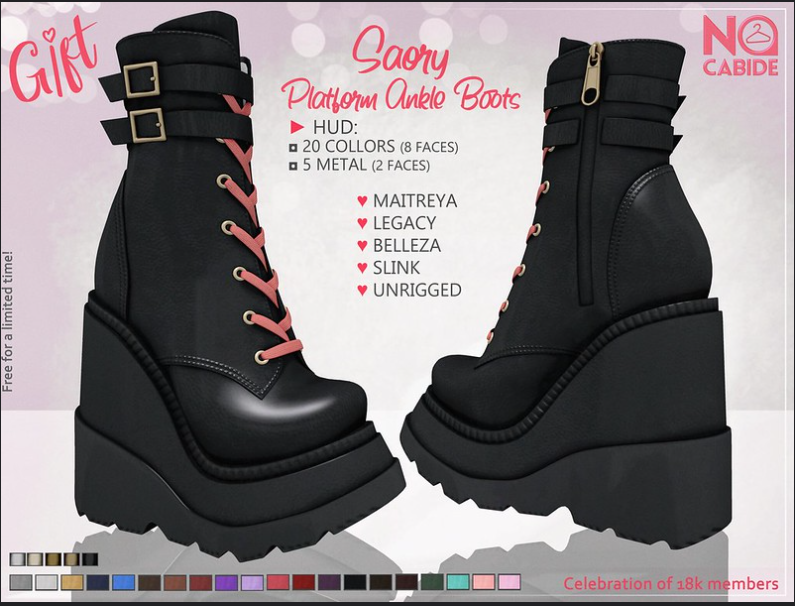 Versuta
It's no secret that as a blogger and photographer I'm a sucker for free poses. Versuta has a free to join group and several group gift sets of very cute female poses as group gifts. The pose I used in my photo is from their November group gift pose set "Sayuri." It has five static poses.
Credits:
Photo Taken at Dya's Southern Twilight