Falling leaves everywhere!  On the ground, crunching underfoot, and floating placidly through the air.  I love it!  The only problem with it is that since they're all falling, one day they'll all have fallen off and they shan't fall again until next year!  Let's enjoy it while it lasts!
So Spookay!
Masoom is hosting a really fun hunt on their sim right now, featuring loads of free prizes!  You have to search for the little hidden cupcakes all around the haunted house and grounds and every single one is completely free!  I picked up four little prizes from Tetra, and they all go together fabulously!  I got the boots (which come sized for Freya, Isis, Legacy, Maitreya and Slink), bodysuit (a top is also included if that's more your thing), necklaces and pants.  How awesome is that?  To get to the hunt area, just click on the teleport pad to the hunt area!
Sizes
Freya
Hourglass
Legacy
Maitreya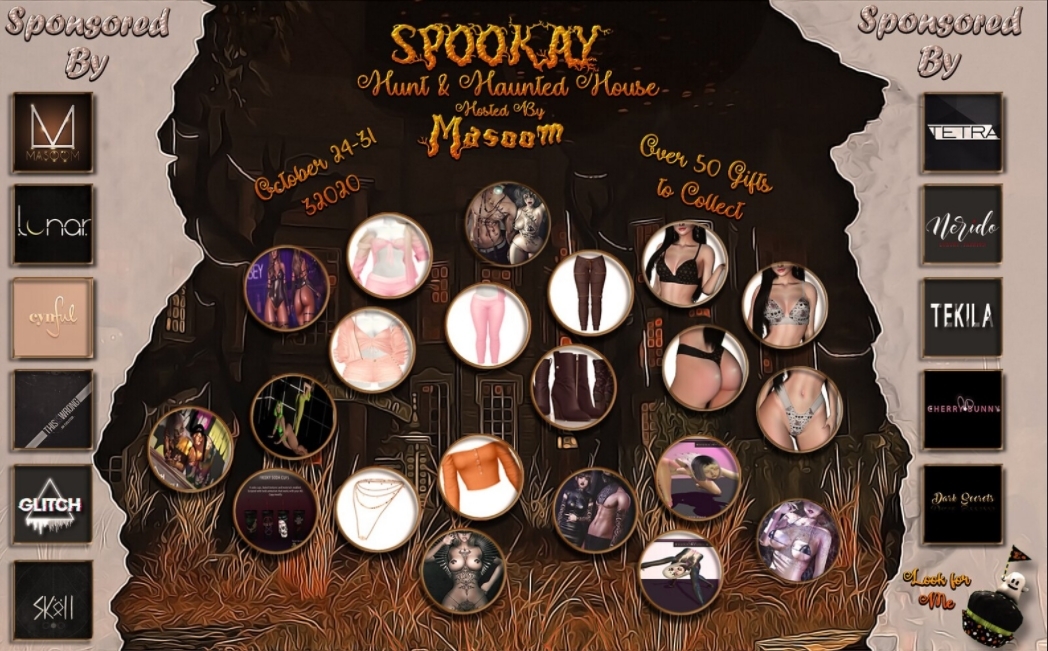 The Spookay Hunt is running until October 31st!
Ain't It The Truth
Yay!  It's time for a new VIP Hairstyle from Truth!  Forever is a high and long ponytail with a set of removable bangs.  It's a full fatpack of colours and also comes with a stylist HUD to fling that pretty ponytail over your shoulder.  The Truth group is currently 350L to join and you'll find this hairstyle in group notices.  Love it!
Enjoy the leaves, FabFree!
xox
Aline
Aline is Wearing…
Clothes  
Bodysuit – Tetra Idyllic Bodysuit (Free on the Masoom Spookay Hunt)
Pants – Tetra Idyllic Pants (Free on the Masoom Spookay Hunt)
Boots – Tetra Horizon Boots (Free on the Masoom Spookay Hunt)
Necklace – Tetra Luna Necklaces (Free on the Masoom Spookay Hunt)
Body 
Mesh Body – Maitreya Lara
Mesh Head – Lelutka Cate
Head Applier –  Glam Affair Cate
Eyebrows– Jumo Britani
Eyes– Euphoric Dolly Babe Eyes
Tattoo – Sn@tch Filligree Sternum Tattoo
Eyeshadow Applier –  Lelutka Cate
Nails – Maitreya Lara
Lipstick Applier – Lelutka Cate
Hair – Truth Forever (Free Group Gift/Group is 350L to Join)
Sim – Luane's World