Here we go, FabFree.  Time to visit some ruins in a snazzy outfit.   What, you don't do that every day?  Well, technically neither do I, but I do love a good ruin and a great outfit.  Next time I'll visit the Forum in Rome wearing a ball gown.
Aline's Kustom
It is indeed my custom to visit the event Kustom9 every month and play a few gachas.  I've extolled the virtue of Amitomo's gachas many times in the past, mostly because it actually is an excellent deal.  I know there are gachas out there that are fun to play, but you often end up with 20 pairs of nose rings in puce, instead of the item you really want.  When it comes to Amitomo, you're sure to walk away with a full outfit even if you're just pulling once or twice.  Whenever I play these gachas, I keep our readers in mind – I know many of us like a good bargain, and I feel that Amitomo really does deliver bang for your buck.  At just 69L per pull, I got this top, shorts, and jacket (sized for Maitreya bodies) after my first try.  Worth it!  You'll find lone jackets, earrings as well as a pretty hairstyle as the prizes too.  Good luck!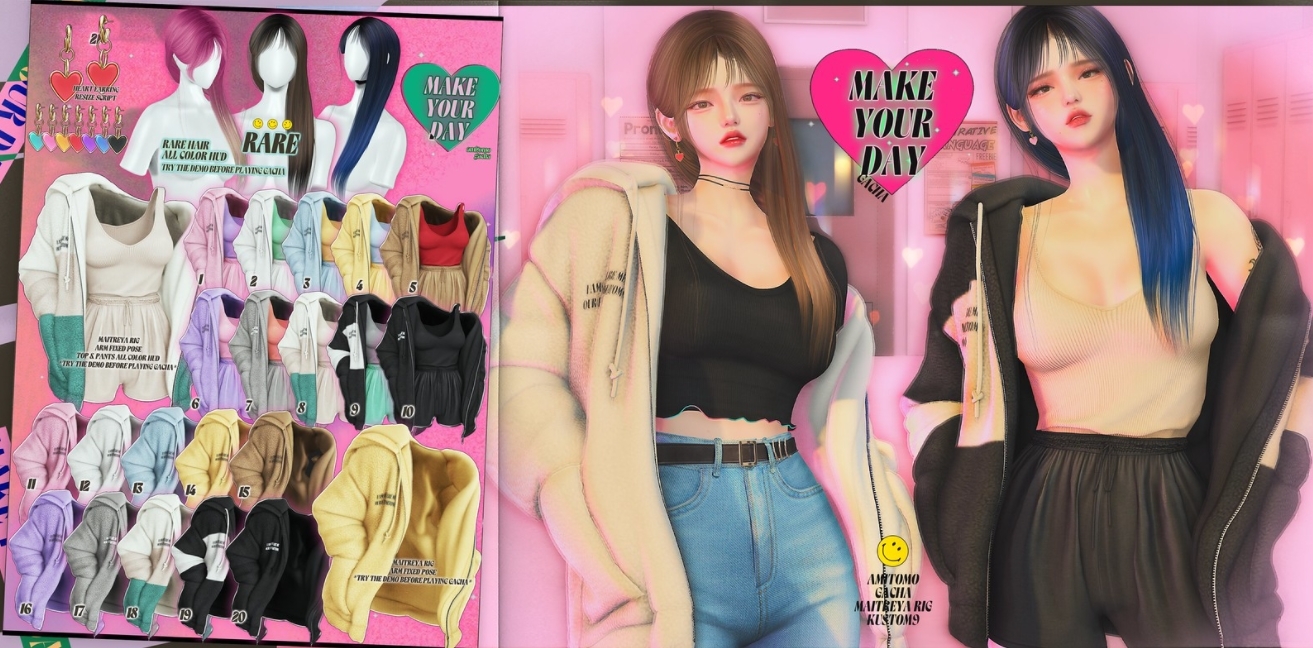 Now I wonder if there is a sim that features the Forum in Rome….
xox
Aline
Aline is Wearing…
Clothes  
Outfit – Amitomo Make Your Day (69L per pull at Kustom9)

Body 
Mesh Body – Maitreya Lara
Mesh Head – Lelutka Cate
Head Applier –  Glam Affair Cate
Eyebrows– Jumo Britani
Eyes– Euphoric Dolly Babe Eyes
Tattoo – Sn@tch Filligree Sternum Tattoo
Eyeshadow Applier – Alaskametro Alchemy
Nails – Maitreya Lara
Lipstick Applier –  Lelutka Cate
Hair – Wasabi Juniper
Backdrop – Minimal Achelois Ruins