I've got a quickie for you tonight, Fabs – it's been A DAY, but I didn't want to leave my fave readers in the lurch.  Let's hop to it!
YAY!
It's time for the yearly Ricielli Halloween Hunt!  Just the other day I was wondering aloud if they'd be keeping up the tradition, and here we are!  It's running until the 31st, and there are so many pretty items, all just priced at 15L each.  I went with numbers 11 and 17, and I couldn't resist this pretty necklace with comes with a lingerie set in number 8.  No group needed, and this is a quick and painless fun hunt – just look for the black pumpkins at the Ricielli mainstore, and also across the way in their lingerie outlet section.  You can check out all the sizes listed in the ad below.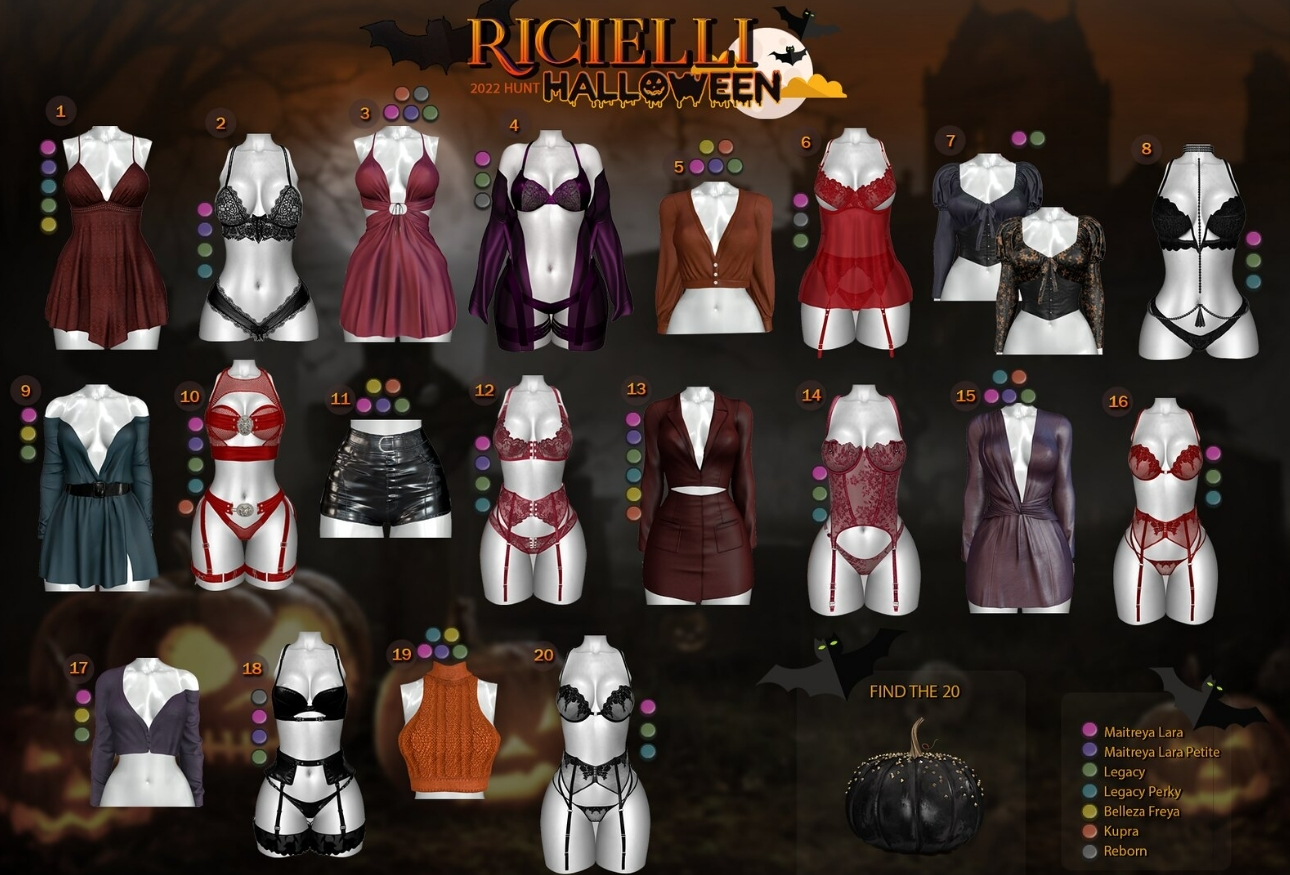 Have fun hunting, Fabbies!
xox
Aline
Aline is Wearing…
Clothes
Top – Ricielli Dea Sweater (15L on the Ricielli Halloween Hunt)
Shorts – Ricielli Iris (15L on the Ricielli Halloween Hunt)
Necklace – Ricielli Victoria (15L on the Ricielli Halloween Hunt)
Cards – LaGyo Fortune Teller
Body   
Mesh Body – Maitreya Lara
Mesh Head – Lelutka Cate
Skin Applier –  Glam Affair Cate
Eyebrows– Jumo Britani
Eyes– Euphoric Dolly Babe Eyes
Tattoo – Sn@tch Filigree Sternum Tattoo
Eyeshadow – Alaskametro Fall Essentials
Lipstick –  Alaskametro Fall Essentials
Nails – Maitreya Lara
Hair – Magika Celeste
Sim – Private