Hi hi hi Fabbies,  I look a bit (a lot) different tonight since I've been playing around with my updated avatar.  I'm not quite there yet – she doesn't feel super "Aline" to me quiiiite yet, and I am still hopelessly devoted to my usual look, but now and then I bring the updated Aline out to play with her EvoX head and such, but hey…she's a work in progress.
Hopping On
I'm showing off a free outfit tonight that Ms. Aurora whispered in the porches of mine ears recently (sorry, I'm feeling a bit Shakespearean tonight for NO apparent reason), and it's perfect for all the Easter shenanigans that are coming up.  Or you know…other shenanigans which I won't get into here.  Anywhos, to get this bodysuit, cuffs, collar and ears (plus the BOM stockings in the package that I didn't have the mental capacity to play around with) head on over to Vegvisir.  There you'll find a few free boxes (they look like cats) and this outfit is a collab with La Maldita Bruja.  Much fun!
Sizes
eBody
Kupra
Legacy
Maitreya
The Reason
I really wanted show off the newest group gift from Pout!, which probably explains my metamorphosis tonight.  The icy glaze lipstick gives your lips a gentle sparkly sheen, and I just really love it.  The group is free to join, and you'll find a whole wall of makeup and such for you to play around with.  This particular gift works with Lelutka EvoX heads, and now you're up to date with why I brought Aline 2.0 (or like…7.0) out to play!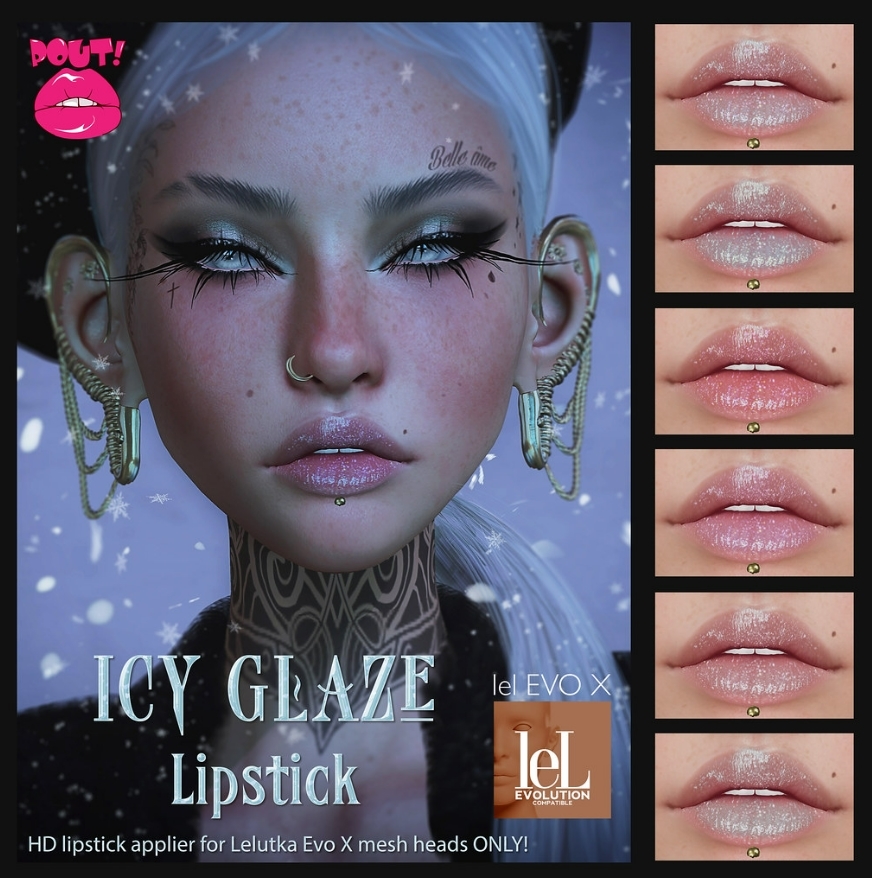 Have fun!
xox
Aline
Aline is Wearing…
Clothes
Outfit – Vegvisir x La Maldita Bruja Hase (Free Gift/No Group Join Required)
Shoes – Pixicat Allure
Body   
Mesh Body – Maitreya Lara
Mesh Head – Lelutka Irina
Skin Applier –  Glam Affair Body Skin Beige
Eyes– Euphoric Mavi
Tattoo – Sn@tch Filigree Sternum Tattoo
Eyeshadow – Lelutka Irina
Lipstick – Pout! Icy Glaze Lipstick (Free Group Gift/Group is Free to Join)
Nails – Maitreya Lara
Hair – Stealthic Rewind
Pose – Foxcity Hella Cute
Sim – Luane's Magical World