The weekend is here!  Time to get into all sorts of craziness, which for me often means that inworld I'm changing my hairstyle every 30 seconds.  What?  There's nothing like playing around with your look in order to play around with your very own identity.  I'm not sure who I am this weekend, but I do know I'll be rolling in loads of new hairstyles!
Collab!
This weekend, Revoul and FAGA are banding together in order to knock our socks off with four new hairstyles at super reduced prices, as well as some free group gifts!  In my main photo, I'm wearing Revoul's latest group gift.  You'll be able to join their group for free for 72 hours (which started yesterday…I think…so don't delay!).  They and FAGA also have new hairstyles at THIS location which are on sale for both Saturday Sale (75L) and Happy Weekend (60L) so you can get some new styles for not very much moolah.  Again, this isn't going to last long, so I suggest you head over to their special location ASAP.  You can see all the looks on offer below!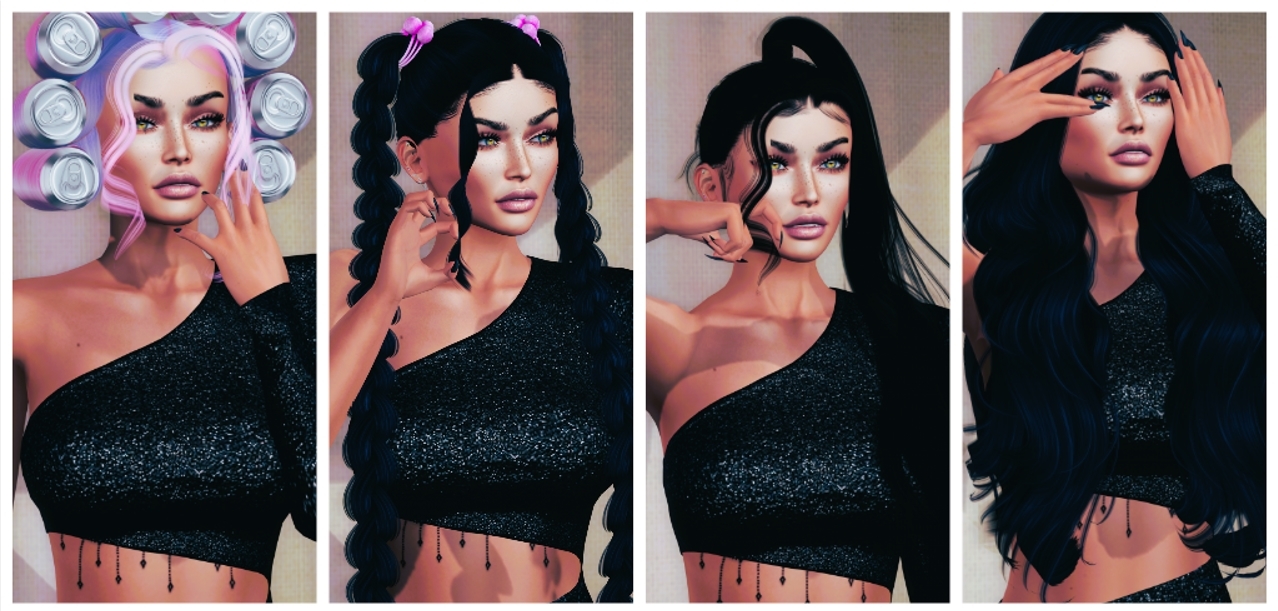 Who will you be this weekend?
xox
Aline
Aline is Wearing…
Clothes
Dress – Pixicat Juliette Dress
Body   
Mesh Body – Maitreya Lara
Mesh Head – Lelutka Cate
Skin Applier –  Glam Affair Cate
Eyebrows– Jumo Britani
Eyes– Euphoric Dolly Babe Eyes
Tattoo – Sn@tch Filigree Sternum Tattoo
Eyeshadow – Alaskametro Rose Gold
Lipstick –  Alaskametro Rose Gold
Nails – Maitreya Lara
Hair 1 – Revoul Swoopiana Tings (Free Group Gift/Group is Temporarily Free to Join)
Hair 2 – Revoul Soda Rolleriana (75L for The Saturday Sale)
Hair 3 – FAGA Mini Hairstyle (75L for The Saturday Sale)
Hair 4 – Revoul Springtini Pony (60L for Happy Weekend)
Hair 5 – FAGA Dori Hairstyle (60L for Happy Weekend)
Pose – Foxcity Spotlight & Neko
Sim – Private