Dashing through the snow, in a one horsed open sleigh!  Well, in two-legged jeans and sweater for walking, at the very least.  I'm still all aglow and festive today, ready for all the hordes of shoppers that may await me as I finish up my gift buying.  Perhaps the red blinking nose will keep people from getting too close to me in the line ups, and the antlers will serve as my social distancing prongs!  Stay safe out there, folks!
Cuckoo for COCO
There's a new group gift at COCO!  This amazing, long-sleeved sweater is exactly what the doctor ordered for staying toasty as I trudge through the snow.  I'm sure I'll be back to my inappropriately chilly outfits soon enough, though – I never learn!  Anywhos, to get this lovely red sweater (which also comes in a grey version) just join the COCO group for free and click on the vendor – you'll find another new gift has landed there too in the last month and was only just announced this week, so you may have missed it.  A very cute blue cropped cardigan, pick it up while you're there!
Sizes
Legacy
Maitreya
Maitreya Petite
Junk Food for the Soul
Junk Food are hosting a fun little hunt, which is filled to the brim with amusing holiday gifts for everyone.  No need to join a group here, just walk around the sim (and inside the store too) looking for the Christmas cookies.  There are some quite funny gifts on this one, but I settled on showing you the antlers and blinking nose, which are pretty darn cute.  It's all free!  Have fun searching!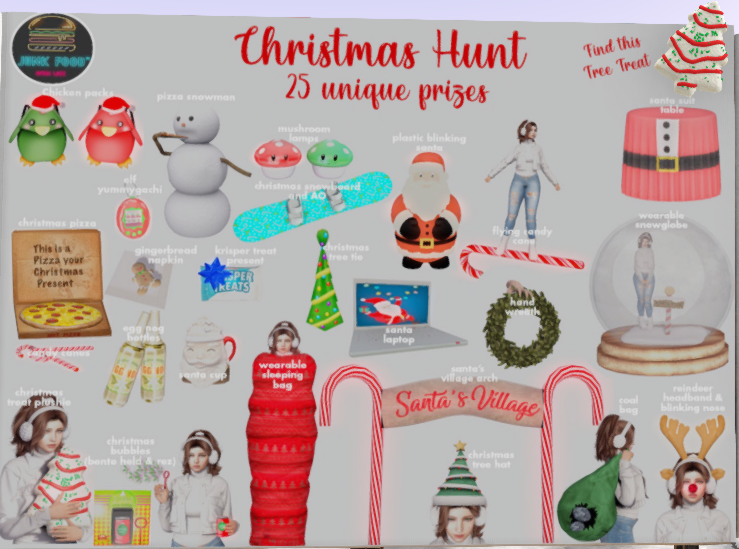 Back to the holiday shopping grind, my friends!
xox
Aline
Aline is Wearing…
Clothes
Sweater – COCO Cropped Mohair Sweater (Free Group Gift/Group is Free to Join)
Jeans – Blueberry Natalie Flare Jeans
Nose and Antlers – Junk Food Reindeer Headband and Blinking Nose (Free Gift on the Junk Food Xmas Hunt)
Body   
Mesh Body – Maitreya Lara
Mesh Head – Lelutka Cate
Head Applier –  Glam Affair Cate
Eyebrows– Jumo Britani
Eyes– Euphoric Dolly Babe Eyes
Tattoo – Sn@tch Filigree Sternum Tattoo
Eyeshadow – Alaskametro Glitz (Available at Uber)
Lipstick – Alaskametro Glitz (Available at Uber)
Nails – Maitreya Lara
Hair – Stealthic Darling
Sim – Winter Love Valley