It's been a little while since I stomped around SL in some fun street fashion.  I feel like I haven't donned a jean skirt in ages, and I'm kinda feeling very myself in this look.  I love changing things up, but I also seem to always ensure that things feel "me" when it comes to style… and I've got a place for you to visit to do just that.
In Memoriam
As you may have heard from our coverage over the past few months, The Free Dove is no more.  Sadly, the owner, Palomma Casanova passed away back in January from a long illness.  She was so loved in SL, however, that she inspired people to continue her legacy of providing free and high quality items to the SL community in the exact same spot.   However, this place has been renamed Palomma Plaza in her honour.  You'll find many of the designers who had their gifts out at the last location have chosen to participate again, and the layout, building and general feel and ethos is exactly the same.  Tell your friends, it's worth a visit.   I joined the new Palomma Plaza group, activated my tag, and picked up a bunch of free gifts.  Here's what I've got on:
FREE top by Grumble sized for Erika, Gen X, Gen X Curvy, Kupra, Maitreya, Legacy & Reborn
FREE skirt with an extensive jean HUD by Tastic sized for Freya, Gen X, Gen X Curvy, Kupra, Legacy, Maitreya & Reborn
FREE nail polish by Alaskametro with Maitreya and Omega appliers (check out all the options in the HUD below)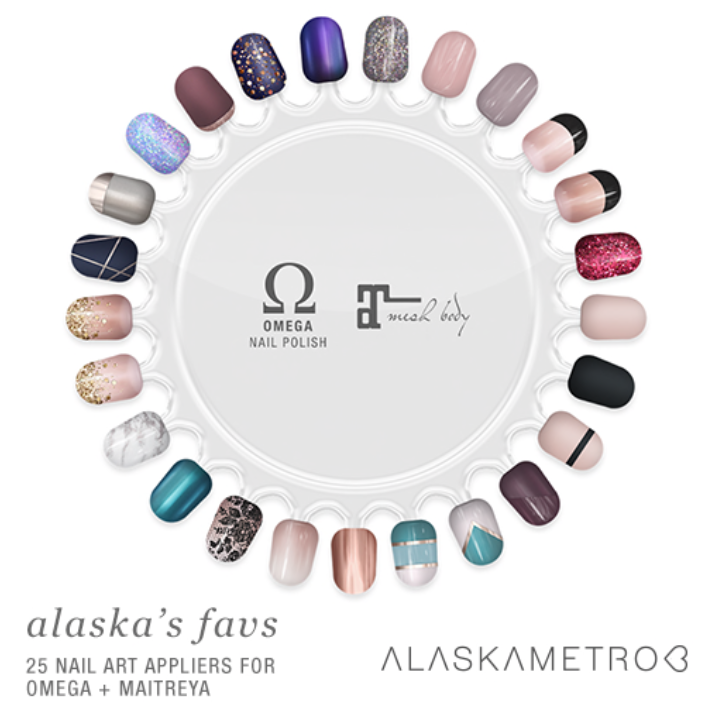 We wish continued success to Palomma Plaza, and hope you'll give a thought to Ms. Casanova and her legacy when you stop by.
xox
Aline
Aline is Wearing…
Clothes
Top – Grumble Wrap Top Shrooms (Free Gift @ Palomma Plaza/Group is Free to Join)
Skirt – Tastic Pam Denim Skirt (Free Gift @ Palomma Plaza/Group is Free to Join)
Shoes – DRD Sticker Stompers
Body   
Mesh Body – Maitreya Lara
Mesh Head – Lelutka Cate
Skin Applier – Glam Affair Cate
Eyes– Euphoric Dolly Babe Eyes
Tattoo – Sn@tch Filigree Sternum Tattoo
Eyeshadow – Alaskametro Babygoth
Lipstick – Lelutka Cate
Nails – Alaskametro Alaska's Favs (Free Gift @ Palomma Plaza/Group is Free to Join)
Hair – Stealthic Willow
Pose – Versuta Avril
Backdrop – Foxcity The Evolution