Happy Canada Day, Fabbies 🍁!  I know that the vast majority of our readers don't necessarily hail from the land of maple syrup and poutine like I do, but we do have a dedicated set of readers out there – I see you, Canucks!  Anywhos, if you're looking to celebrate the land of Inukshuks, Polar Bears, Anne of Green Gables, Nanaimo Bars, Beaver Tails, Ryan Reynolds, Hockey, The Northern Lights, Tim Horton's, Moose, Canoes, Drake, Free Health Care, Mounties and about 50 billion other fun things… well, then this post is for you.  I salute you, Canadaland!
MP Trawl
Around this time of year every year, it's my personal little tradition to trawl Marketplace in search of some cute Canadian gifties.  They're not always easy to find, so an MP search can be a fun scavenger hunt.  There are a few I come back to every year, just because they're so cute, and a few new ones I add into my repertoire.  Here's what I picked up:
1L top by Shamrock Boutique sized for Isis, Freya, Hourglass, Jomo Fox, Jomo Werewolf, Maitreya, Physique and Venus with three different textures to choose from (Hi Dews!)
FREE glasses by Little Llama
10L Headband by Sugarplum Boutique
There are quite a few other fun things – what will you put together?
Movie Night!
I'm getting straight up movie night by the lake at the cottage vibes from Kim's Kreations today.  You all know how generous Ms. Kim is, and she's gone and done it again with all sorts of Canadiana for you to set up the perfect night with friends.  You'll find the whole movie night set there for free, as well as the balloon arch behind to decorate with!  There's even a flyable balloon there that you'll have fun zooming around places and yelling "eh!" at people from.  Trust me, I've done it.  Thanks Kim!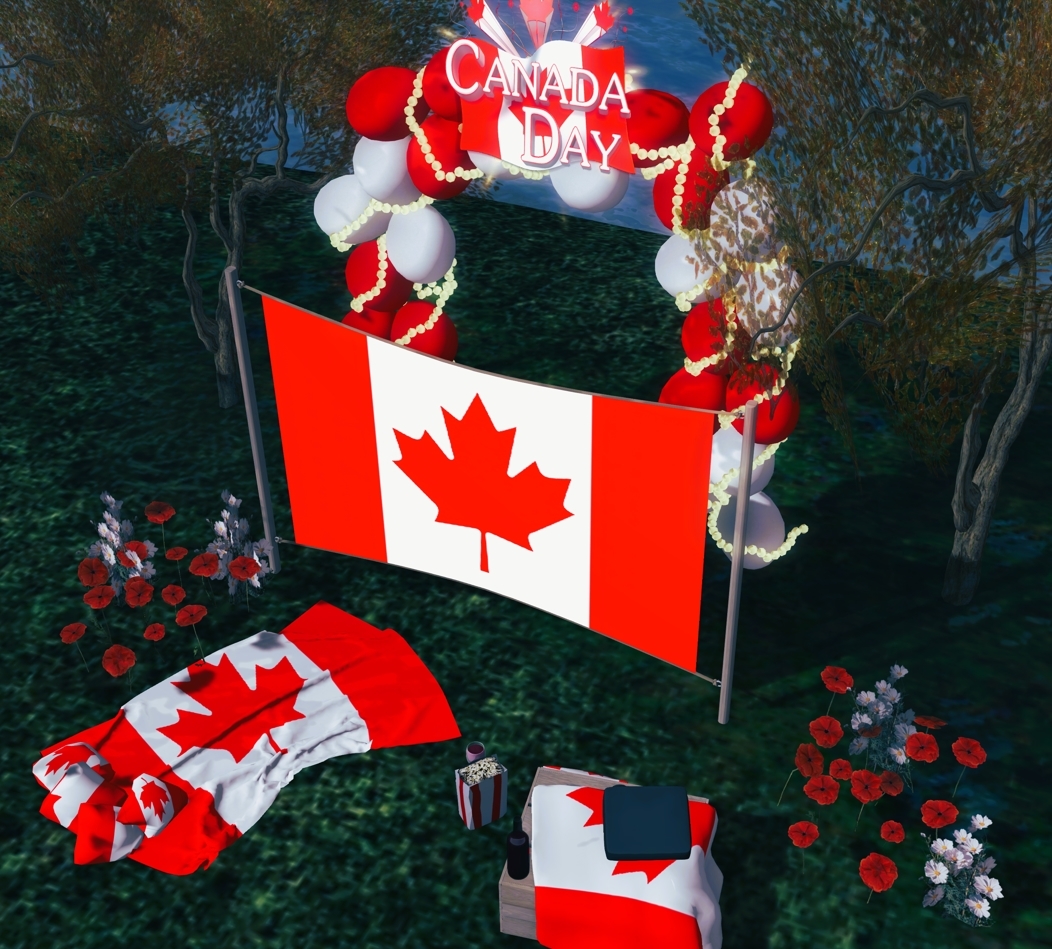 Have a wonderful day, Canada – you're pretty awesome.
xox
Aline
Aline is Wearing…
Clothes
Top – Shamrock Boutique Celebrate Canada Simple Tank (1L on Marketplace)
Shorts – Blueberry Taylor
Glasses – Little Llama Canada Day Glasses (Free Gift on Marketplace)
Headband – Sugarplum Boutique Oh Canada Headband (10L on Marketplace)
Earrings – Ysoral Luxe Earrings

Body   
Mesh Body – Maitreya Lara
Mesh Head – Lelutka Cate
Skin Applier –  Glam Affair Cate
Eyebrows– Jumo Britani
Eyes– Euphoric Dolly Babe Eyes
Tattoo – Sn@tch Filigree Sternum Tattoo
Eyeshadow – Lelutka Cate
Lipstick – Lelutka Cate
Nails – Maitreya Lara
Hair – Magika Michelle
Pose – Foxcity Kawaii AF
Sim – Private
Decor
Movie Night Items – Kim's Kreations Canada Movie Night Set (Free Gift/No Group Join Required)
Balloon Arch – Kim's Kreations Happy Canada Day Beaded Arch (Free Gift/No Group Join Required)