Ooh the dark diva has arrived!  I love dabbling in the gothy parts of my personality (they aren't very prevalent, you may have noticed…I'm all butterflies and rainbows for the most part), but when she comes out to play I always feel a bit sultry and magical.  Always fun to be someone else for a bit in SL, don't you think?
Feeling Fab
FabFree at Fifteen rolls on, and we do love showing off what our lovely designers have put together to celebrate our 15th anniversary.  I went to two shops today:  Psycho Barbie and Corvus to put together my goth look.  Here's what I've got going on:
FREE top by Corvus sized for Freya, Hourglass, Isis, Legacy, Maitreya, Slink & Venus
15L boots (see below!) by Corvus sized for Freya, Isis, Venus, eBody Classic, eBody Curvy, Kupra, Legacy, Maitreya, Alice, Physique & Star
FREE alien plushie by Psycho Barbie
15L crown by Psycho Barbie
You can also pick up this awesome fatpack of leggings at Psycho Barbie for just 250L… they're really awesome.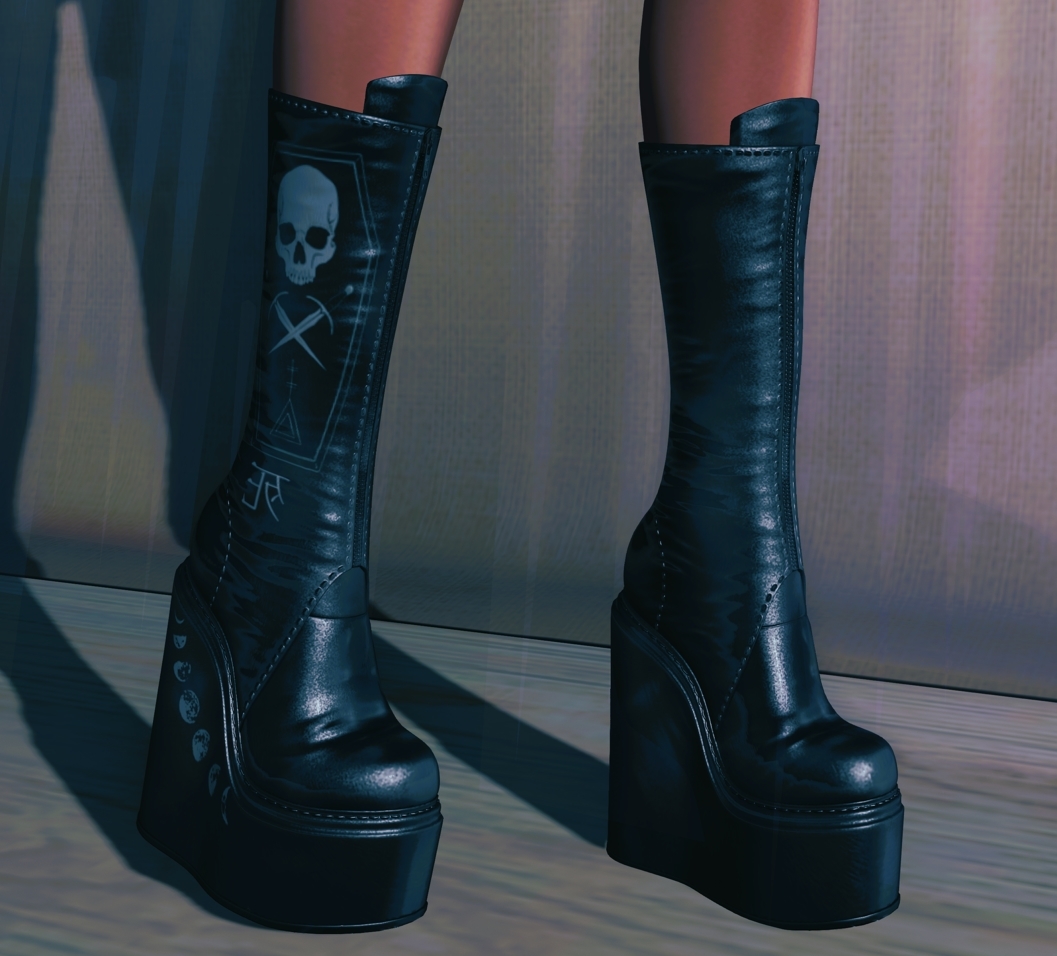 To get the free gifts, just join the FabFree inworld group for free and click on the gift box at each shop.  You've got til August 6th to party with us, so still a ways to go!
Boo!
xox
Aline
Aline is Wearing…
Clothes
Top – Corvus Collect Cecile (Free Gift for Members of Fabulously Free in SL Group/Group is Free to Join)
Leggings – Psycho Barbie Elysium Pants (250L for FabFree at Fifteen)
Boots – Corvus Dead Inara Boots (15L for FabFree at Fifteen)
Crown – Psycho Barbie Spiked Crown (15L for FabFree at Fifteen)
Alien – Psycho Barbie Plushie Alien (Free Gift for Members of Fabulously Free in SL Group/Group is Free to Join)
Earrings – Ysoral Luxe Earrings

Body   
Mesh Body – Maitreya Lara
Mesh Head – Lelutka Cate
Skin Applier –  Glam Affair Cate
Eyebrows– Jumo Britani
Eyes– Euphoric Dolly Babe Eyes
Tattoo – Sn@tch Filigree Sternum Tattoo
Eyeshadow – Lelutka Cate
Lipstick – Pout!  Toxic Spill
Nails – Maitreya Lara
Hair – Magika Rowan
Sim – Private