I've been going through a bit of an artistic phase.  Some phases are a bit more prevalent than others, but since I've been spending much more time at home (as one does these days), I've been picking up my paintbrush a bit more often than I had been doing in the past.  I'm a great proponent of making lemonade out of lemons, so my rediscovered love of making art falls squarely into the making the best of it category!  I picked up a few fun, free finds today that really reminded me of how happy I am that I've got loads of paint to be creative with.
Hunting Time
It's time for this month's edition of The Free Dove hunts!  The featured designers this time around are Ydea Style and Shiny Stuffs.  The way this hunt works is that you have to join the free Free Dove group, then look for 5 hidden items at The Free Dove, and 5 at both Ydea Style and Shiny Stuffs!  If you're searching for goodies from Ydea Style, then you're looking for a little cupcake, and if it's Shiny Stuffs you're hankering for, then look for the little powder compact.  It's all free, and it's all fab!  I got this jean skirt from the offerings of  Ydea Style, and the shirt and sparkly tears come courtesy of Shiny Stuffs.  Take a peek at the hunt keys below!
Sizes
Freya
Hourglass
Legacy
Maitreya
Isis (skirt only)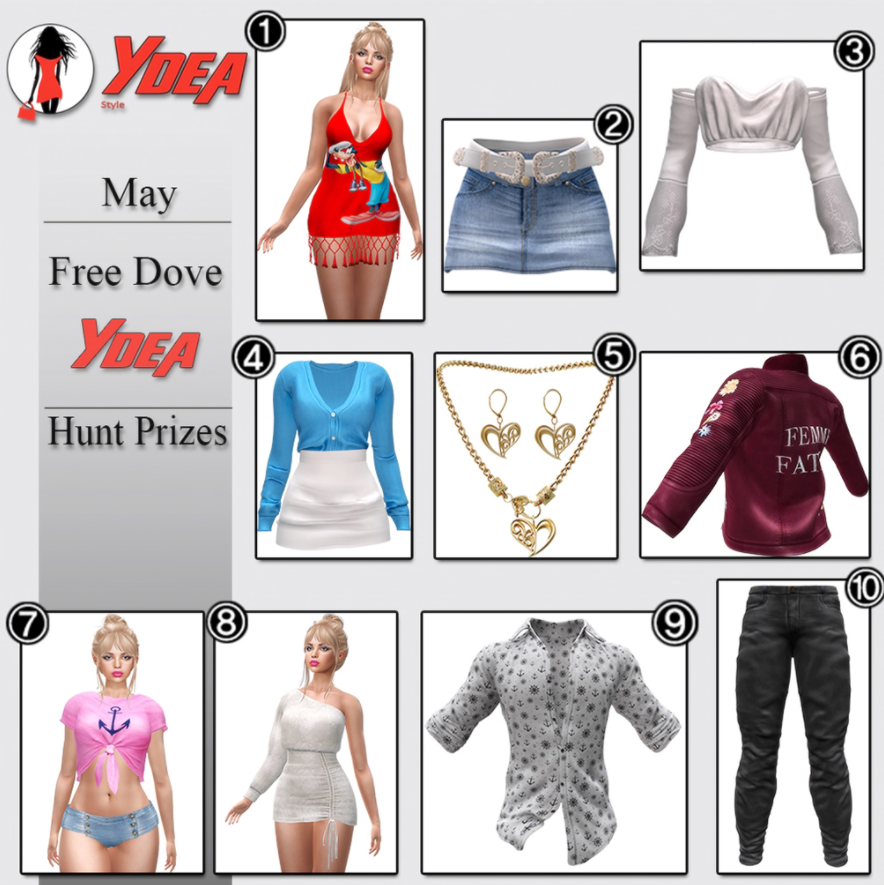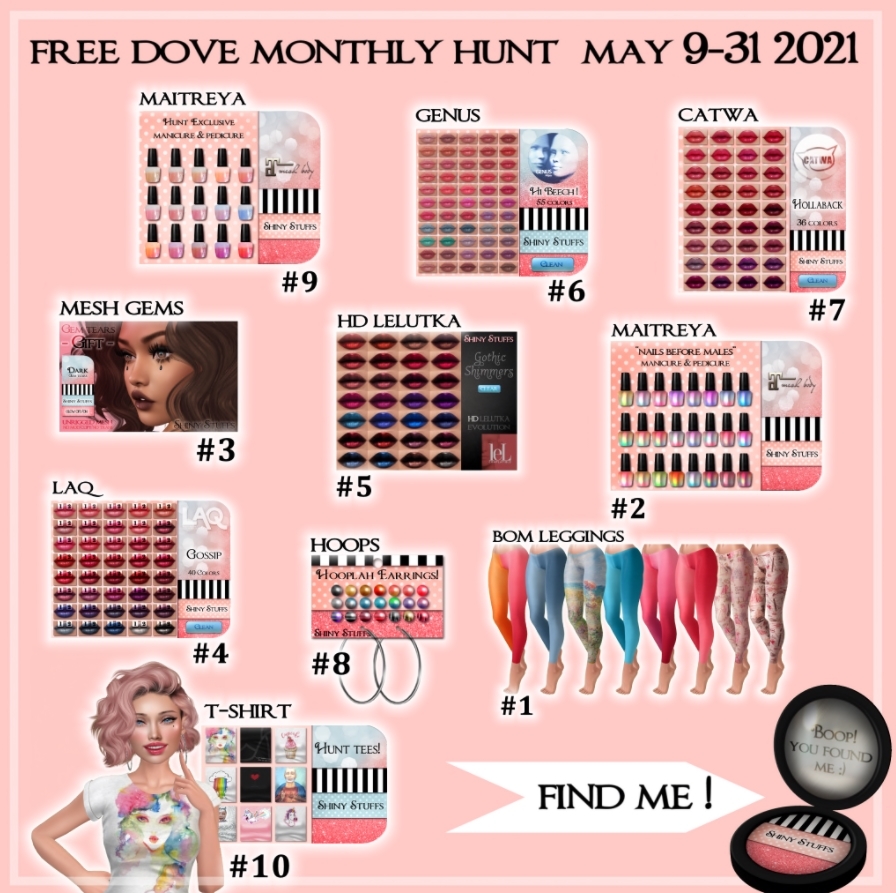 You've got until May 31st to take part, so happy hunting!
xox
Aline
Aline is Wearing…
Clothes
Shirt – Shiny Stuffs Hunt Tee (Free Gift on the Free Dove Hunt)
Skirt – Ydea Style Skirt (Free Gift on the Free Dove Hunt)
Glitter Tears – Shiny Stuffs Gem Tear (Free Gift on the Free Dove Hunt)
Rings – Vibing XOXO
Body 
Mesh Body – Maitreya Lara
Mesh Head – Lelutka Cate
Head Applier –  Glam Affair Cate
Eyebrows– Jumo Britani
Eyes– Euphoric Dolly Babe Eyes
Tattoo – Sn@tch Filigree Sternum Tattoo
Eyeshadow Applier – Sn@tch Cavern Club Extreme Eye Shadow
Lipstick Applier –Lelutka Cate
Nails – E.Marie Daydreamer
Hair – Magika Gemma
Pose – Foxcity On Point 2
Backdrop – Ninety K9