I'm back in the mood for garden parties today.  The kind where everyone dresses up and there are small foods everywhere (you know, like tiny sandwiches, miniscule cakes….), and the heels of your shoes start sinking into the grass and you muse suddenly about the madness of it all.  I think humans are pretty good at doing maddening things, that when you break them down you realize just how odd they are, and yet entirely entertaining!
Dressed Up
My slinky little dress is the February group gift from Sass.  You'll feel entirely sexy in this gift, with it's soaring hemline and mostly nonexistant top.  I'm not complaining, it's giving me everything I need today!  To get yours, join the Sass group for just 10L, and then pay the vendor 1L which will be returned to you promptly.  The January gift is there for you too, and you may want to try your hand at the lucky boards while you're at it!
Sizes
Freya
Kupra
Legacy
Maitreya
Hourglass
Party it Up
Ishiku have some awesome gifts out too right now – this heart shaped martini glass is just the right touch of madness and whimsy I live for at the moment.  You can hold it in either hand, so you can pose it out to your heart's content.  Also, if you're looking for an a-mah-zing garden feature (or indoors, if you have super high ceilings!) this fountain behind me is yet another free group gift at Ishiku while you're there.  I've added a photo below to show you just how huge it is, and yet only 9 Land Impact.  Sweet right?  Join the Ishiku group for free and you can grab these!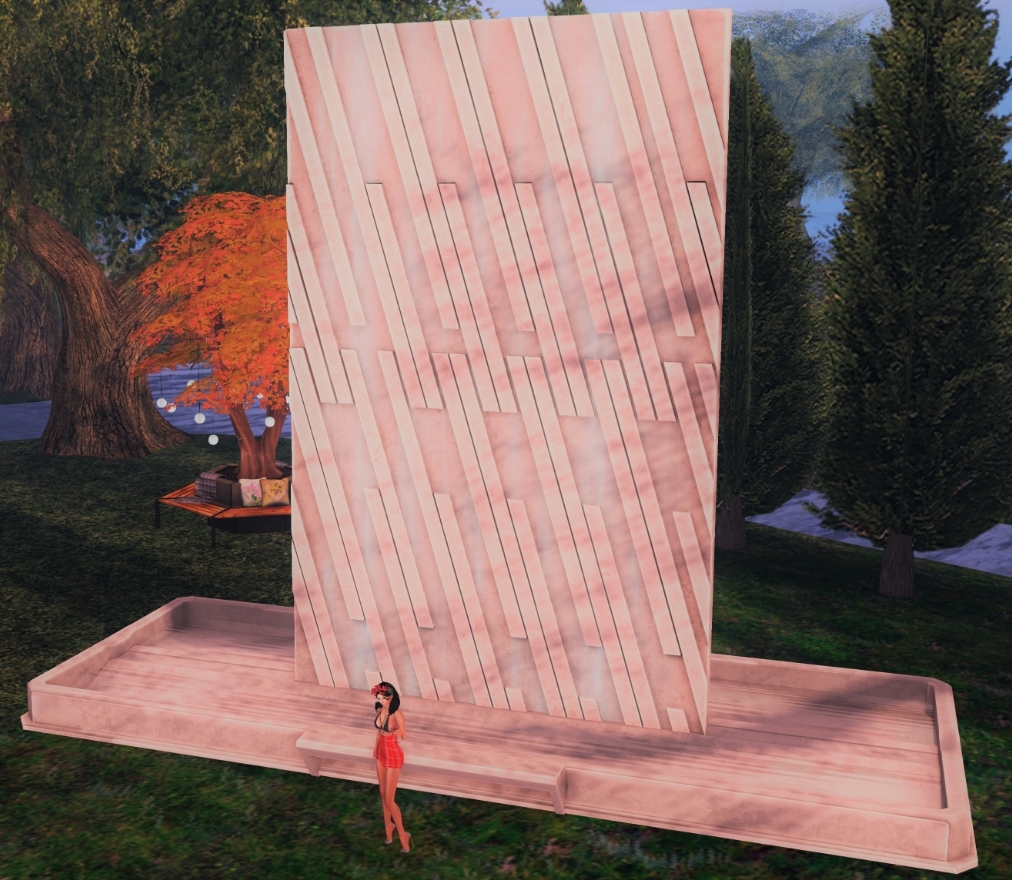 Excuse me, do you have any grey poupon?
xox
Aline
Aline is Wearing…
Clothes
Dress – Sass Jewel Dress (Free Group Gift/Group is 10L to Join)
Rings- Kibitz So Loving Rings
Flowers – Lode Oleander Aliceband
Drink – Ishiku Pink Drink Cocktail (Free Group Gift/Group is Free to Join)
Earrings – LaGyo Jetsetter
Body 
Mesh Body – Maitreya Lara
Mesh Head – Lelutka Cate
Head Applier –  Glam Affair Cate
Eyebrows– Jumo Britani
Eyes– Euphoric Satomi Eyes
Tattoo – Sn@tch Filligree Sternum Tattoo
Eyeshadow Applier – Lelutka Cate
Lipstick Applier – Lelutka Cate
Nails – Maitreya Lara
Hair –  Pr!tty Gwen
Fountain – Ishiku Granite Wall Fountain (Free Group Gift/Group is Free to Join)