There's nothing quite as cool as a patterned, oversized blazer.  I think you kind of have to be a "patterned oversized blazer" type of person to make it work, and today I have become that person.  I feel powerful, cool, and even like I can take on whatever in this look.  Do you feel like you need an injection of cool-girl style?  I've got just the item for you!
Kustom Made
You guys know me and Amitomo.  If they're making it, then I'm totally into it.  It's my absolute fave thing to play their gachas, because they are always so pretty and well made, and whenever you play, it's a given that you'll end up with a full outfit.  I headed over to Kustom9, and played only once (I do it for FabFree science, I promise) and ended up with this sweet outfit!  At just 69L per pull, you really can't say no to a full outfit (sized for Maitreya).  It also came with an HUD to change the shorts and top colour, so you're really ending up with several looks in one.  If you're feeling particularly lucky, try playing a few more times for the Rare hair.  I didn't get it, but you just might!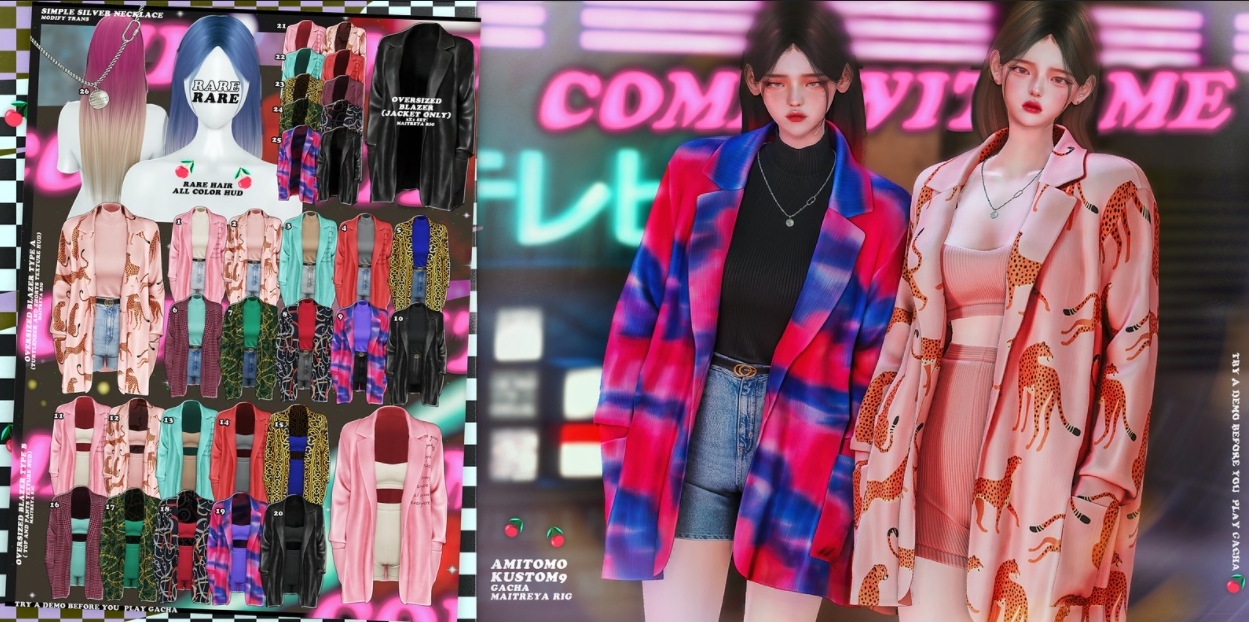 Good luck, cool girls!
xox
Aline
Aline is Wearing…
Clothes
Outfit – Amitomo Come With Me (69L per pull at Kustom9)
Body 
Mesh Body – Maitreya Lara
Mesh Head – Lelutka Cate
Head Applier –  Glam Affair Cate
Eyebrows– Jumo Britani
Eyes– Euphoric Dolly Babe Eyes
Tattoo – Sn@tch Filligree Sternum Tattoo
Eyeshadow Applier – Alaskametro Bali
Lipstick Applier – Lelutka Cate
Nails – Maitreya Lara
Hair –  Lamb Sunshine
Backdrop – Paleto Decatur St