I'm in the spirit of all things St. Patrick's Day, I'm heading to the pub for a very green drink.  Is it crème de menthe?  Probably not, that stuff is far too gross.  More likely it's green Kool-aid… but don't tell anyone, ok?
Irish Pub
I never cease to be amazed by the generosity and creativity of Kim of Kim's Kreations.  She's done it again with this month's offerings for the FabFree St. Patty's Day Hunt.  Not only do you get each prize for just 1L… it's A WHOLE IRISH PUB.  Yeah, exactly – the building, the furniture, the ambiance… everything!  There are 5 prizes to pick up so you can have your own little corner of Eire wherever you go.  I've got a shot of the lovely pub exterior for you below!  Thanks Kim!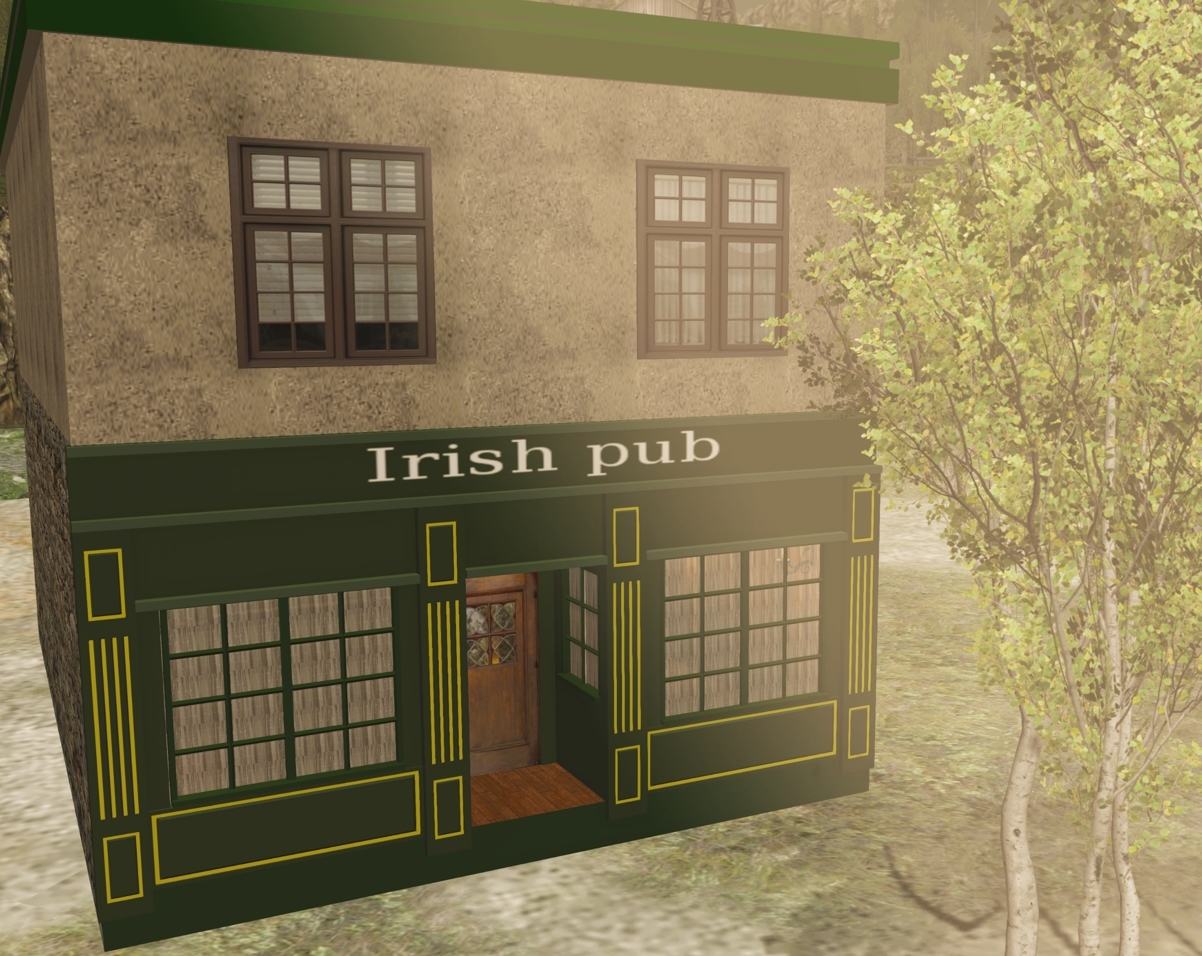 Back to the Fair
I headed back to Whore Couture Fair, this time in search of a sexy and sassy little outfit to wear to the pub.  Hollipocket was happy to oblige, and provided me with this cute flouncy dress for just 10L.  There are a whole bunch of 10L specials at Whore Couture Fair – each booth has one!  I really like the shiny iridescent quality of this look.  So cute!  Don't forget that this event is 18+ and features very adult themes.
Sizes
Cheers!
xox
Aline
Aline is Wearing…
Clothes
Dress – Hollipocket Martia Babydoll (10L @ Whore Couture Fair)
Drink – ChicChica St Patrick's Special Cocktail
Rings – Vibing Melanie
Body   
Mesh Body – Maitreya Lara
Mesh Head – Lelutka Cate
Skin Applier –  Glam Affair Cate
Eyebrows– Jumo Britani
Eyes– Euphoric Dolly Babe Eyes
Tattoo – Sn@tch Filigree Sternum Tattoo
Eyeshadow –Adored Day & Night Liner
Lipstick – Alaskametro Gilded
Nails – Maitreya Lara
Hair – Magika Grace
Building – Kim's Kreations Irish Pub Bar (1L on the FabFree St. Patty's Day Hunt)
Piano – Kim's Kreations Irish Pub Piano (1L on the FabFree St. Patty's Day Hunt)
Rug – Kim's Kreations Irish Pub Rug (1L on the FabFree St. Patty's Day Hunt)
Table and Lamp – Kim's Kreations Irish Pub Table & Lamp (1L on the FabFree St. Patty's Day Hunt)
Chair – Kim's Kreations Irish Pub Armchair (1L on the FabFree St. Patty's Day Hunt)