Tag Archives:
violetility
Free Gift @ Shop & Hop/No Group Join Required by Masoom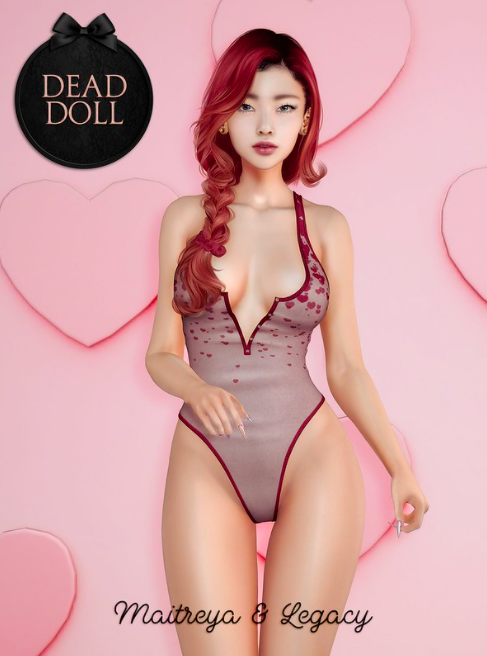 Free Group Gift/Group is 250L to Join @ Dead Doll
Irish is in My DNA
You know those TV commercials where people talk about their DNA test results? Well, mine shows that I'm more than a quarter Irish. So, St. Patrick's Day is kind of a big deal in my house, and as you can see, I did a little celebrating last night at Hunny's Pub. 
And my outfit? I didn't spend a single Linden, thanks to amazing gifts from the Finders, Keepers St. Patrick's Day Hunt. I was able to find a dress, hair, necklace, makeup, and nails… all for FREE!
Oh, and I skipped the pint of Guinness because Hunny's was serving a special St. Patrick's Day cocktail that I'll tell you about below (also free).
Luck of the Irish?
Not really, but I'm sure it doesn't hurt. This isn't a difficult hunt, but I'll admit that some of the gifts are really well hidden!
The Hair
FABIA Mesh Hair set out this sexy, mussed 'do as their St. Patrick's Day Hunt gift. Adriana comes in a fatpack of colors and includes an alpha.
The Necklace
I love this shamrock necklace from Violetility, especially the Celtic-inspired design. The Leprechaun Necklace comes in one size and does not include a resizer, but it is modifiable so you can right-click > edit > stretch if you need to change the size.
The Dress
My dress was the gift from Decoy. The Lillie Dress comes in grass green, as well as the shamrocks version that I'm wearing. It is sized for Maitreya and Slink Hourglass mesh bodies.
The Makeup & Nails
I stopped at LIVIA to grab their gift: the Envy Eyeshadow & Nail Appliers. 3 different eyeshadows are included, with appliers for Catwa, LeLutka, Omega, and tattoo layers for classic avatars.
The nails include 5 different designs for hands and feet, with appliers for Maitreya, Slink, Vista, and Omega-enabled Bento hands.
The Drink
No St. Patrick's Day party is complete without an adult beverage, right? And thankfully, ChicChica was serving up exactly what I needed. The St. Patrick's Day Special Cocktail comes with a sprig of mint and a lucky four-leaf clover charm on the straw. Just what you need to quench your virtual thirst! 😀
About The Hunt
The Finders, Keepers St. Patrick's Day Hunt will continue through 24 March 2018. Each store has a free hunt item as well as a special discounted item for sale.
Click HERE for a list of stores and hints, or join the Finders, Keepers Hunt Events in-world group to grab the hunt HUD, as well as a few extra gifts. 🙂
Sláinte!
❤ Serena
*~*~*~*
Serena is wearing…
Head: LeLutka May
Skin Applier: Glam Affair Enea (featured @ March Collabor88)
Eyeshadow: LIVIA Envy Eyeshadow (free gift / Finder's Keepers St. Patrick's Day Hunt)
Lipgloss: Izzie's Fae Lipgloss
Necklace: Violetility Leprechaun Necklace (free gift / Finder's Keepers St. Patrick's Day Hunt)
Hair: FABIA Adriana (free gift / Finder's Keepers St. Patrick's Day Hunt)
Body: Maitreya Lara
Nails: LIVIA Envy Nail Appliers (free gift / Finder's Keepers St. Patrick's Day Hunt)
Dress: Decoy Lillie Dress Shamrock (free gift / Finder's Keepers St. Patrick's Day Hunt)
Cocktail: ChicChica St. Patrick's Day Cocktail (free gift / Finder's Keepers St. Patrick's Day Hunt)
Pose by La Baguette
Photographed at Hunny's Pub – O'Hare's Gap