Let me tell you a thing or two about me and gardening.  We don't get along.  I like the whole "hang out in the garden and admire the fruits of my labour" bit, but everything else isn't really up my alley.  The dirt, the squirrels who insist on decimating your work, the bugs.  Just… ugh.  Perhaps I need to be a person who has enough money to hire a gardener, so I can go and admire the fruits of THEIR labour!  Ahwell, either way, I'm hanging out in my pristine garden today, and I can categorically state that there is no dirt under my fingernails.  You can decide if that's a good thing or a bad thing!
The Easter Hunt
There are a lot of hunts going down around the grid right now, seeing as the Easter Egg hunt is literally the reason hunts exist in SL (I am possibly exaggerating a bit here…but unless you're a pirate, work with me…).  Over at @home and Noveny, they are doing it up in grandiose fashion with a super fun (and totally free) hunt in which each egg contains a really awesome home decor item.  I had such a fun time making my little garden getaway come to life with these free finds.  The catch is, you have to make it happen ASAP because the hunt is only running today and tomorrow.  So get over there!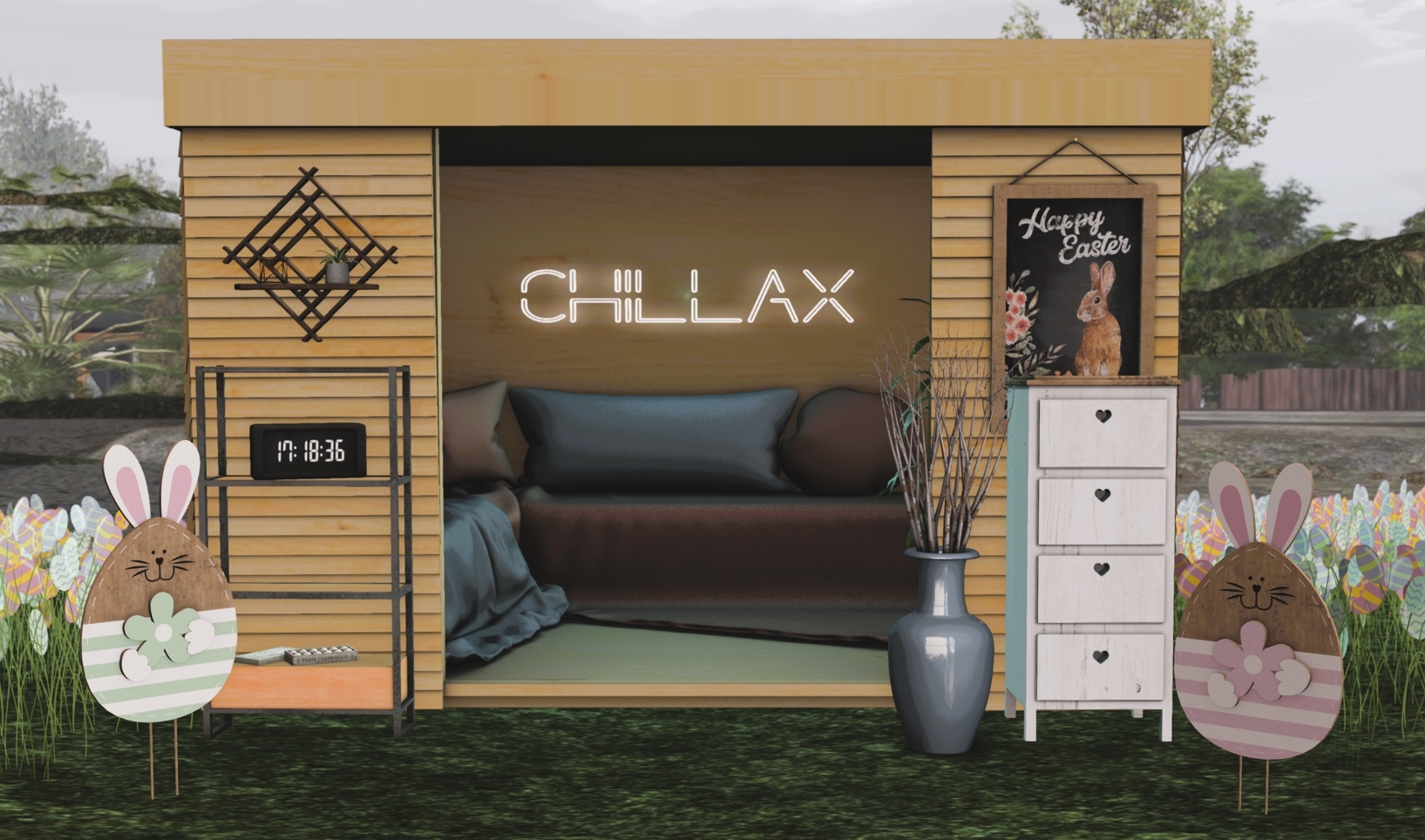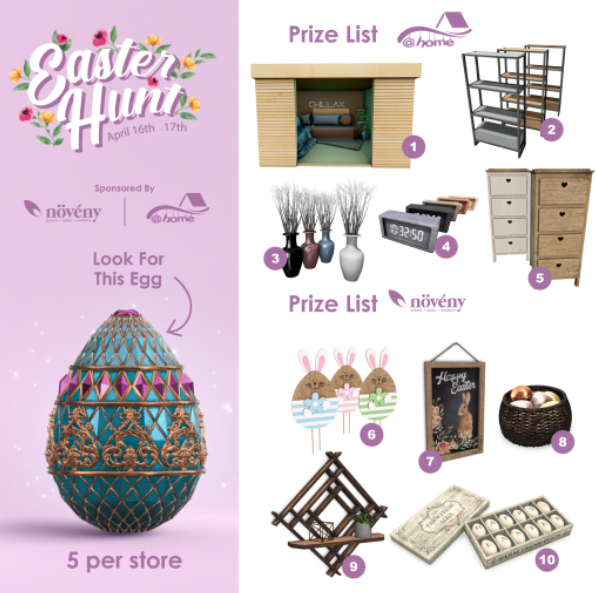 Flower Power
Of course, all garden lounging requires a new outfit (Does it though, Aline? Sounds fake, but ok…).  I picked up this lovely top by Vagrant (you neeeed to see the strappy back) which is equal parts Spring and sexy.  The Vagrant group is free to join, so you'll be getting this lovely flowered top for free.  How awesome is that?
Sizes
Kupra
Legacy
Legacy Perky
Legacy Perky Petite
Maitreya
Maitreya Petite
Hoppy Hunting!
xox
Aline
Aline is Wearing…
Clothes
Top – Vagrant Melissa Top Spring Edition (Free Group Gift/Group is Free to Join)
Shorts – Evani Mircella Vintage Shorts
Earrings – Ysoral Luxe Earrings
Body   
Mesh Body – Maitreya Lara
Mesh Head – Lelutka Cate
Skin Applier –  Glam Affair Cate
Eyebrows– Jumo Britani
Eyes– Euphoric Dolly Babe Eyes
Tattoo – Sn@tch Filigree Sternum Tattoo
Eyeshadow – Alaskametro Impressionist
Lipstick – Lelutka Cate
Nails –Maitreya Lara
Hair – Stealthic Lethal (Available at Kustom9)
Pose – Foxcity Baby
Sim – The FabFree Info Hub
Decor
Shed – @home Chillax Garden Shed (Free Gift on the Noveny & @home Easter Hunt)
Shelf – @home Metal Frame Shelves (Free Gift on the Noveny & @home Easter Hunt)
Urn – @home Floor Vase with Branches (Free Gift on the Noveny & @home Easter Hunt)
Drawers – @home Heart Drawer Unit (Free Gift on the Noveny & @home Easter Hunt)
Clock – @home Digital Block Clock (Free Gift on the Noveny & @home Easter Hunt)
Bunnies – Noveny Garden Rabbit Pink & Green (Free Gift on the Noveny & @home Easter Hunt)
Happy Easter Frame – Noveny Happy Easter Frame (Free Gift on the Noveny & @home Easter Hunt)
Box of Eggs – Noveny Vintage Easter Eggs Box (Free Gift on the Noveny & @home Easter Hunt)
Lattice Shelf – Noveny Diamond Shelf (Free Gift on the Noveny & @home Easter Hunt)