I am a lover of art in both RL and SL. I'm hanging out in the studio with a nice, piping hot chai tea latte. Although I look like I'm ready to go to an art gallery opening with all the fashionable finds I am wearing today…
Uber! Style!
I have a whole load of free gifts from the Uber Anniversary to share this morning. This event is filled with fashionable free finds. To do the event, go to each store on the Uber gifts list that Aline made for us all. It can be accessed here. If you have the time, do send her a thank you for this because her hard work compiling this list made it so much easier for everyone to find the gifts. You can grab the free gifts until September 22nd. You only have a week left to get the goods!
Free gifts from the 8th Uber Anniversary I am showing today are:
Make sure you check out all the past FabFree coverage of the Uber Anniversary before the event closes. The posts below show more free goodies for you all to get! You will be walking around in style and ready for the next big art event after you collect these fashionable presents.
A Little Fun From Alaskametro
I'm loving the deals I found at the Spoonful of Sugar Festival, and I was delighted to see that Alaskametro has a 10L item out at their booth at the event. It's inside the coconut.  100% of the donations for this item are given to Doctors Without Borders. This nail applier set includes a hud of tropical colours. I will admit that Aline's love for Alaskametro's products has totally worn off on me. There are so many shades and designs included in this set! Did you know that even if you use a BOM avatar you can wear omega nails if you have the omega kit installed in your body? They are so cool and I always enjoy using omega nails because they are easy to apply and use- they just apply onto the nails on your body. The Spoonful of Sugar Festival ends on September 18th, so you only have a couple of days left to grab this great nail set for only 10L. You can see an image of the textures included with this nail applier set below.  Note that the set includes toenail appliers as well.
Sizes Included (Nail Appliers)
Omega
Maitreya
Slink
Cinn
Chai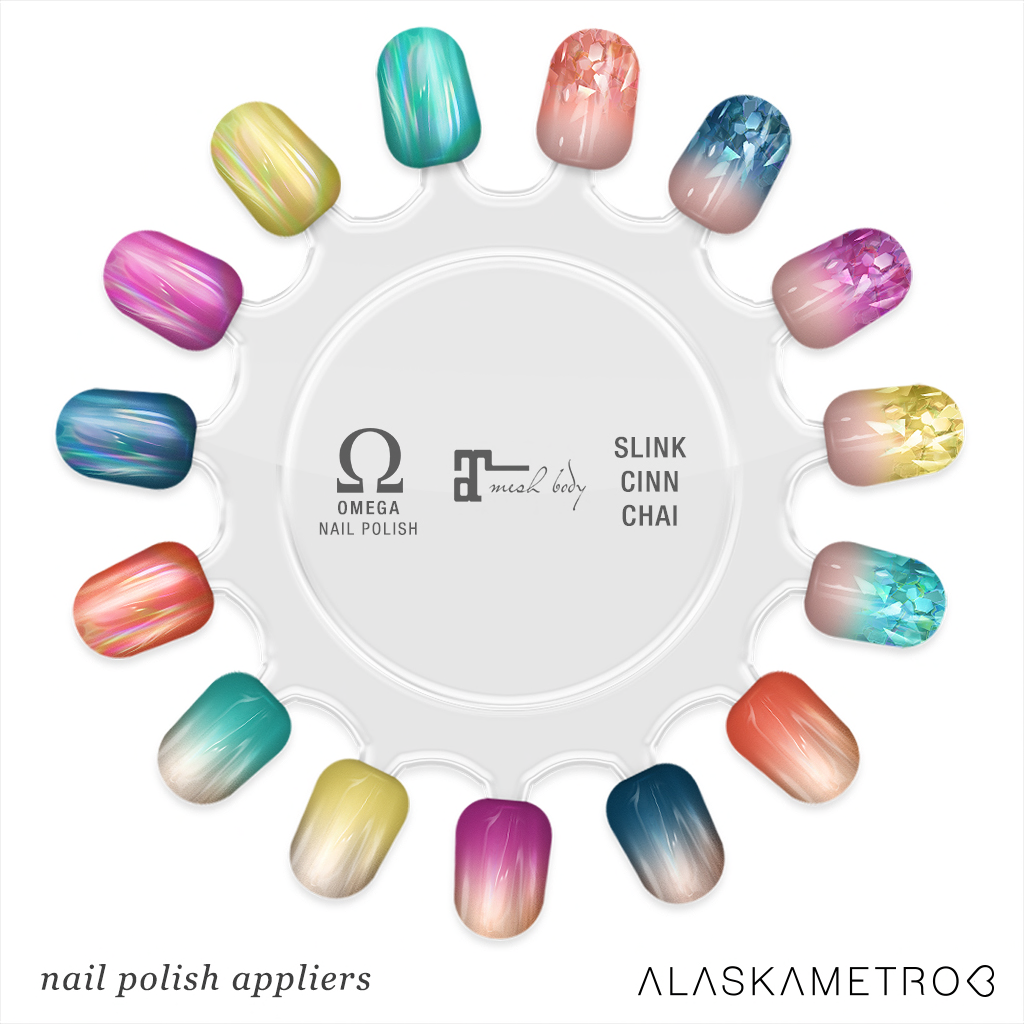 Here are my past posts which cover some of the 10L donation prizes from the Spoonful of Sugar Festival:
Thanks for reading, FabFree!
xx
-Caroline
Caroline is Wearing…
Clothes & Accessories
Romper – Ari-Pari Estella Romper (Available @ Spoonful of Sugar Festival/100% of Proceeds Go to Doctors Without Borders)
Necklace & Earrings – EarthStones Jewelry Triple Tear Set – African Turquoise (Free Gift for Uber's 8th Anniversary/No Group Join Required)
Shoes – Breathe Samona Heels (Free Gift for Uber's 8th Anniversary/No Group Join Required)
Sunglasses – Deep Static Francesca Fall Shades (Free Gift for Uber's 8th Anniversary/No Group Join Required)
Latte – Andika Chai Latte (Free Gift for Uber's 8th Anniversary/No Group Join Required)
Body
Hair – Sintiklia Caramel (60L for Happy Weekend/9L refunded with Free Group Join) 
Mesh Body – Maitreya Lara
Mesh Head – Lelutka Lake – EvoX
Head Skin – Dernier Hannah – Sienna
Body Skin – MILA Older Body Skins – Honey Chubby (Free on the Marketplace) Previously blogged here.
Neck Fix & Ear Skins – Velour EvoX Ear Skins and Neck Fix – Sienna (Free/No Group Join Required) Previously blogged here.
Eyes – Lelutka Lake – EvoX
Lipstick – Glam Affair Moenbryda Lipstick Collection (Free Gift for Uber's 8th Anniversary/No Group Join Required)
Nails – Alaskametro Touch of Tropics Nail Applier (10L @ Spoonful of Sugar Festival/100% of Proceeds Go to Doctors Without Borders)
Backdrop – Ex Machina Atelier Baudelaire