The Darkness Event
The Darkness is currently having their anniversary, and they have gifts at every booth! It's awesome! I love dark style things so this event is perfect to me. Simply join the free event group and move around the event to collect up the gifts. I am showing two free gifts from this event, including:
A

free

set of red eyes from Yoshi, which has appliers for Lelutka, Omega, and Catwa appliers and it also includes BOM eyes and a set of mesh eyes (to be added to any head). 
The holdable cross is the

free

event gift from EscalateD. 
Fantasy Skins @ Lumae
I have another Enchanted Forest Hunt item to share today, which is this amazing fantasy skin I have on. This is made by the amazing Lumae, and it is one of five fantasy skins they have available on the hunt! You are looking for the little rainbow fairy, and each prize costs 5L.  Here are the hints for each skin:
To sit or not to sit
Tiptoe through the tulips
Things are looking up in Eden
The good stuff is usually kept behind here
Sometimes its poison!
 Each skin comes in the same teal colour tone shown in my photo, called Siren, and it is indeed perfect for creating a siren avatar. In my photo I am wearing the Eden skin designed for Lelutka Evolution. Each of the five skins comes in BOM, and each skin is designed to work on specific heads.In the hunt key below:
Amesha is designed for Lelutka Evolution Heads, and it also includes Omega appliers
Eden is designed for Lelutka Evolution Heads, and it also includes Omega appliers
Jemima is designed for Paneolus Heads
Lofn is designed for Catwa Heads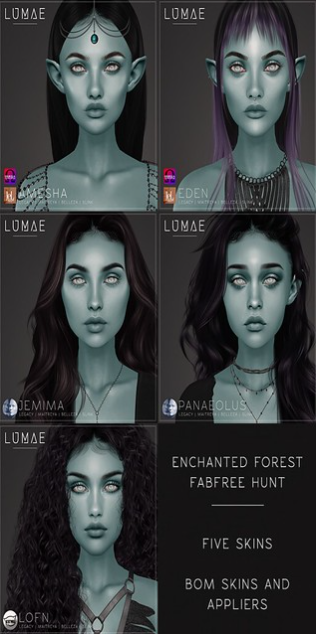 A Unique Necklace
Finally, this necklace by Romazin is a new TeleportHub Group Gift. The TeleportHub group costs 10L to join. This necklace is not your typical elegant look, as it has fishbones and spiky metal tags on it. Nonetheless, it is a super cool find and it comes in a fatpack of colour change options, as well as 3 ways to wear it. 
Enjoy, FabFree!
xx
-Caroline
Caroline is Wearing…
Clothes & Accessories
Dress – [QE] Designs Euryale Dress
Necklace – Romazin Bruta Necklace (Teleport Hub Group Gift/ Group costs 10L to Join)
Holdable Cross – .EscalateD. Darkness (Free Gift @ The Darkness Anniversary/ Group is Free to Join)
Shoes – Seniha Lexie Heels
Body

Hair – .EscalateD. Jizelle (Available @The Darkness Anniversary)
Mesh Body – The Shops Legacy 
Mesh Head – Lelutka Lilly 3.1
Skin – Lumae Eden-Siren (5L on the FabFree Enchanted Forest Hunt)
Eyes– Yoshi Aro Eyes (Free Gift @ The Darkness Anniversary/ Group is Free to Join)
Eyeliner– Lelutka Lilly
Lipstick – Lelutka Lilly HD Lipstick
Nails – The Shops Legacy 
Photo Location – Private Location