Right, I've decided it's officially summer in SL.  To be fair, it's usually summer all year if you want it to be, but I have decreed it to be so now.  Time to put on your loudest bikini and dive into the fun of the season!
In the Miix
The Miix Event rages on this month, and they've just set up a fun hunt that you can take part in.   In order to grab the goodies, just join the Hype Events group for free, then search for the little orange slices around the event.  There's also some fun free finds for guys too!  Here's what I put together:
FREE bikini by FurtaCor sized for Maitreya, Freya, Isis, Kupra, Hourglass Petite, Legacy, Legacy Perky, Maitreya Petite & Hourglass
FREE scrunchie by FurtaCor
FREE glasses by FurtaCor
FREE floatie by Tequila with pose included
FREE pool backdrop by Great Idea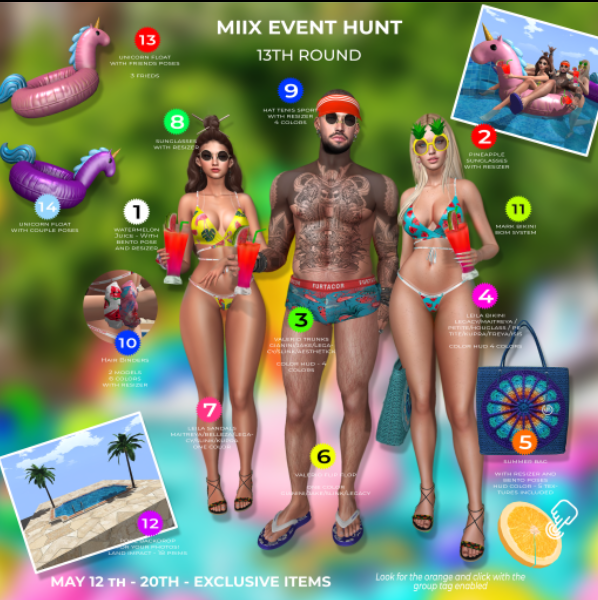 This hunt isn't around for too long – just until May 20th, so get to hunting!
xox
Aline
Aline is Wearing…
Clothes
Bikini – FurtaCor Leila (Free on the Miix Event Hunt)
Scrunchie – FurtaCor Hair Binder (Free on the Miix Event Hunt)
Glasses – FurtaCor Pineapple Glasses (Free on the Miix Event Hunt)
Body 
Mesh Body – Maitreya Lara
Mesh Head – Lelutka Cate
Head Applier –  Glam Affair Cate
Eyebrows– Jumo Britani
Eyes– Euphoric Dolly Babe Eyes
Tattoo – Sn@tch Filigree Sternum Tattoo
Eyeshadow Applier – Lelutka Cate
Lipstick Applier –Lelutka Cate
Nails – Alaskametro Gala II
Hair – Moon Razor Wire

Decor
Backdrop – Great Idea Summer Backdrop (Free on the Miix Event Hunt)
Floatie – Tequila Unicorn Floater (Free on the Miix Event Hunt)