Time to do some alleyway fashion posing.  This seems to be a thing that happens a lot in SL.  You know, nip down an alleyway and be super fashion about the whole thing.   I will pose in an alleyway if I must, but only if I get some dumplings after.  Promise?  Ok!
Whose Bags?
I'm heading back to The Free Dove today, purveyors of all things free and fantastic.  They're upping the ante this month by bringing back their monthly hunts!  It's been a few years, so it's super exciting that this tradition is back in full force.  Looks like each month there will be a new designer featured, and to kick things off it's MYBAGS.  The way it works is that you join the free Free Dove group, then search The Free Dove for 5 little gift boxes.   Each one contains one of the bags you see in the vendor ad below.  If you want the other 5, just head on over to MYBAGS and search for 5 boxes there!  That's 10 fun gifts all for free.   I'm super excited!  I picked up the #1 bag, and to be honest I'm not sure if I grabbed it at The Free Dove or MYBAGS, but that's all part of the fun.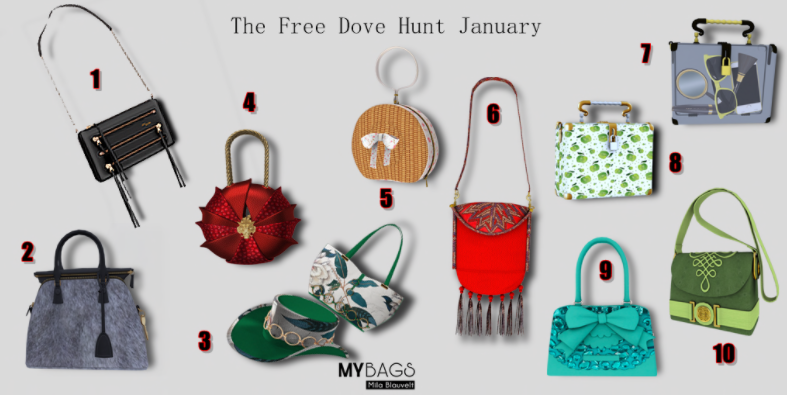 And More!
While I was at The Free Dove, I also picked up these fun sparkly pants by Wellmade and the matching shoes (sized for Belleza, Maitreya and Slink feet).  You always know you'll end up with a great outfit for free when you visit.  Again, just join the free group and the giant amount of gifts are yours for the taking!
Sizes
Maitreya
Hourglass
Physique
Have Fun!
xox
Aline
Aline is Wearing…
Clothes
Top – M.Birdie Rozel
Pants – Wellmade Sara Pants (Free Gift at The Free Dove/Group is Free to Join)
Bag – MYBAGS My Vigo (Free on the Free Dove January Hunt/Group is Free to Join)
Shoes -Wellmade Amba Wedges (Free Gift at The Free Dove/Group is Free to Join)
Necklace – Hive Customized Choker
Body 
Mesh Body – Maitreya Lara
Mesh Head – Lelutka Cate
Head Applier –  Glam Affair Cate
Eyebrows– Jumo Britani
Eyes– Euphoric Dolly Babe Eyes
Tattoo – Sn@tch Filligree Sternum Tattoo
Eyeshadow Applier – Lelutka Cate
Lipstick Applier – Lelutka Cate
Nails – Maitreya Lara
Hair –  Magika Apple Pie
Pose – Space Cadet Hayley
Backdrop – Minimal Fangsun