We're back on a Monday, and that just gives me the urge to sit down.  I'm sure it's not that serious, but just thinking about all the Monday things makes me long for a quiet room that does not involve piles of paper that need seeing to and other such uncomfortable realities.  Time to retreat to SL to find some cute items to cheer me through the day!
Purely Gorgeous
Pure Poison really are spoiling their group members right now!  There is yet another amazing group gift – these very precarious and exceedingly sexy heels!  I'm sure that if I wore them in RL I'd end up in traction fairly quickly, but luckily for me my inworld self is extremely good at not falling flat on her face.  Anyway, they come with 16 different colour options in the HUD, so they'll go with pretty much anything.  The Pure Poison group is free to join (yay!) and you'll find these beauties right at the landing point.
Sizes
Belleza
Ebody
Kupra
Legacy
Maitreya
Slink
Happy Anniversary!
FabFree Designer SLW Design are celebrating a whole year of being in business!  To celebrate, there's a LOT going on at their store.  I had quite a bit of fun on their little store hunt, and found this fun butterfly-adorned dress (sized for Maitreya bodies).  It's extremely flirty in the back (aka…don't forget your undercrackers), and just cost me 15L and a bit of hunting.  You'll see the rest of the items on the hunt in the vendor photo below!  You'll find there are lots of other things going on to celebrate, including new free group gifts (including one for FabFree members!), sales under 75L each week, and 20% off on everything in store.  Go and support Susi, she's awesome!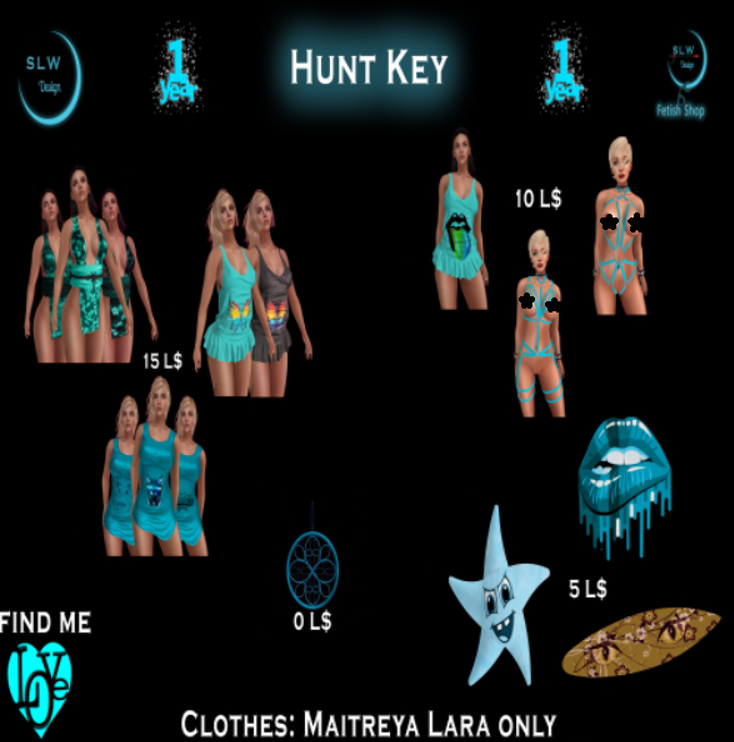 Hope your Monday isn't insurmountable!
xox
Aline
Aline is Wearing…
Clothes
Dress – SLW Design Butterfly Dress (15L on the SLW Design Anniversary Hunt)
Shoes – Pure Poison Sabrina (Free Group Gift/Group is Free to Join)
Earrings – Ysoral Luxe Earrings
Body   
Mesh Body – Maitreya Lara
Mesh Head – Lelutka Cate
Skin Applier –  Glam Affair Cate
Eyebrows– Jumo Britani
Eyes– Euphoric Dolly Babe Eyes
Tattoo – Sn@tch Filigree Sternum Tattoo
Eyeshadow – Adored Borealis
Lipstick – Lelutka Cate
Nails –Maitreya Lara
Hair –Truth Shadow
Pose – Foxcity Legs for Days
Sim – Private