Shop & Hop is coming to a close!  This is not a drill… so run and grab the freebies while they're still there!  Eeeeeeeek!
A Quick One
I won't blather too much, We've got a deadline!  Shop & Hop closes tomorrow and we've got a few months til the next one, so time to get stuck in before it all disappears.   Here's what I've got on today:
Here's a view of the lingerie uncovered for you: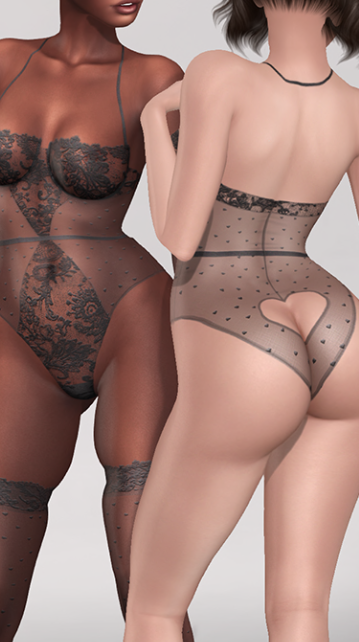 Don't let it pass you by!
xox
Aline
Aline is Wearing…
Clothes
Bodysuit and Stockings – Alaskametro Embrace (Free Gift @ Shop & Hop/No Group Join Required)
Drink – Hangry Heart Can (Free Gift @ Shop & Hop/No Group Join Required)
Glasses – Horl Nini Glasses (Free Gift @ Shop & Hop/No Group Join Required)
Skirt – Blueberry HBIC
Jacket – Blueberry Candy
Earrings – AS Broken Earring (Free Gift @ Shop & Hop/No Group Join Required)
Earrings – Ysoral Luxe Earrings
Body   
Mesh Body – Maitreya Lara
Mesh Head – Lelutka Cate
Skin Applier –  Glam Affair Cate
Eyebrows– Jumo Britani
Eyes– Euphoric Dolly Babe Eyes
Tattoo – Sn@tch Filigree Sternum Tattoo
Eyeshadow – Alaskametro Spring Beauty Book
Lipstick – Alaskametro Spring Beauty Book
Nails – Pure Poison Sara Nails and Rings (50L for Fifty Linden Friday)
Hair – Truth Lullaby
Backdrop – Isuka confliction