I'm only nipping inworld for a short spell tonight, Fabbies, so let me get you the details of how to get your mitts on this gorgeous outfit!
Hunt It Out
Seniha is currently hosting a hunt for Halloween with so so many pretty things.  They're priced at just 20L each, so you can put together a cute look with just a few Lindens.  Look around the store for the lollipops, and you're sure to find something you love.  I grabbed the skirt (they are possibly shorts… but… hey), the top and the jacket as well.  Check out all the sizes available in the hunt key below.  This fun and painless hunt is running until Halloween!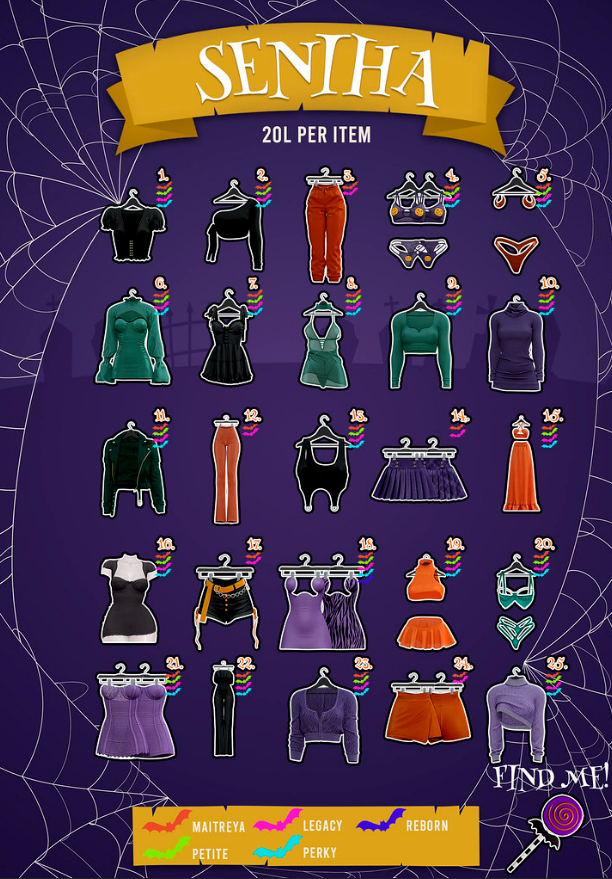 Have an awesome one, Fabsters!
xox
Aline
Aline is Wearing…
Clothes
Top – Seniha Nyobi (20L on the Seniha Halloween Hunt)
Skirt – Seniha Jeymi (20L on the Seniha Halloween Hunt)
Jacket – Seniha Anny (20L on the Seniha Halloween Hunt)
Flowers – Ariskea Autumn Flowers Bouquet
Body   
Mesh Body – Maitreya Lara
Mesh Head – Lelutka Cate
Skin Applier –  Glam Affair Cate
Eyebrows– Jumo Britani
Eyes– Euphoric Dolly Babe Eyes
Tattoo – Sn@tch Filigree Sternum Tattoo
Eyeshadow – Alaskametro Ocean Sunset
Lipstick – Alaskametro Ocean Sunset
Nails – Maitreya Lara
Hair – Stealthic Venice
Sim – Luane's World