Heyo again FabFree!  I have a few lovely finds from the FabFree Enchanted Forest Hunt that I want to show you before they disappear – very little time left to get your mitts on these before they flicker off into the ether on the 22nd.  Don't delay!
Amazing!
This cute top from Amazing Creations is so adorable, and I'm happy I picked it up!  It makes me think of fields of sunflowers or bouquets of cheerful yellow flowers.  Isn't it nice?  It's completely free – just search for our little rainbow fairy.  Don't wait!
Sizes
Tonic Curvy
Tonic Fine
Freya
Hourglass
Isis
Maitreya
Physique
TMP
Venus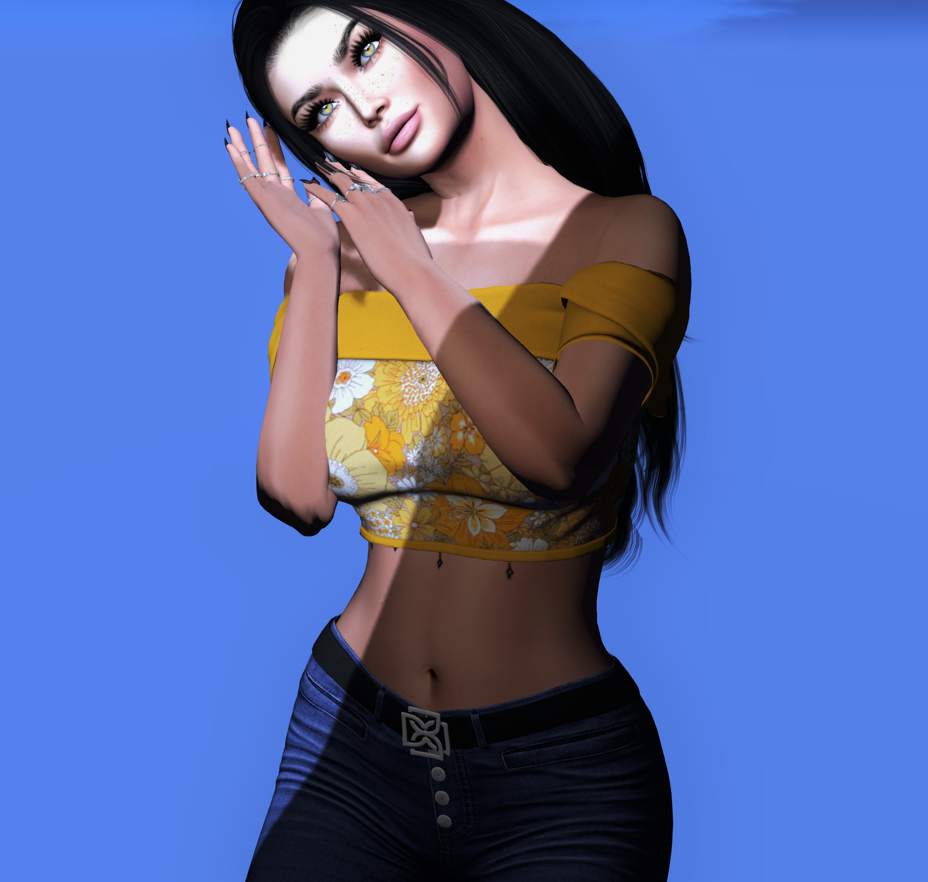 Floating on Air
I also wanted to show you one of the fun poses from SAPA poses – I actually had a lot of fun playing with these, they're little floating fairy animations, so perfect for putting together an ethereal look.  I loved watching my avi float up and down in a sweet, magical way.  Each pose is just 5L!
See you next time!
xox
Aline
Aline is Wearing…
Clothes
Shirt – Amazing Creations Sexy Mini Top (Free Gift on the FabFree Enchanted Forest Hunt)
Jeans – Addams Addison
Rings – Vibing Leah
Body  
Mesh Body – Maitreya Lara
Mesh Head – Lelutka Cate
Head Applier –  Glam Affair Cate
Eyebrows– Jumo Britani
Eyes– Euphoric Dolly Babe Eyes
Tattoo – Sn@tch Filigree Sternum Tattoo
Eyeshadow Applier – Lelutka Cate
Lipstick Applier – Lelutka Cate
Nails – Maitreya Lara
Hair – Stealthic Cascade
Pose – SAPA Poses 129.3 (5L on the FabFree Enchanted Forest Hunt)
Sim – Private