And so it begins…
That's right ladies and gentlemen…it is that time of year. Advent Calendars have opened up all over SL today and I am a total advent fanatic. Soooo I went hopping around the grid to see what sorts of amazing things I could find to show you. Are you excited for all the advent calendars this year? Don't miss our awesome listing of participating stores!
Let's start with these super fun thigh-high red boots. These are the 1st Day gift from Pink Mango. You must be in the group to get items at this store, but it is FREE to join and the gifts are FREE too! These lovely boots are fit for the following bodies:
Belleza Freya, Isis & Venus
Slink Hourglass & Physique
Maitreya
See that beautiful lit tree in a tin milk can sitting in the corner? That is the gift from Hutspot for Day 1. It is also FREE and no group is needed to get this gift! For you prim conscious folks, it's only 3 Li!
Let's talk about this cute little romper. This is the Day 1 gift from Meva. Their advent calendar requires the store group and it is 100L to join. The romper is fit for:
Legacy + Perky
Maitreya + Petite
Next up are these long red nails. They are from Frick-n-Frack and are FREE with no group needed. They are fit for several bodies which include:
Belleza
BBL
Kupra
Maitreya
Reborn
Slink
This lovely jewelry set, which includes the earrings and necklace, are the gift from M&M Style. They are unrigged and the necklace is resizable. The set is FREE and no group is needed for the advent calendar here either.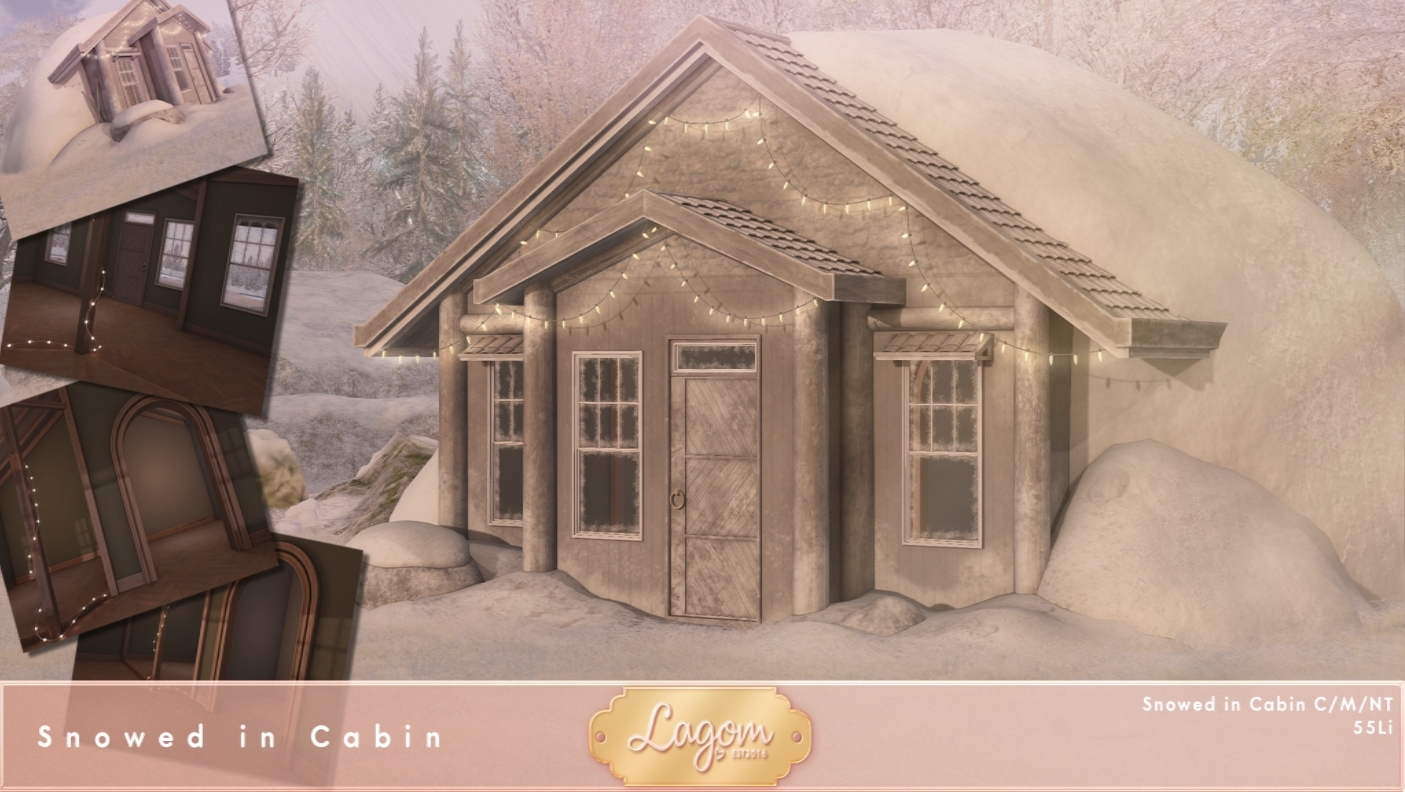 Finally I want to mention the house I was doing these photos in. This gorgeous little cabin is part of the advent calendar at MadPea this year. The gifts themselves are FREE but the HUD to get them is 500L. Honestly, I think this gift alone is worth that amount! I cannot wait to see what the other 23 gifts are!
Until next time!
~Adalynn~
Adalynn is Showing…
Mentioned Above
Boots – *Pink Mango* Tabatha Boots RED- Day 01 (FREE Advent Group Gift/Group is FREE to Join)
Tree – Hutspot – Christmas Tree in a milk churn – Green (FREE Advent Gift/No Group Needed)
Romper – Meva Larissa Romper (Free Advent Group Gift/Group is 100L to join)
Nails – Frick-n-Frack – BBN Christmas Flakes (FREE Advent Gift/No Group Needed)
Jewelry – M&M – Trinket Set (FREE Advent Gift/No Group Needed)
House – Lagom – Snowed in Cabin (Free Advent Gift with MadPea HUD/Required Advent Calendar HUD is 500L)
Body
Hair – RAMA.SALON – Kylee Hair 'Naturals Pack'
Lashes – [ R U V A ] – Suki HD Eyelashes
Eyes – addon+ Jade Eyes
Head – LeLUTKA Zora Head 3.1
Body – Maitreya Mesh Body – Lara V5.3
Head Skin – Pepe Skins – Lelu X / Justice V2 / Cake
Body Skin – Pepe Skins – Toned V2 / Cake
Misc
Eyeshadow – GOREGLAM 'Prisma' Eyeshadow
Lipstick – GOREGLAM 'Billions' Glittergloss
Blush – Guapa – Jade highlighter + Blush
Wall Art – {what next} Christmas Wall Collage (available on marketplace)
Rug – Christmas – Rug – Poinsettia Black (50L on marketplace)
Location – My home sim
Poses w/ Props – Fashiowl Poses – Wrapping (FREE Gift/No Group Needed)
Windlight – Helena's EEPs – Party Neon – 1