Ok Fabbies.  It's time for my yearly rant about how I'm ready for Spring, but the Canadian winter isn't quite ready to loosen it's hold on us.  I know, I know… We've been here before, and we're surely going to be here again.  It's March, I want to be surrounded by green , and flowering plants… but instead I'm still shoveling snow.  That's ok, SL has got me covered!
It's Magnetic!
As you all know, The FabFree St. Patty's Day Hunt is in full swing, and we're bound to show off the fruits of our labour.  Sometimes I find that when you see an outfit in a blog post, you really realize it's potential, so we love showing off what our designers can do.  I headed over to Magnetic to find their hunt prizes, and settled on this super cute top that will keep the pinches at bay (I hope)!  It will set you back just 5L.  There are some other cute prizes at Magnetic as well, which you can see below.  Check out all the FabFree St. Patty's Day Hunt prizes HERE.
Sizes
Maitreya
Legacy
Isis
Freya
Slink
Venus
Hourglass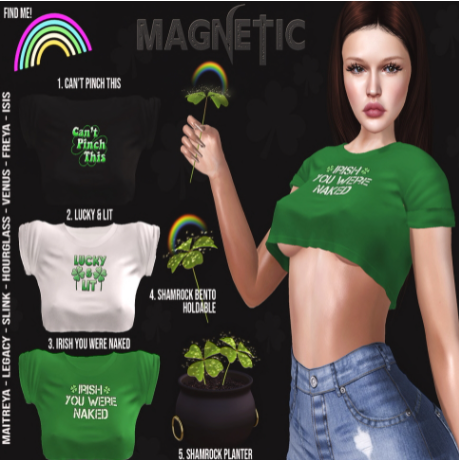 And Then…
To round out my look tonight, I headed over to Romazin to pick up their latest group gift.  These jeweled garters are far too cool to pass up.  They come with loads of different colour options in the HUD, so you can make them match pretty much any outfit.  You can wear one or both, it's up to you!  The Romazin group is free to join, and there are several cool gifts to pick up while you're there
Sizes
Kupra
Legacy
Legacy Perky
Maitreya
Come on Spring, let's go!
xox
Aline
Aline is Wearing…
Clothes
Top – Magnetic Can't Pinch This Tee (5L on the FabFree St. Patty's Day Hunt)
Shorts – Seniha Amaia
Garters – Romazin Nusi (Free Group Gift/Group is Free to Join)
Rings – Vibing Melanie
Body   
Mesh Body – Maitreya Lara
Mesh Head – Lelutka Cate
Skin Applier –  Glam Affair Cate
Eyebrows– Jumo Britani
Eyes– Euphoric Dolly Babe Eyes
Tattoo – Sn@tch Filigree Sternum Tattoo
Eyeshadow –Adored Day & Night Liner
Lipstick – Alaskametro Gilded
Nails – Alaskametro Emerald Isle (1L on the FabFree St. Patty's Day Hunt) (Previously Blogged HERE)
Hair – Magika Eliza
Pose – Foxcity Stardust
Sim – Clef des Champs