There's nothing quite as appealing as a nice dark and sexy outfit.  This season always puts me in the mood for a bit of leather and lace.  Make it in dark jewel tones, and you've got me!
Time for an Old Fave!
Ricielli is back with their traditional Halloween Hunt!  I always always take part, and always walk away with outfits that I am completely in love with.  There are lots of little pumpkin-shaped treat bags hidden around the store (it's not too taxing and won't make your eyes hurt or anything…) that you buy for 15L, then the contents will be yours!  I went for #2 and #5, which just looked so cute together.  You can see all the items that are part of the hunt in the vendor photo below!
Sizes
Freya
Legacy
Maitreya
Hourglass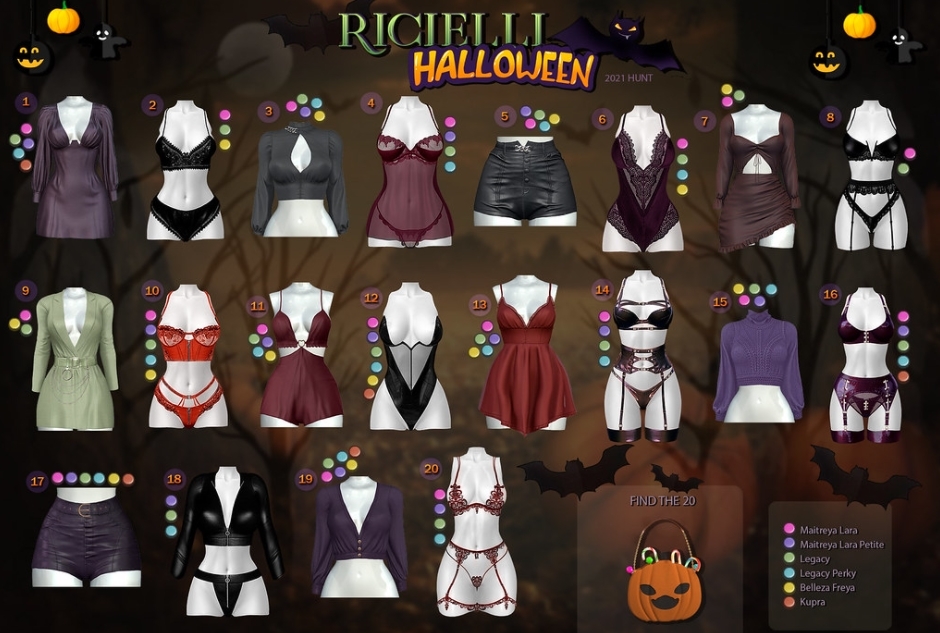 Which dark and sexies will you choose?
xox
Aline
Aline is Wearing…
Clothes
Top – Ricielli Amora Sleepwear Top (15L on the Ricielli Halloween Hunt)
Shorts – Ricielli Ramona (15L on the Ricielli Halloween Hunt)
Bag – Makokoi Makeup Bag 1
Necklace – Michan Starlight Necklace
Choker – Kibitz Twisted Heart Choker
Body   
Mesh Body – Maitreya Lara
Mesh Head – Lelutka Cate
Head Applier –  Glam Affair Cate
Eyebrows– Jumo Britani
Eyes– Euphoric Dolly Babe Eyes
Tattoo – Sn@tch Filigree Sternum Tattoo
Eyeshadow – Alaskametro Dark Arts (Available at Trick or Treat Lane)
Lipstick – Lelutka Cate
Nails – Alme Cute Halloween (50L @ FLF-o-Ween) (Previously Blogged HERE)
Hair – Stealthic Cascade