This post is filled with great deals that will help you achieve this fantastical owl look, so read further for the details! This post is chock full of freebies, so dig in for the free and magical fun my friends! 🦉
In this post, I am focusing on freebies you can find at Fantasy Faire 2021. I had to hunt hard to find these, as the event is massive- 22 sims in total! I will break down down some of free gifts I found at the Faire below.
The gorgeous owl mask is a

free

gift at Spyralle's booth. Grab this little guy for 0L on the wall. This was a hard one to find, but it is so beautiful and intricate. What an amazing gift!
This beautiful hairstyle is a free gift at Firelight's shop at the Faire. This hair is so cool, because it changes colour every minute to a different natural tone! There is also a

free

men's hair gift in their booth!
The amazing shimmer on my body is a generous

free

gift from Ghoul. Just enter into their store at Valhalla and grab this gift in the middle of their display. This crystal shimmer is a materials applier that works on Legacy and Maitreya bodies only, as well as Lelutka Evolution heads. This applier can be used on Male and Female avatars.
 Belle Epoque has a set of nails hidden in an object in their store at the Faire for

free

. Click the statue for the hint, and go hunt for it! The prize is a beautiful set of purple nails that work on Legacy and Maitreya bodies.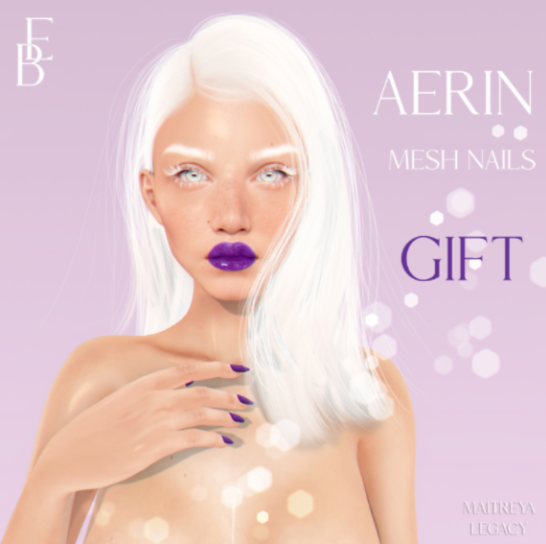 The Language of the Birds
Another way to hunt down some great deals at Fantasy Faire is to participate in their "Language of the Birds" hunt quest. Please read Juli's post here to find out more details about how to play the Fantasy Faire Quest Hunt. By purchasing the quest HUD (it costs 250 L for the basic or 350L for the deluxe*), you are able to participate in the quest. The HUD can be purchased at Fantasy Faire Junction. If you solve the quest, you will receive a reward in the form of a bunch of gifts from various Fantasy Faire designers. The quest gift I am showing today is a set of beautiful floral horns made by EscalateD. These look like little floral branches that a little bird would stop to rest on!
The Quest hunt and the free gifts will be available until May 9th, the closing day of Fantasy Faire.
Other
Freebies

and Offers

My look today is packed with additional freebies and offers from various places around the grid, so here are some more offers I am showing off today:
LSR currently has a 300L credit gift for all LSR group members. The group costs 99L to join. I bought this amazing dress I've had my eyes on for a while now. It's called Yanikha Dress and it comes in 3 textured patterns. I purchased the dress in black and it was completely covered by the credit gift! The dress fits Legacy, Maitreya, Isis, Freya, and Hourglass. The 300L credit is only available until May 7th, so go get it quickly!
 The rings I am wearing are a

free

gift at OVH that fit Legacy and Maitreya bodies. The group is

free

to join; just click the board and these lovely rings are yours! They include a HUD that allows you to change the colours of the metals and colours of the gems on the rings.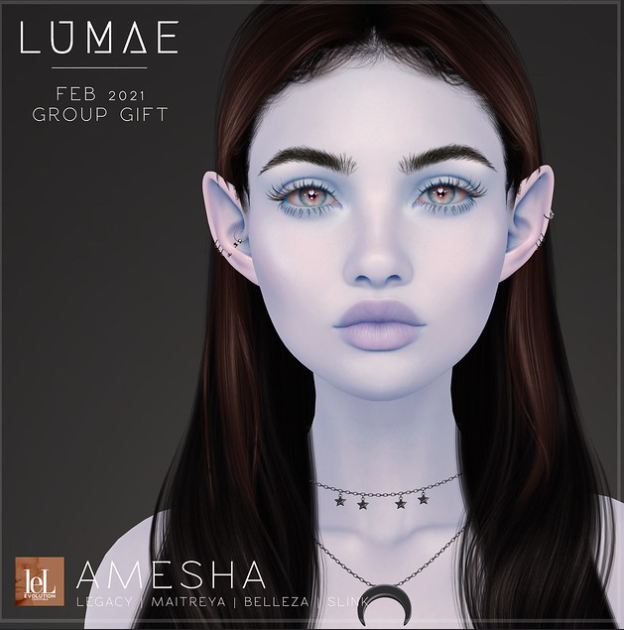 Enjoy, FabFree!
xx
-Caroline
Caroline is Wearing…
Clothes & Accessories
Dress – LSR Yanikha Dress #1 (Purchased with 300L Credit Gift/ Group costs 99L to Join)
Horns – .EscalateD. Sheedra's Horns (Gift for completing the Fantasy Faire Quest/ Quest Hud costs 250 L for the basic HUD or 350L for the Deluxe HUD) *One of the great things about purchasing this HUD is that 100% of the sale goes to the American Cancer Society, so you would be donating your Lindens to a great cause! 
Mask –  Spyralle Blue Horned Owl Mask (Free at Fantasy Faire 2021)
Rings –  OVH February Bento Rings (Group Gift/ Group is Free to Join)
Boots – ISON Alyx Boots (Group Gift/ Group is Free to Join) Previously blogged here. 
Body

Hair – Firelight! Monica "Cant Make Up My Mind" Hair (Free at Fantasy Faire 2021)
Mesh Body – The Shops Legacy Female
Mesh Head – Lelutka Lilly
HD Makeup – Lelutka Lilly 
Skin – Lumae LeLutka Amesha Galetea V2 (Group Gift/ Group is Free to Join)
Eyes– Lelutka Lilly
Eyeliner – Trend Love Game Eyeliner (Group Gift/ Group is Free to Join) Previously blogged here.
Nails – Belle Epoque Aerin Mesh Nails (Free at Fantasy Faire 2021)
Body Glitter/Shimmer – Ghoul Biri Materials (Free at Fantasy Faire 2021)
Photo Location – Fantasy Faire- Mithlumen