This pumpkin queen is ready to dive into all things pumpkin.  You know, pumpkin pie, pumpkin spice latte (though I prefer to remove the coffee….dunno what that says about me) and pumpkin um…. picking?  Sure! It's time to get crazy about orange!
Kink or Treat
A Town Called Short Leash is having one of their epic hunts right now, this one called "Kink or Treat".  As you can guess from the title, it is indeed an adult-themed hunt, though not all the prizes on the hunt are adult items.  I chose the prizes from Aurora's Closet to show you, because they just made me happy in general.  I love a good theme!  I searched the sim for the little purple candy bars and grabbed the shirt for 10L, the pants for 15L and the shoes for 25L (sized for Belleza, Maitreya, Legacy & Slink).  You're sure to find something you like if you check out all the hunt keys and hints on the A Town Called Short Leash website.  Have fun!  You've got til October 31st!
Shirt and Pant Sizes
Freya
Isis
Venus
Ebody Classic
Ebody Curvy (Pants Only)
Maitreya
Hourglass
Physique
TMP
Tonic Curvy
Tonic Fine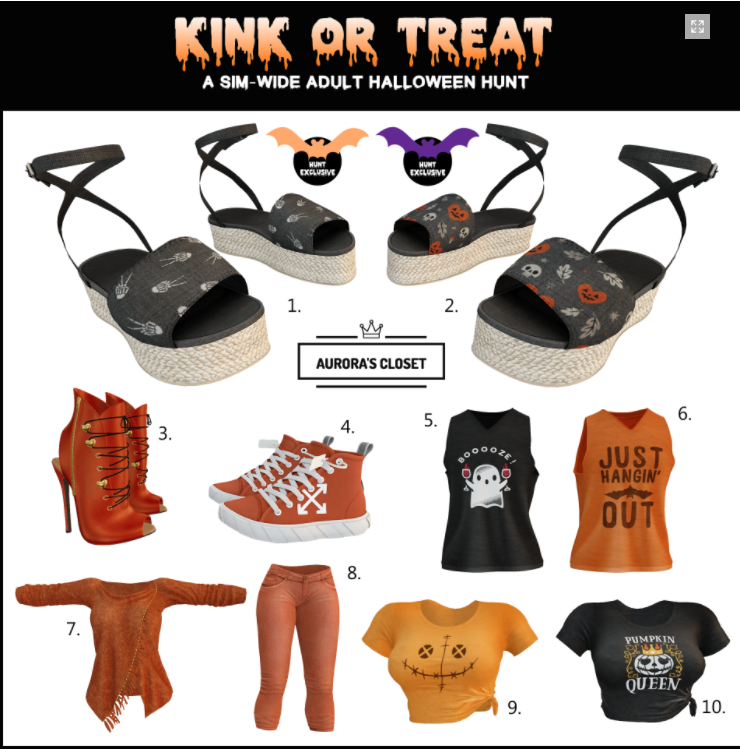 Orange you glad I told you about this hunt?
mwaha
xox
Aline
Aline is Wearing…
Clothes  
Top – Aurora's Closet Pumpkin Queen Ladies Knotted T-Shirt (1oL on the Kink or Treat Hunt)
Jeans – Aurora's Closet Amanda Denim Capris (15L on the Kink or Treat Hunt)
Shoes – Aurora's Closet Gina Espadrilles (25L on the Kink or Treat Hunt)
Drink – ChicChica Iced Coffee
Body 
Mesh Body – Maitreya Lara
Mesh Head – Lelutka Cate
Head Applier –  Glam Affair Cate
Eyebrows– Jumo Britani
Eyes– Euphoric Dolly Babe Eyes
Tattoo – Sn@tch Filligree Sternum Tattoo
Eyeshadow Applier – Alaskametro Fall Essentials
Nails – Maitreya Lara
Lipstick Applier – Lelutka Cate
Hair – Moon Whimsy
Sim – Pumpkin Town