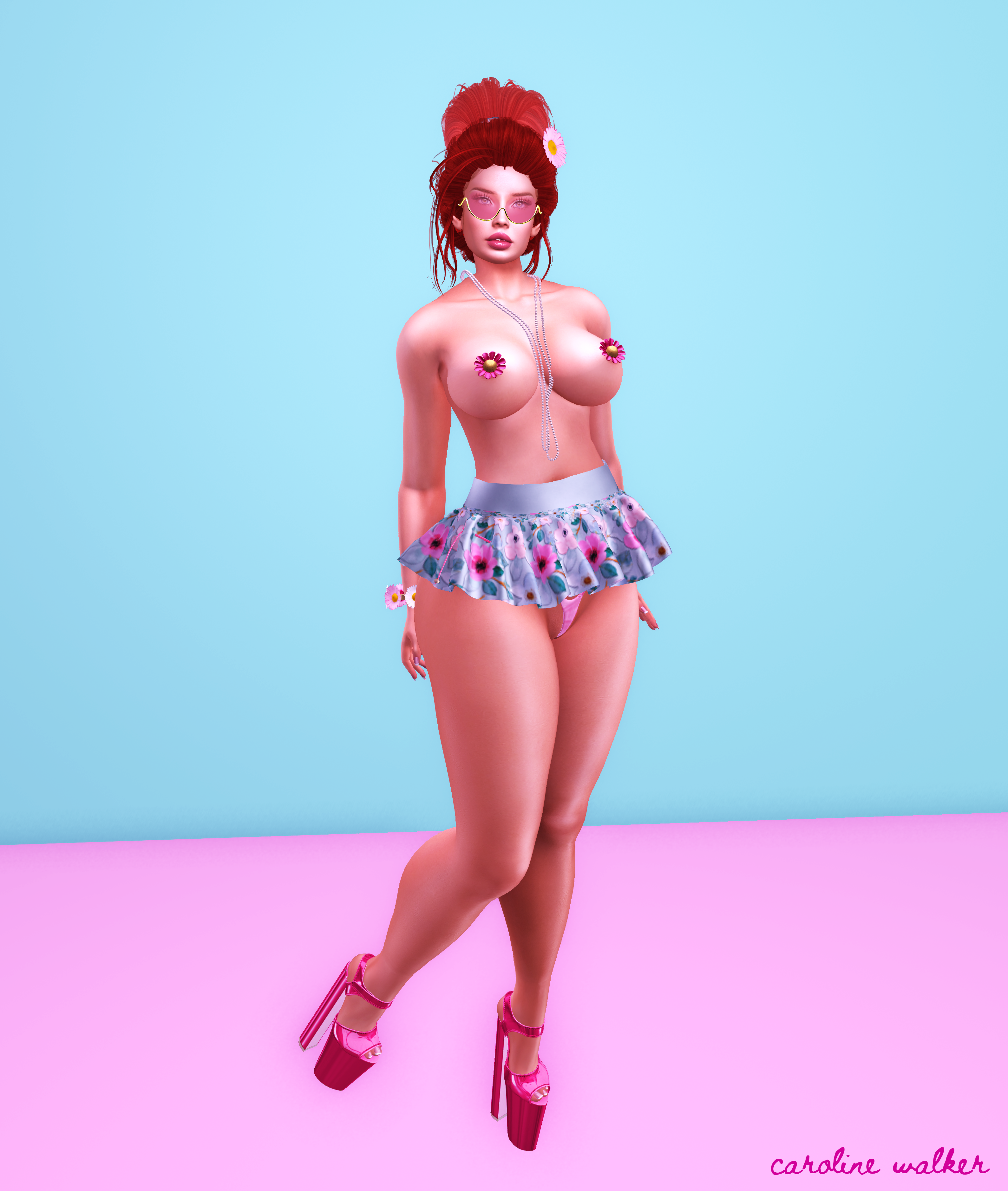 I want to take a moment to tell you all that you're all bold and beautiful! We often don't hear it enough, but it's true! Just remember that you are all beautiful on the outside and the inside. ❤
Before I jump into all the things I have to show you today that Be Bold has out for FabFree at Fifteen, make sure you check out Aline's post HERE, which shows the free gift available for FabFree group members at the Be Bold store. One must always grab those freebies first, after all. Now, the real reason I'm here today is to show you the 15L and exclusive item Be Bold has set out for FabFree's fifteenth anniversary. Both items are an "All-in-One Outfit", meaning that you get matching clothing, shoes, and accessories all wrapped into one box.
Hardly There…
The lovely zara, who is one of our amazing chat mods for the FabFree in-world group, made a hilarious joke last week that I blogged a bathing suit that was "hardly there". I thought it was funny! Well, I have another outfit that is barely there and it's pretty cute and summery, too! Be Bold has the full set I am wearing at the top, including the floral pasties, floral bracelets, hair flower, hot pink heels, panties, mini-skirt, necklace, and sunglasses, all in one box for only 15L for FabFree at Fifteen. It's a great deal and yes… it's "bold". It really does look like the summer wind will blow these floral pasties off like some daisies in a field… oops!
Sizes Included
Freya
Isis
Lara
Physique
Hourglass
For the Cool Kids…
Be Bold also has a full-priced item out which makes up the casual look shown in my second photograph shown below. This set includes a great pair of star sneakers, some awesome white-rimmed sunglasses, low-cut shorts, and a crop top. You can change the shorts, top, and sneakers to several different colour and texture options using the HUD included with the set. This is a new exclusive made just for FabFree at Fifteen! Woohoo! This all-in-one outfit costs 249L.
Sizes Included
Freya
Isis
Venus
Lara
Legacy
Physique
Hourglass
FabFree at Fifteen is still going until August 6th, so you still have a few days to check it out!
Have fun, FabFree!
xx
-Caroline
Caroline is Wearing…
Clothes & Accessories
All-in-One Outfit #1
Panties, Mini-Skirt, Pasties, Heels – Be Bold Spring Break (15L for FabFree at Fifteen)
All-in-One Outfit #2
Top, Shorts, Sneakers & Sunglasses – Be Bold Relax Girl (249L for FabFree at Fifteen)
Body
Hair – .EscalateD. Harper
Hair Colour Hud – .EscalateD. Reds Universal HUD
Mesh Body – Belleza Freya
Mesh Head – Lelutka Lake – EvoX
Head Skin – Dernier Hannah – Sienna
Body Skin – MILA Older Body Skins – Honey Chubby (Free on the Marketplace) Previously blogged here.
Neck Fix & Ear Skins – Velour EvoX Ear Skins and Neck Fix – Sienna (Free/No Group Join Required) Previously blogged here.
Eyes – Lelutka Lake – EvoX
Makeup – Lelutka Lake – EvoX
Nails – Belleza Freya
Photo Location – Private Location