The weekend may be coming to a close (though it's a long weekend in my neck of the woods…sorry not sorry), and that calls for a bit of a decompress.  Some lucky board stalking plus some fun decorating always makes me chill out a bit and get me ready for whatever lies ahead!
First Some Candy
Candy Kitten is all about the sexy outfits, and they've recently updated their lucky boards with a pile of new goodies.  I picked up this top and skirt (in a very appealing holographic type of shade) by joining the group and waiting for my letter to come up.  The Candy Kitten group is a bit pricy at 400L to join, however they currently have 300L in store credit up on the wall, several gifts, and the new lucky boards.  It's a good group to get in and stay in.
Sizes
Ebody
Kupra
Legacy
Maitreya
Perky
Petite
Decoration Now, Come on!
FabFree at Fifteen is slowly winding towards it's conclusion, sadly.  We've got still about a week left before everything goes poof, so make sure you make the rounds and pick up the deals and free gifts.  Today I put together a little space for myself using the gift and 15L item from Satus Inc.  The neon cat lamp is just 15L and can brighten up your space in a hurry.  When you click on the base, you'll have plenty of colour choices so it can change depending on your mood!  Then, the cork board for photos is just a fun addition to any room.  You can place your own photos in the frames, which is always something that makes me happy.  It's completely free when you activate your FabFree inworld group tag.  Sweet!  You've got until August 6th to make your rounds – don't let them get away!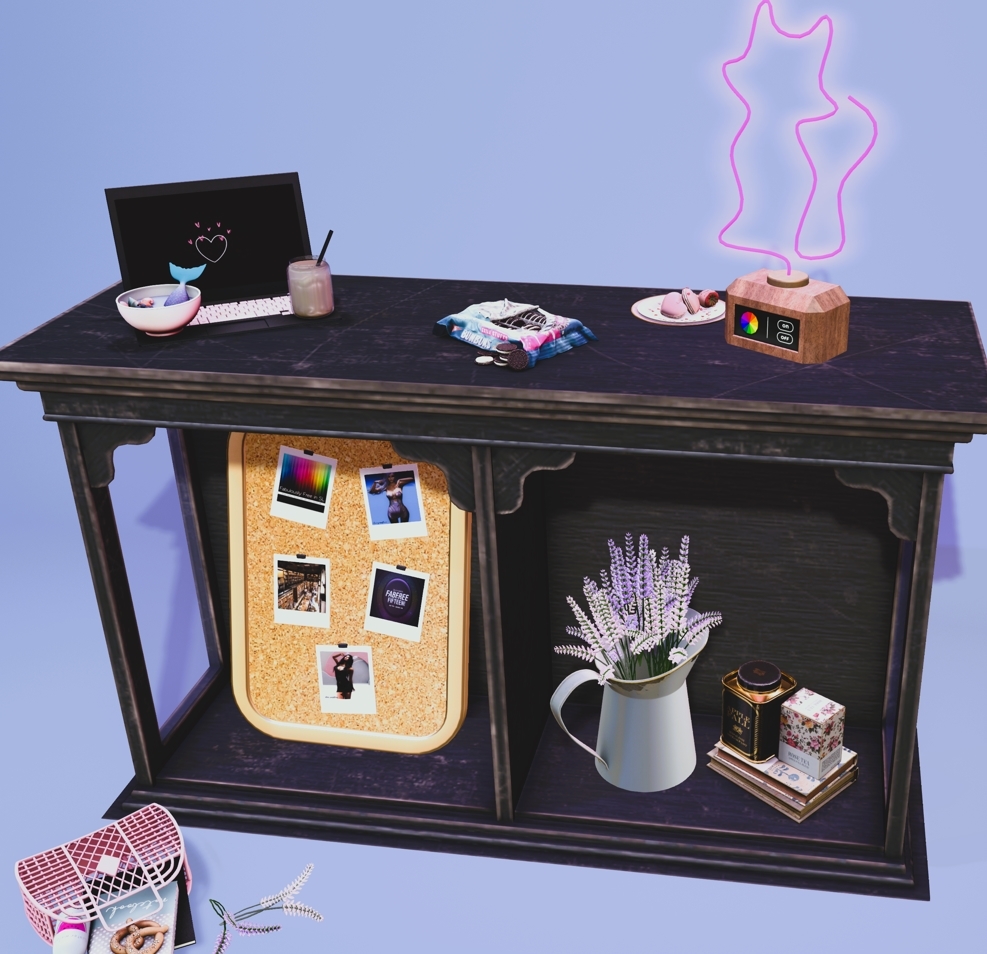 How do you unwind?
xox
Aline
Aline is Wearing…
Clothes
Top and Skirt – Candy Kitten Bella (Free Lucky Board Prize/Group is 400L to Join)
Earrings – Ysoral Luxe Earrings

Body   
Mesh Body – Maitreya Lara
Mesh Head – Lelutka Cate
Skin Applier –  Glam Affair Cate
Eyebrows– Jumo Britani
Eyes– Euphoric Dolly Babe Eyes
Tattoo – Sn@tch Filigree Sternum Tattoo
Eyeshadow – Pout! Day & Night Liner
Lipstick – Lelutka Cate
Nails – Maitreya Lara
Hair – Magika Celeste
Pose – Foxcity Oki Doki
Sim – Private
Decor
Table – Refuge Buffet Table
Flowers – Aphrodite Lavenders Pitcher
Tea – Apple Fall Tea Tins & Tea Books
Bag – Tentacio Mi Cesta
Cookies – Dust Bunny BunBuns Sandwich Cookies
Macarons – Noir & Midna Sweet Heart Gacha Macarons
Computer – Tentacio Sirena Laptop
Cork Board – Satus Inc. Polaroid Photo Pin Board (Free Gift for Members of Fabulously Free in SL/Group is Free to Join)
Cat Neon – Satus Inc. Neon Table Cat Lamp (15L for FabFree at Fifteen)