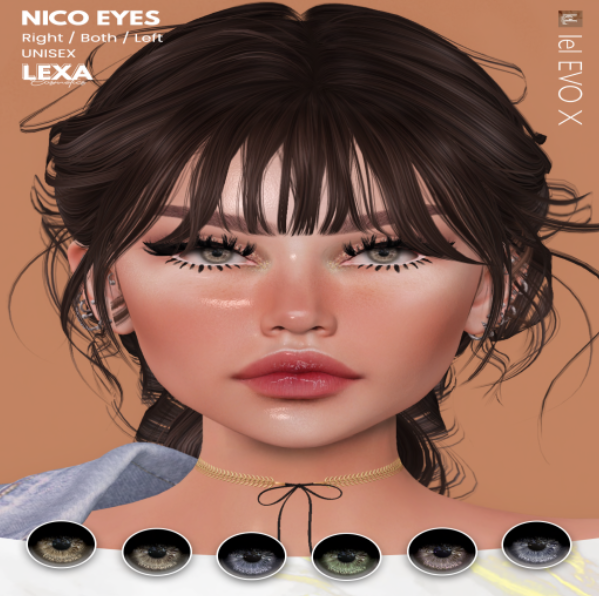 Free Gift @ Glamazon/Group is Free to Join by Lexa Cosmetics
Whilst I was out exploring the grid the other day, I came across a store called Room of Amo and saw that they had a big shelf full of adorable gifts! and a great variety of them too from poses to skins to clothing to makeup! The group costs a measly 77L$ which definitely isn't much considering RoA puts out a new gift every month and you get access to all the past group gifts too! And I'm not talking about one gift per box here, some of the clothes come in a variety of colours or even a whole fatpack! So without further delay, lemme give you the rundown!
Above we have this cute mesh school uniform (socks included!). It's very bright and really adorable, not to mention very well made! And with a little bit of scientific cloning (aka. photoshop wizardry) I can show you this funny couples pose in all its glory too!
RoA specialises in cute lingerie (but has other items too!) so of course there are some nice lingerie sets up for grabs! Both sets (above and below) come in a variety of colours so you can mix and match to change your look! They're not mesh so they make great pieces to layer under mesh clothing!
Here's another cute pose for you! The mobile phone comes with three static poses so you can take selfies, message your friends and call your parents too. The dress I'm wearing has a really nice print to it and I just love the ruffles, it comes in two colours; a pink shown and a lime green. They look great for summer or wear on top of a long sleeve sweater to warm it up for autumn.
This comfy outfit is made entirely out of RoA gifties! The mesh cardigan comes with male and female versions and the top and shorts both come in packs with a wide variety of colours included.
And finally, these very pretty pastel skin is the final gift from RoA I'll show you today. There are also packs of eyeliners and teeth tattoos on the shelf but I felt like I should show you the skin in it's bare, vanilla glory! It's very cute, I'm in love with those glossy ombre lips.
Ah the start of a new week. In case you have a spot of the Monday-blues, I've made 3 cute outfits for you using mostly free and cheap items!
Now if you're a shoe-maniac like me, you're going to be so excited when I show you these great freebies from Shoetopia! It's an all-shoe fair with loads of great designers raising money for Soles 4 Souls. Whilst I was busy spending my money away on footwear, I came across a couple booths that had free shoes! The adorable floral lace-up deck shoes you see above are G-field's gift for the event and the unique peep toes below are the female gift from Maimai (yes, there's a gift for men too!)
(Update: Miss canning has taken down a lot of the gifts seen in this post. There are a few still available though. Sorry about that)
And if you haven't paid a visit to Miss Canning in a while or you're simply unaware of them, better get there quick because this beautifully made leather jacket below is one of the limited-time only group gifts! It has a colour change HUD as well! Miss Canning's group is free to join and there are tons of gifts you can get, there are also items that are less that 10L$ on the wall too!
Neo and Soo have a brand new store set up and they have a few gifties set out for you! If you own a pair of slink feet you can pick up a tattoo applier for free. The HUD has two cute designs to choose from and pretty feet are yours! Also free are the ribbon arm tattoos and the 'everybody wake up' pose! The store is small but the items are really cute and everything is very reasonably priced!