This little woodland fairy is pondering whether or not to invite her friends over for tea.  Does she have enough seed cakes, honey and scones to go around?  There are always plenty of berries in the forest, and a never ending supply of chamomile so the tea doesn't ever run out.  A merry gathering it shall be… but… no humans allowed!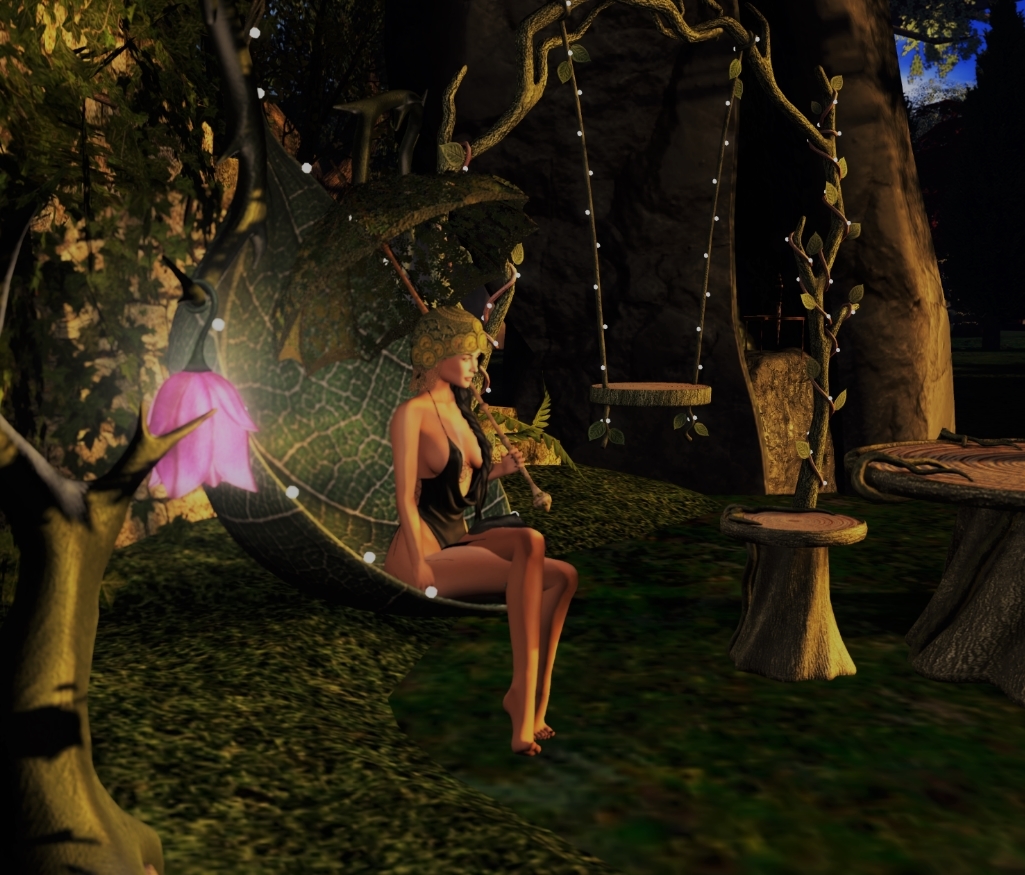 The Deep Woods
I am having such a good time putting together outfits and imaginary worlds on the FabFree Enchanted Forest Hunt.  Every time I unpack something, I get all excited at how pretty and imaginative the gifts are.  I made three stops today, and I had so much fun putting this photo together that I may just become a woodland inhabitant forever!  My first stop was Grasshopper St.  This shop is just so lovely in the way that it evokes the class and lush feel of an olde world millinery shop.  I picked up this gorgeous cloche for just 3L, and the parasol was 3L as well. Both are resizable so will fit like a dream.  Aren't they amazing?  Love it!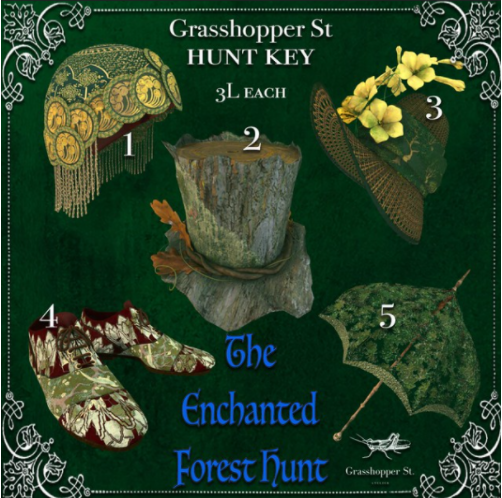 Fit for the Fae
Raindale has long been one of my fave stops for distinctive furniture.  When they joined the hunt, I couldn't think of a better place to evoke the enchanted forest feel we were going for.  The furniture that peppers my little hidden forest abode is all 1L each, and really is completely beautiful.  You'll want to add every item to your collection, just like I did!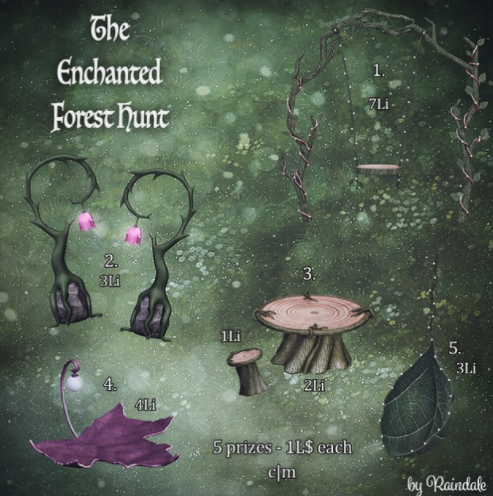 Secrets of the Unicorn
Ishiku has also come up with an amazing concept for our hunt – the cracked monolith is HUGE and just such an interesting set to add to your hidden garden.  Each item is just 5L each and is completely and utterly gorgeous in every detail.  You'll get the massive stone monolith, the etched stone, the magical unicorn horn vial and the golden stand for it.  It's utterly brilliant!  I'm gushing a bit, but honestly…it's fantastic.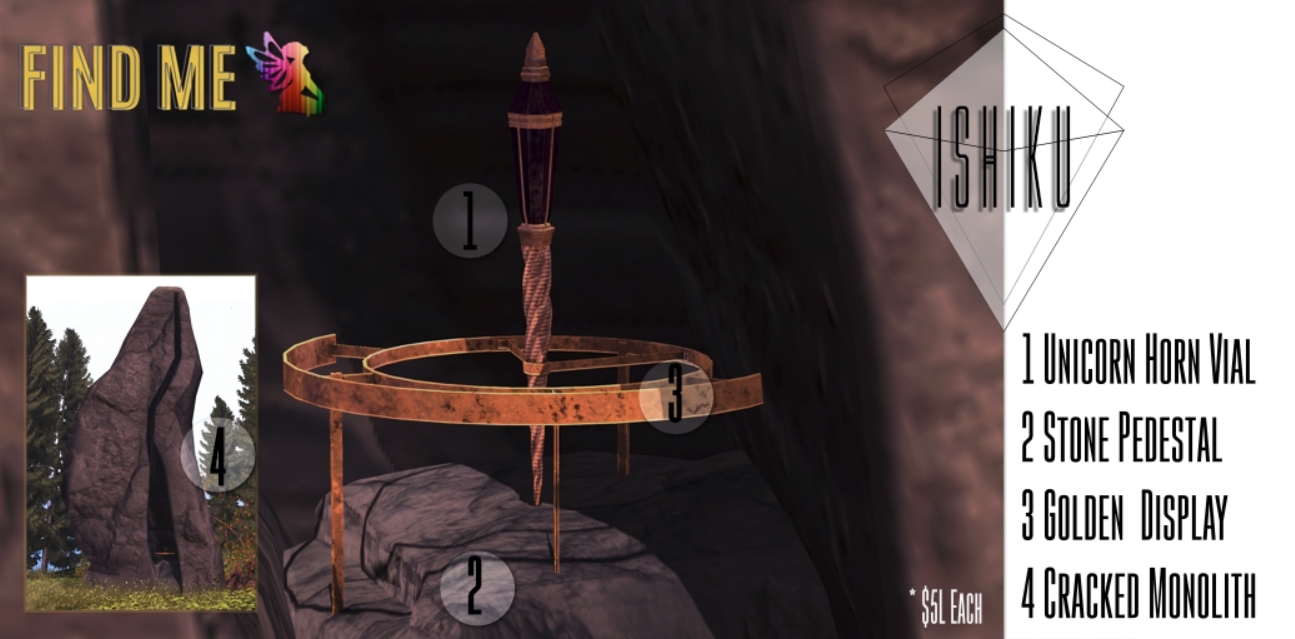 The FabFree Enchanted Forest Hunt is running until July 22nd!  Show our awesome designers some love!  Here's one more photo for good measure… (can you tell I had fun with this shoot?)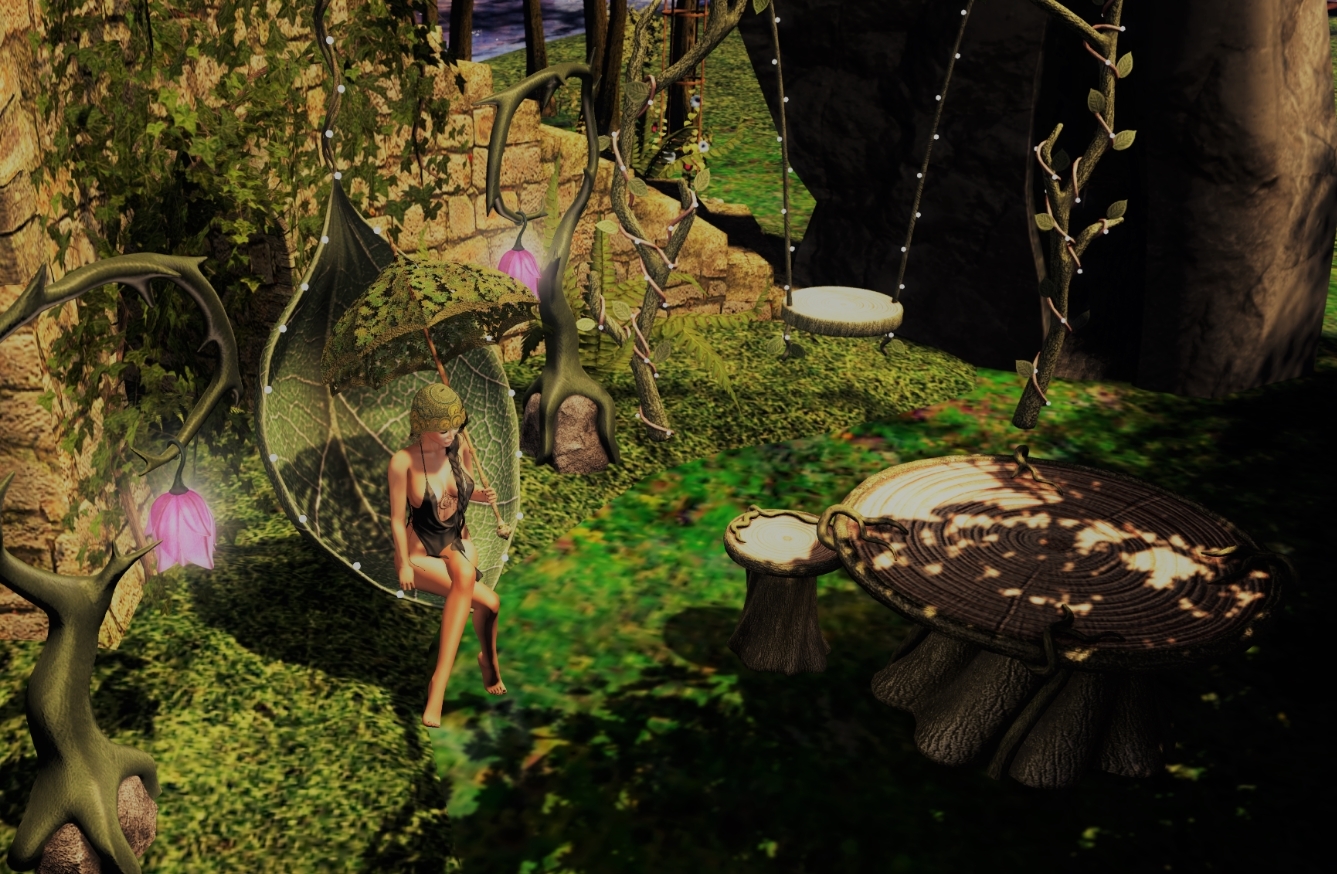 xox
Aline
Aline is Wearing…
Clothes
Dress – Moon Elixir x Muse Moonlit Secret
Hat – Grasshopper St. Circle Cloche (3L on the FabFree Enchanted Forest Hunt)
Parasol – Grasshopper St. Canopy Parasol (3L on the FabFree Enchanted Forest Hunt)

Body  
Mesh Body – Maitreya Lara
Mesh Head – Lelutka Cate
Head Applier –  Glam Affair Cate
Eyebrows– Jumo Britani
Eyes– Euphoric Dolly Babe Eyes
Tattoo – Sn@tch Filigree Sternum Tattoo
Eyeshadow Applier – Lelutka Cate
Lipstick Applier – Lelutka Cate
Nails – Maitreya Lara 
Hair – Magika Nina
Sim – Private
Decor
Lanterns – Raindale Nightmoor Lanterns (1L on the FabFree Enchanted Forest Hunt)
Table and Stool – Raindale Thornmoor Stool & Table (1L on the FabFree Enchanted Forest Hunt)
Leaf Chair – Raindale Wondervine Petal Hanging Chair (1L on the FabFree Enchanted Forest Hunt)
Swing – Raindale Meadowtwirl Swing (1L on the FabFree Enchanted Forest Hunt)
Monolith – Ishiku Cracked Monolith (5L on the FabFree Enchanted Forest Hunt)
Carved Stone – Ishiku Etched Stone Slab (5L on the FabFree Enchanted Forest Hunt)
Golden Display – Ishiku Golden Horn Display (5L on the FabFree Enchanted Forest Hunt)
Horn – Ishiku Unicorn Horn Vial (5L on the FabFree Enchanted Forest Hunt)