Hey Hey Fabbies!  I'm feeling all at one with nature today, cavorting in the woods with the flora and the fauna and all that other good stuff.  Right, that may be a bit overwrought for what I'm actually doing, but just work with me here, people!
Summer Festival
It's time for the Okinawa Summer Festival's 10th Anniversary!  This huge shopping festival is all Japanese-themed, and there are lots of pretty things to salivate over.  And of course, plenty of free gifts to pick up!  You don't need to join a group here, just click on the gifts that you'll find in most stalls.  Most are in a little glass bottle (though some people have put out boxes too – eagle eyes needed!).  Here's what I got:
FREE shirt by Zoom sized for Freya, Kupra, Legacy, Maitreya & Petite
FREE shorts by Monomania sized for Freya, Isis, Venus, Maitreya, Hourglass & Physique, with a matching top and shoes in the box (see the vendor photo below!)
FREE sake cup by Ishiku
FREE flowers by Paradiso
FREE glasses by Lcky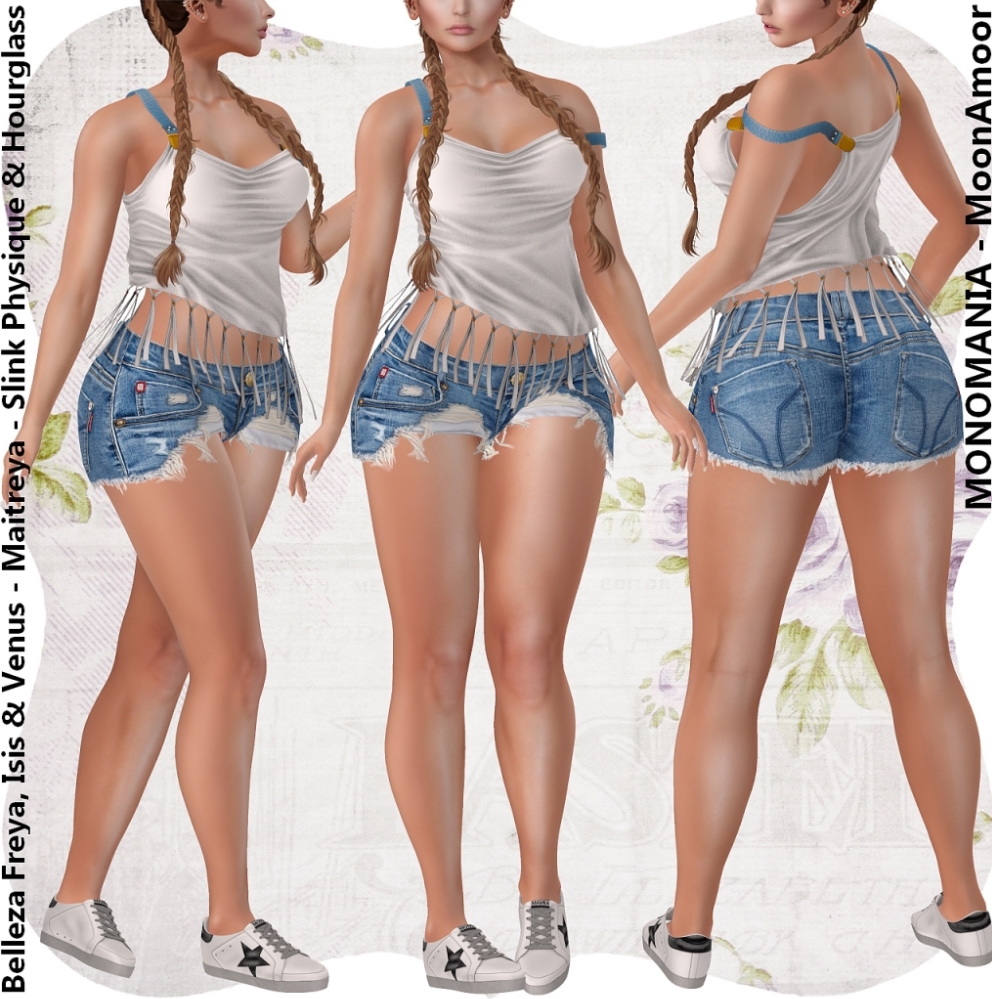 There's a lot more to pick up and enjoy while you're there.  The Okinawa Summer Festival runs until August 30th!
Come be one with nature (and by nature I mean shopping) with me!
xox
Aline
Aline is Wearing…
Clothes
Top – Zoom Steampunk T-Shirt (Free Gift @ Okinawa Summer Festival/No Group Join Required)
Shorts – Monomania Moon Amoor (Free Gift @ Okinawa Summer Festival/No Group Join Required)
Cup – Ishiku Sake Cup Collection (Free Gift @ Okinawa Summer Festival/No Group Join Required)
Flowers – Paradiso Okinawa2022 (Free Gift @ Okinawa Summer Festival/No Group Join Required)
Glasses – Lcky Glasses (Free Gift @ Okinawa Summer Festival/No Group Join Required)
Earrings – Ysoral Luxe Earrings
Body   
Mesh Body – Maitreya Lara
Mesh Head – Lelutka Cate
Skin Applier –  Glam Affair Cate
Eyebrows– Jumo Britani
Eyes– Euphoric Dolly Babe Eyes
Tattoo – Sn@tch Filigree Sternum Tattoo
Eyeshadow – Pout! Day & Night Liner
Lipstick – Lelutka Cate
Nails – Maitreya Lara
Hair – Magika Darla
Sim – Japan Tempura Island