St. Pat's is edging nearer, and though I have not an ounce of Irish-ness in me, I still enjoy all things green.  I really detest beer though, so let's just say that today my tankard is filled with spumante instead.
She Sparkles!
My magical look today is put together with several of the different hunt prizes on the FabFree St. Patty's Day Hunt.  We've got everything you need to avoid pinches and look the part of an Emerald Isle denizen.  Here's what I've put together today:
The FabFree St. Patty's Day Hunt is running until March 31st, so get your jig on and grab the prizes.  Check out all the info right HERE.
Oh, and if the sparkly bits aren't your thing, here's a more pared-down look for you: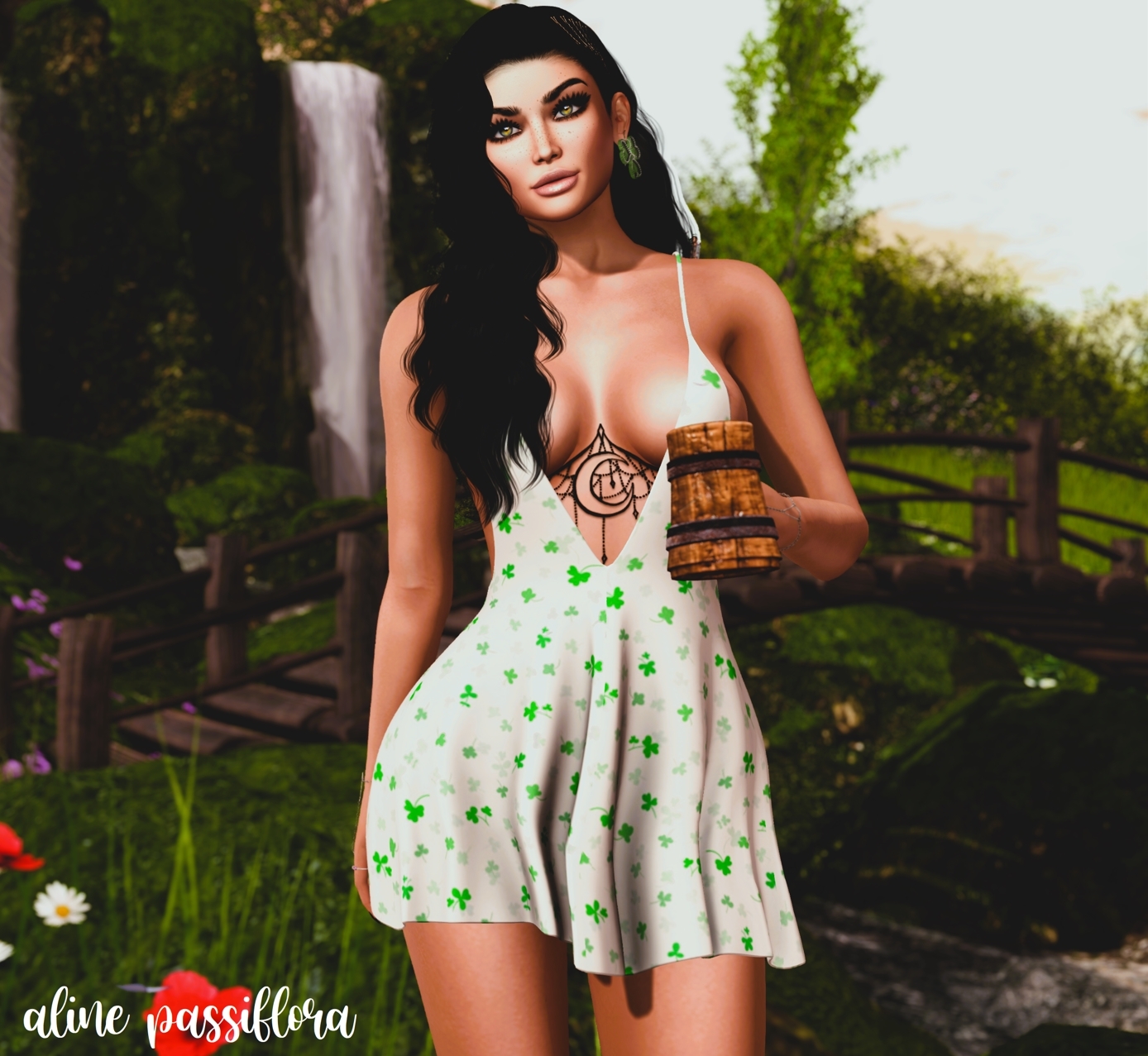 xox
Aline
Aline is Wearing…
Clothes
Dress – Kinky Pinky Miss Leprechaun Dress (5L on the FabFree St. Patty's Day Hunt)
Pot of Gold – Kinky Pinky Pot of Gold (5L on the FabFree St. Patty's Day Hunt)
Aura – Kinky Pinky Shamrock Aura (5L on the FabFree St. Patty's Day Hunt)
Mug – Ishiku Wooden Tankard (5L on the FabFree St. Patty's Day Hunt)
Earrings – Harambee Shamrock with Emerald Earring (5L on the FabFree St. Patty's Day Hunt)
Body   
Mesh Body – Maitreya Lara
Mesh Head – Lelutka Cate
Skin Applier –  Glam Affair Cate
Eyebrows– Jumo Britani
Eyes– Euphoric Dolly Babe Eyes
Tattoo – Sn@tch Filigree Sternum Tattoo
Eyeshadow – Alaskametro Earthtones
Lipstick – Alaskametro Earthtones
Nails – Maitreya Lara
Hair – Stealthic Purity
Sim – Luane's World