Heyyyyy Summer vibes all around again today, my dear Fabbies!  I'm back at the beach, but happily this time…I brought a friend.  And yes, I am referring to my ice cream.  Ha!
It's Poetry
It's time to celebrate Ms. Elysiane Sapphire's 12th rez day!  The lovely creator of Poeme continues her tradition of fun hunts to celebrate.  Typical SL style, when it's your party, you work like mad!  Anywhos, there are a lot of really sweet, summery, boho looks out for this hunt, and each item is priced at just 12L.  I settled on the very easy breezy paisley summer dress, and the summer heart shades are just screaming my name.  There's a lot more to tempt you – take a peek at the hunt key below!  You're hunting for a little green peace sign, and you've got until the 16th to take part!
Dress Sizes
Freya
Hourglass
Isis
Kupra
Legacy
Maitreya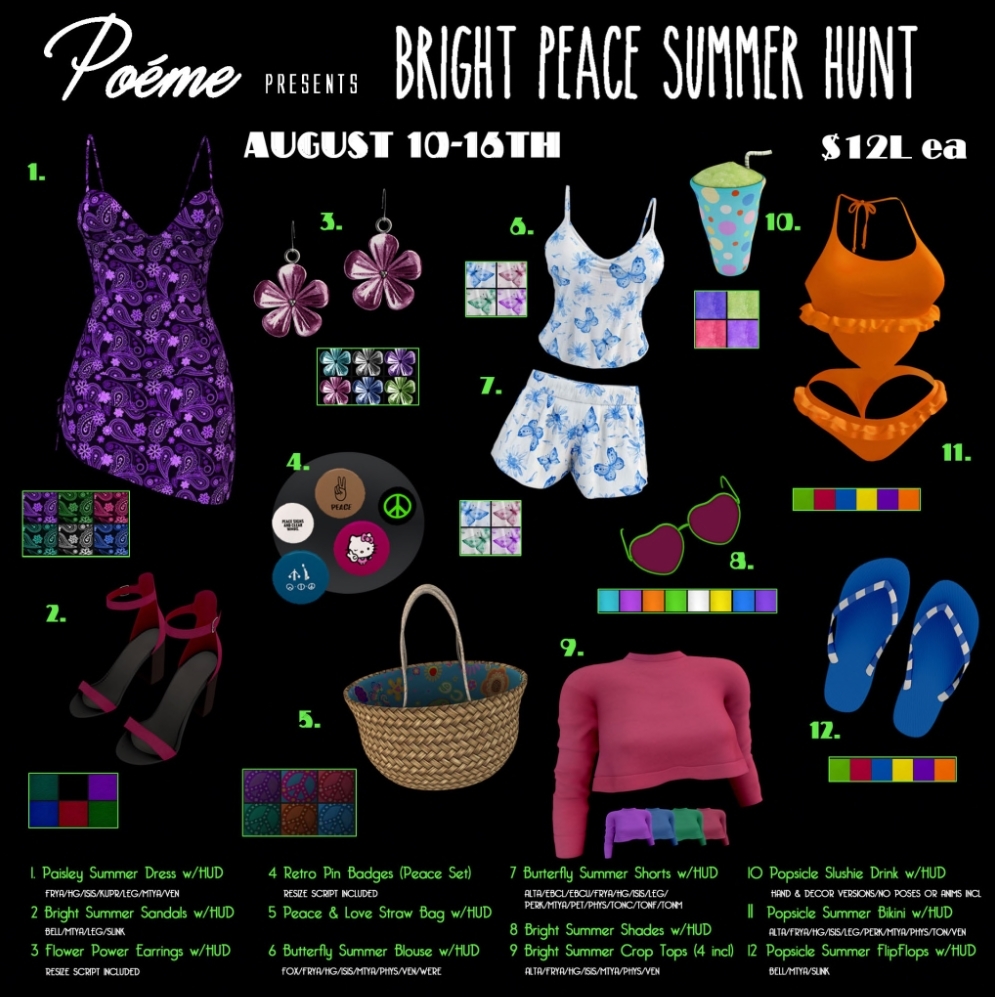 Happy Rez Day, Ely and thank you!
xox
Aline
Aline is Wearing…
Clothes
Dress – Poeme Paisley Summer Dress (12L on the Poeme Bright Peace Summer Hunt)
Glasses – Poeme Bright Summer Heart Shades (12L on the Poeme Bright Peace Summer Hunt)
Earrings – Ysoral Luxe Earrings
Body   
Mesh Body – Maitreya Lara
Mesh Head – Lelutka Cate
Skin Applier –  Glam Affair Cate
Eyebrows– Jumo Britani
Eyes– Euphoric Dolly Babe Eyes
Tattoo – Sn@tch Filigree Sternum Tattoo
Eyeshadow – Lelutka Cate
Lipstick – Lelutka Cate
Nails – Maitreya Lara
Hair – Truth Friday
Pose – Infiniti Ice Cream
Sim – Winter Moon