Happy Friday FabFree!  I'm feeling all sorts of theatrical today in my latest look.  I've most likely said it a million times, but one of my favourite things to do in SL is head to an event that has gifts, and then try and style a look based on what I find.  Let me tells ya… today's event was a doozy to put together because there are SOOOOO many nice free things! I couldn't decide! Yay!
Happy Birthday FLF!
Fifty Linden Fridays are celebrating 13 years on the grid of awesome 50L goodies!  I'm excited to cover this event – 50L items AND free gifts?  Come on, how does it get better?  To get the gifts for this one, just join the Fifty Linden Fridays group for free, then click on the cacti at each stall.  I'll start off the coverage with some of the freebies, but I'll also show off some 50L stuff later today.  Love it!  Here's what I've got on:
FREE dress by Imbue sized for Reborn, Kupra, Legacy, Maitreya & Perky
FREE shoes by Vanilla Bae sized for Reborn, Kupra, Legacy & Maitreya
FREE mask by Indigo (so cool, right?)
It's going to be busy for the next little bit, but don't fret- The Fifty Linden Fridays Birthday Bash is running until September 2nd!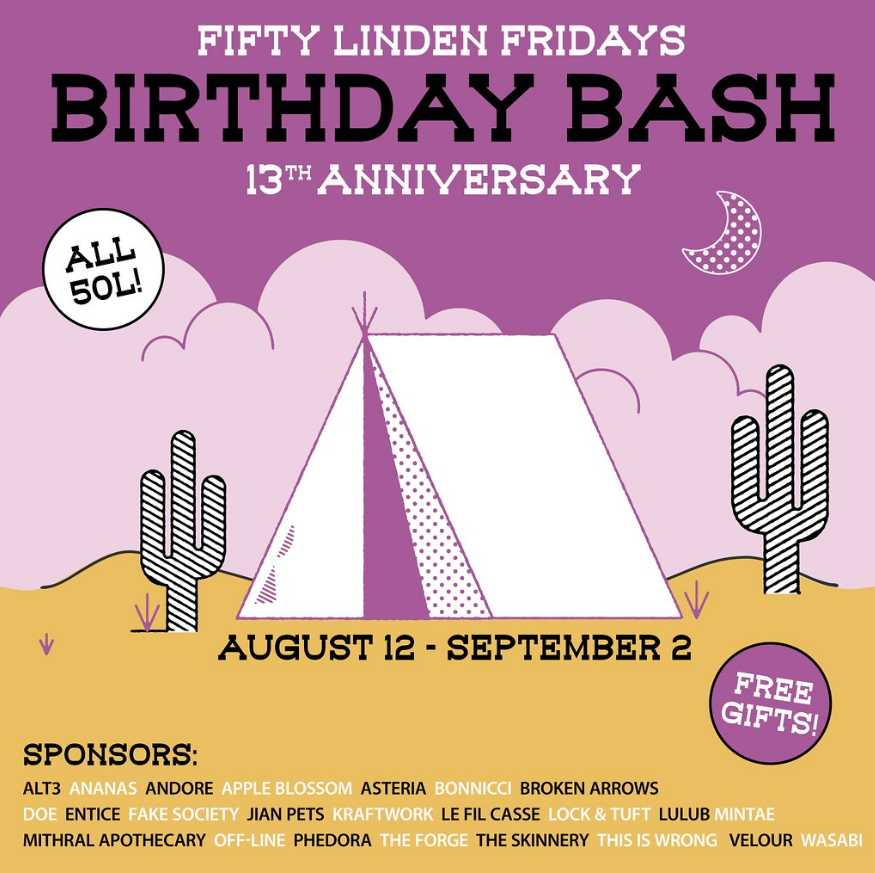 Oh and…here's a closeup of the facepiece because UGH, so good.
Happy shopping!
xox
Aline
Aline is Wearing…
Clothes
Dress – Imbue Isla Tied Dress (Free Gift @ Fifty Linden Fridays Birthday Bash/Group is Free to Join)
Shoes – Vanilla Bae Evana Heels (Free Gift @ Fifty Linden Fridays Birthday Bash/Group is Free to Join)
Mask – Indigo Ou Feather Mask (Free Gift @ Fifty Linden Fridays Birthday Bash/Group is Free to Join)
Earrings – Ysoral Luxe Earrings
Body   
Mesh Body – Maitreya Lara
Mesh Head – Lelutka Cate
Skin Applier –  Glam Affair Cate
Eyebrows– Jumo Britani
Eyes– Euphoric Dolly Babe Eyes
Tattoo – Sn@tch Filigree Sternum Tattoo
Eyeshadow – Alaskametro Cairo
Lipstick – Lelutka Cate
Nails – Maitreya Lara
Hair – Stealthic Aroma
Pose – Stardust Rosie
Backdrop – Foxcity Cherry Blossoms