Hey gang!
Picture it, second life, 2022, an Irish girl dressed all in green tells her deepest, darkest secrets to a sheep named Shamrock, who vows to keep them for all eternity.
But I Digress!
I had an absolutely splendid time doing the Fab Free St Pattys Hunt (second annual!  woohoo!), and then popping over to the very festive and fun St. Patrick's Market & Treasure Hunt Event 2022!  Not only is there a hunt (look for the little treasure chests) which is free and no group required, but there is low priced shopping to be had!  Take Mr. Shamrock the sheep here, you can bring him home (and I did!) for only 25L!  I couldn't resist his handsome face and precious hat (not to mention his uncanny ability to keep secrets!).
Now about that Fab Free Hunt!
I scooped up this stunning little number of a dress at Entice, who has a handful of items to find, all cuter than the next (more cute?).  The entire key is below and all items are free.  This dress fits:
Freya
Hourglass
Kupra
Maitreya & Petite
Legacy
Everything you can grab at Entice in the hunt is here: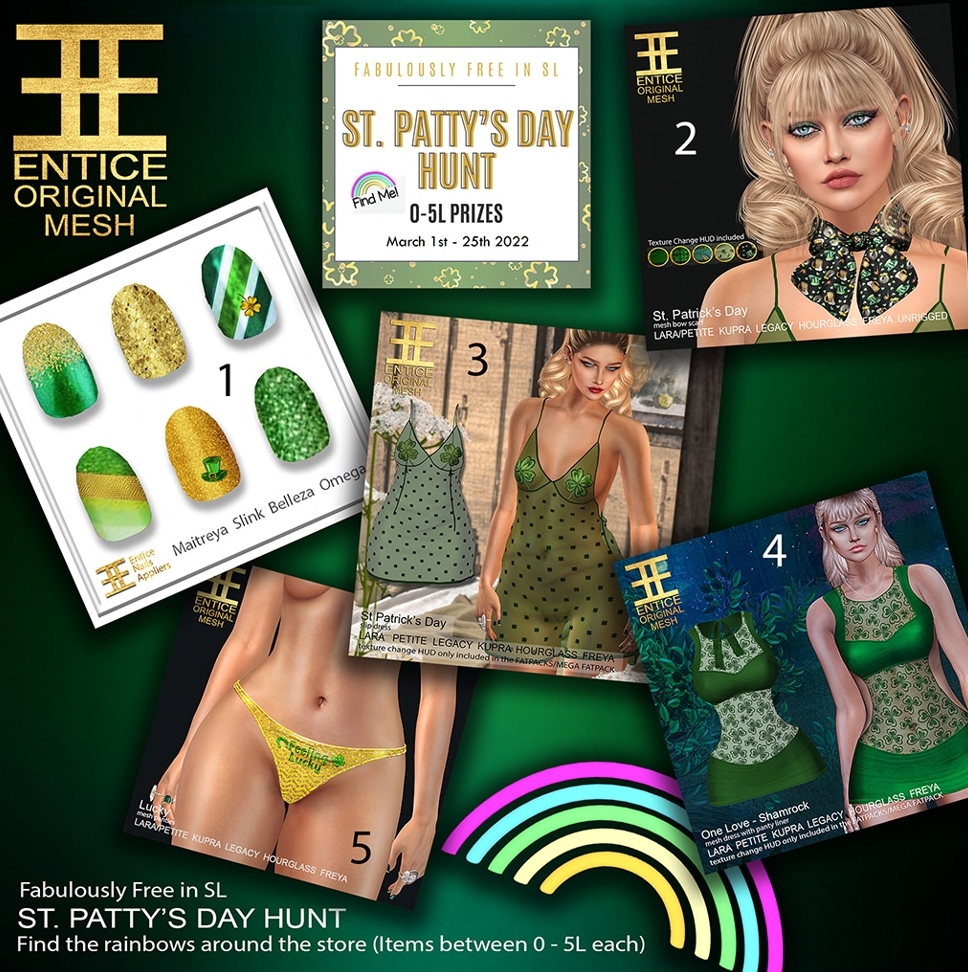 Cre also blogged them here.
All the landmarks and info for the hunt can be found here and you can pick up a hunt HUD for free at our Headquarters.
Lastly, everyone has been stalking the freebies over at Tram, and I am no exception.  My hair in this ensemble is indeed free(no group required!) and I loved the cute retro 60's look of it!  But you can see more styles shown by Caroline here, here and here!
Now, until next time, may the luck of the Irish be always with ye!
Arielle is looking fabulous in…
Clothes
Dress – Entice One Love free via the Fab Free St Patty's Day Hunt 2022

Body 
Mesh Body – Maitreya  Lara
Mesh Head –Lelutka EvoX AVALON 3.1
Skin – Lelutka EvoX AVALON 3.1
Eyes – Lelutka EvoX 3.1
Hair– Tram C407 Free, no group required

Extras
Sheep – Shamrock the Sheep 25L at the St. Patrick's Market & Treasure Hunt Event 2022