You know that feeling of wanting to get away somewhere, but you can't really?  You're stuck at home looking out the windows wishing for some glorious beach vacation that involves swaying palm trees and someone to serve you drinks in coconuts.  It's kinda one of those summers for me, where I'm not quite ready to hop on a plane (aka, brave the giant lines of people who insist on breathing close to you… ha), so I'm trying to think of ways to shake up the monotony.   My inworld counterpart seems to have it all down pat – so maybe I'll take some cues from her!
Decor Fabulosity
Raindale has always been one of my absolutely favourite stops for decor inworld.  There's always something new, different and distinctive.  I was so excited when Keira joined us for FabFree at Fifteen, and her items really blew me out of the water.  To make my little staycation bubble, I bought the lovely Sunnybay Pool for just 75L (the water in it is soooo beautiful) and lit my area with the very festive Lagunadream lamps that are just 15L for both the pink and green lamps.  Then, come the extremely generous free gifts!  The wallpapered spot, map, pineapple sconce, table, stool (complete with poses), and suitcase are all free for members of the Fabulously Free in SL inworld group – and they really, really are gorgeous.  Stop by Raindale and grab these lovely gifts before they all go away on August 6th.   Thanks Raindale!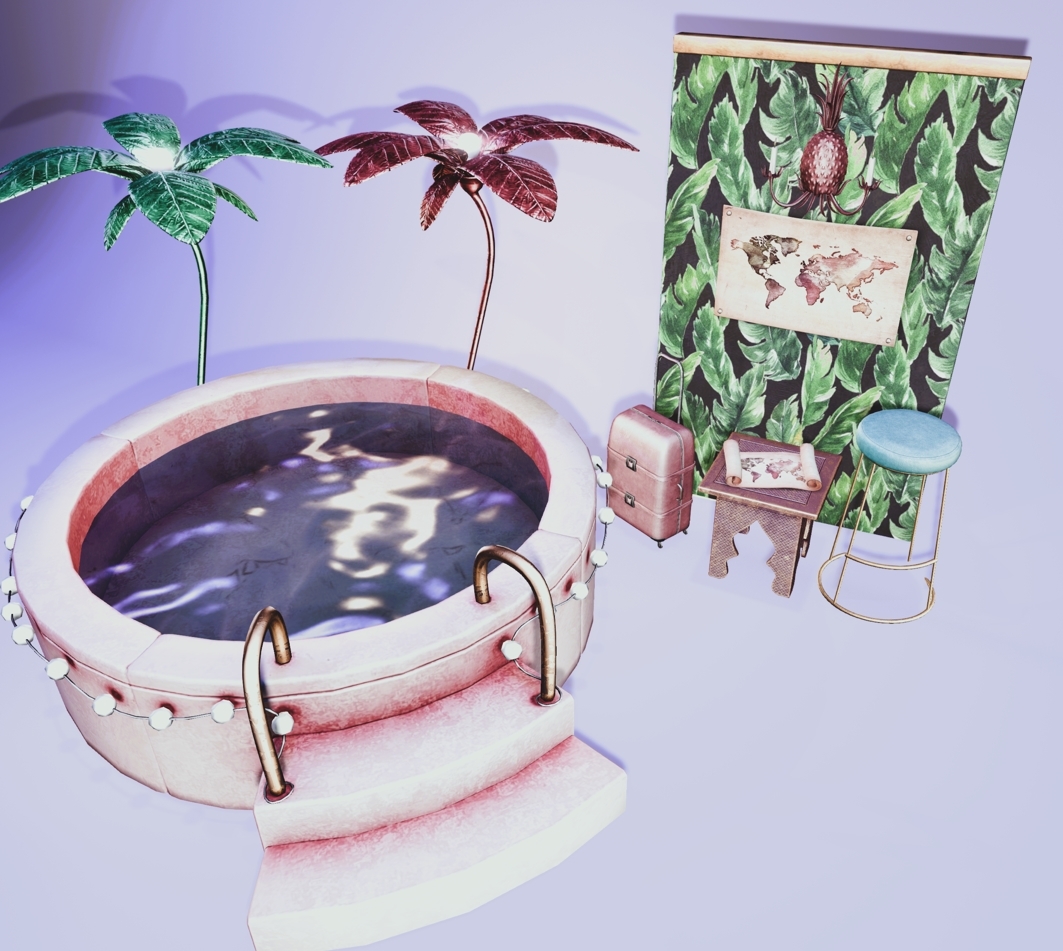 Two More…
I need a cute outfit for my staycation, and happily two spots have obliged to put one together for me:  Masoom has a new group gift out, this cute little tennis-style skirt in the very appealing summery ombré shade (it also comes in pink and teal).  You'll remember a few weeks back they had a top as a group gift that matches perfectly (see it HERE).  The group is currently 200L to join, but you'll find a wall full of really awesome gifts.
Skirt Sizes
Kupra
Maitreya
Petite
Legacy
Legacy Perky
Reborn
I also stopped by Paper Antler (formerly…and possibly also still known as Grixdale) and picked up this cute top (it's part of a bikini set) for free.  No need to join a group here, just click on the item that says "free" on it.  You'll want to look around the store while you're here – there are all sorts of hidden freebies (you could call them wearable demos if you want to be specific).
Top Sizes
Ebody
Kupra
Maitreya
Legacy
Legacy Perky
Wait, where's my coconut drink?
xox
Aline
Aline is Wearing…
Clothes
Top – Paper Antler Dahlia (Free Gift/No Group Join Required)
Skirt – Masoom Summer VIbes Skirt (Free Group Gift/Group is 200L to Join)
Bag – Movement Beachy Tote
Earrings – Ysoral Luxe Earrings

Body   
Mesh Body – Maitreya Lara
Mesh Head – Lelutka Cate
Skin Applier –  Glam Affair Cate
Eyebrows– Jumo Britani
Eyes– Euphoric Dolly Babe Eyes
Tattoo – Sn@tch Filigree Sternum Tattoo
Eyeshadow – Lelutka Cate
Lipstick – Lelutka Cate
Nails – KEZ Sprinkles (Previously Blogged HERE)
Hair – Stealthic Reckless

Decor
Pool – Raindale Sunnybay Pool (75L for FabFree at Fifteen)
Lamps – Raindale Lagunadream Lamp (15L for FabFree at Fifteen)
Backdrop, Table, Map, Stool etc – Raindale FabFree 15 Gifts (Free Gifts for Members of Fabulously Free in SL Group/Group is Free to Join)