Happy Shop & Hop Season, FabFree!  It's time again for the massive Linden-sponsored event.  There are great deals, a huge amount of sims to explore, and of course… a freebie at every display.  It's that amazing event we love to gasp and sigh in a pile of boxes about!  Let's get to it!
YAY
I love me some Shop & Hop.  I always seem to get a bit dizzy in the giant rectangular sim layout, but I got it done!  16 regions to explore and 320 designers participating is a huge huge feat.  A few hours plus another few of unboxing and I'm happy now to show off some of my fave finds.   These gifts are all free, and there's no need to join a group to get them!  Here's what I've got on:
And here's a closeup of the lovely heels…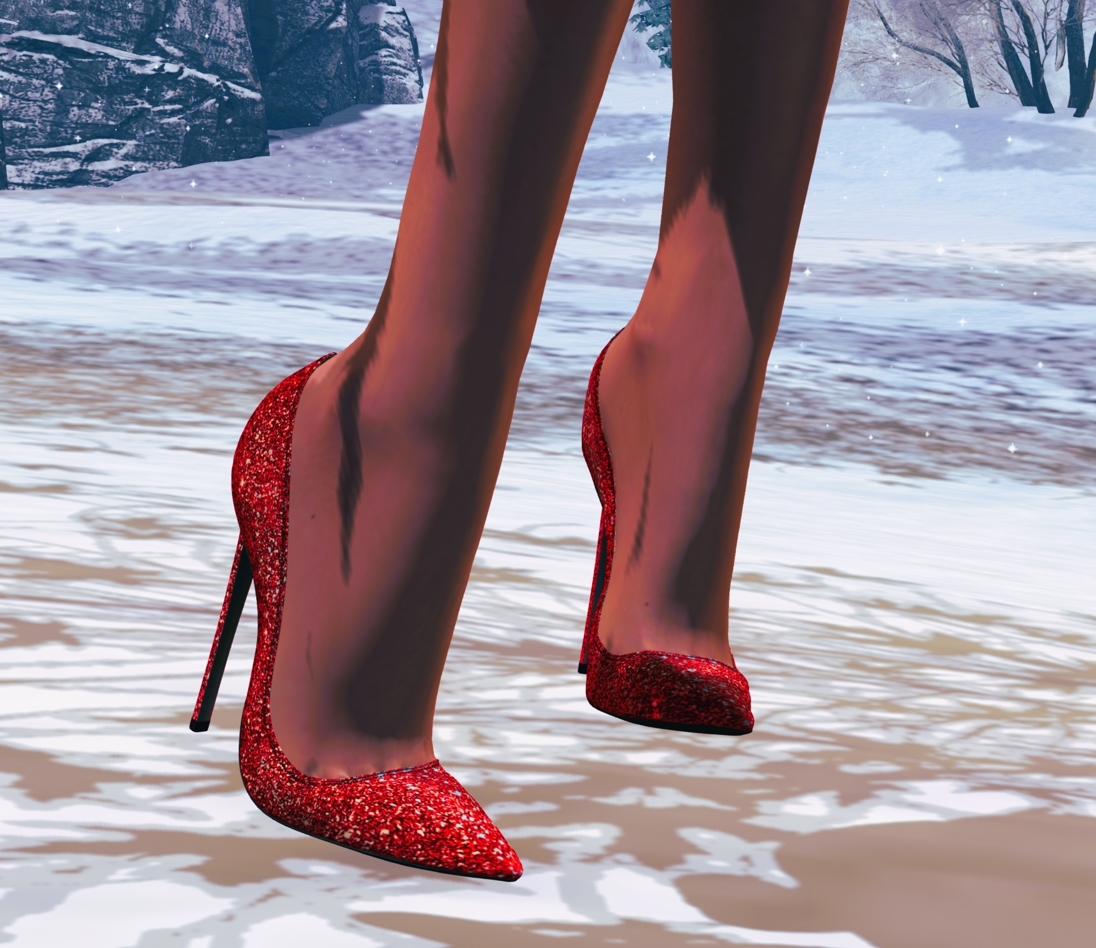 Check out all that sparkle!  Shop & Hop is running until January 2nd and you can find all the info and direct LMs to stores right HERE.
Enjoy!
xox
Aline
Aline is Wearing…
Clothes
Dress – Gabrielle Hamelin Sequin Ruched Dress (Free Gift @ Shop & Hop/No Group Join Required)
Cup – Andika Hot Chocolate (Free Gift @ Shop & Hop/No Group Join Required)
Heels – Baiastice Xmas Strass Pumps (Free Gift @ Shop & Hop/No Group Join Required)
Body   
Mesh Body – Maitreya Lara
Mesh Head – Lelutka Cate
Skin Applier –  Glam Affair Cate
Eyebrows– Jumo Britani
Eyes– Euphoric Dolly Babe Eyes
Tattoo – Sn@tch Filigree Sternum Tattoo
Eyeshadow – Alaskametro Glitz
Lipstick –  Alaskametro Glitz
Nails –  Maitreya Lara
Hair – Exile Denise (Free Gift @ Shop & Hop/No Group Join Required)
Sim – Winter Love Valley